Pinus lambertiana / sugar pine
subgenus Strobus (Lemmon), section Quinquefoliae (Duhamel), subsection Strobus (Loudon).
Pinus lambertiana, as described in 1827 by David Douglas (1798–1834), is commonly known as sugar pine, big or great sugar pine, as well as pino de azucar, or ocote, in the Spanish language. The species name honors British botanist, Aylmer Bourke Lambert (1761 - 1842), one of the first fellows of the Linnean Society.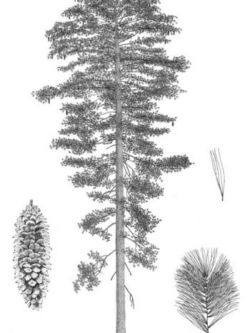 Description. Sugar pine is the largest species of pine, commonly growing to mature heights of 130 to 200 feet (40 – 60 meters) tall, exceptionally up to 270 feet (82 m) tall, with a trunk diameter of 6 to 10 feet (1.5 - 2.5 m), measured at breast height, exceptionally to 14 feet (3.5 meters). The tallest specimen ever recorded is called the 'Tioga Tower', a 273.74 foot monster in Yosemite National Park.

Pinus lambertiana is a member of the white pine group, Pinus subgenus Strobus, and like all members of that group:

leaves (needles) are borne in bundles (fascicles) of five, with a deciduous sheath. They measure 2 to 4 inches (6–11 cm) long.

Sugar pine is notable for having the longest seed cones of any conifer, mostly 10 to 20 inches (25–50 cm) long, exceptionally up to 26 inches (66 cm) long, although it should be noted that the cones of the Coulter pine (Pinus coulteri) are more massive.

The seeds are up to 0.5 inch (10 – 12 mm) long, with a 0.75 inch (2 – 3 cm) long wing that aids wind dispersal. The seeds of the sugar pine are also a type of pine nut and are edible.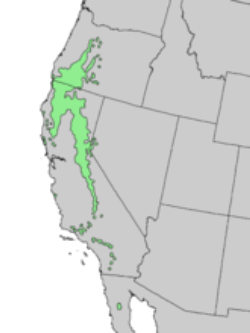 Distribution. This species is native to the mountains of Oregon and California in the western United States, as well as Baja California in northwestern Mexico; specifically the Cascade Range, Sierra Nevada, Coast Ranges, and Sierra San Pedro Martir.
Hardy to USDA Zone 7 — cold hardiness limit between 0° and 10°F (-17.7° and -12.2°C).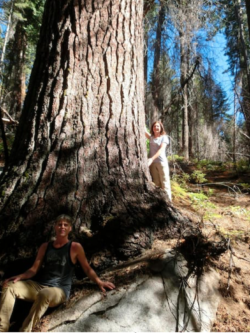 In February of 2021, the Sugar Pine Foundation announced that self-styled 'Big Tree Hunter' Michael W. Taylor had added three more enormous specimens in the Sierra Nevada mountains to the list of known tallest sugar pines. Two, in the Tahoe National Forest, west of Lake Tahoe in California were measured at 267 ft, 6 inches and 267 feet, 1.8 inches, making them the second and third tallest sugar pines recorded. Taylor says that he finds the tallest sugar pines on the western slope of the Sierra Nevada in California and Oregon.
Attribution from: Wikipedia, The Free Encyclopedia