Pinus coulteri / Coulter pine
subgenus Pinus, section Trifoliae (Duhamel), subsection Sabinianae (Loudon).
Pinus coulteri, as described in 1836 by David Don (1799–1841), is commonly known as Coulter, bigcone, nut or pitch pine. The specific epithet honors Thomas Coulter (1793 - 1843) who collected the type specimen in 1831 in California's Santa Lucia mountains.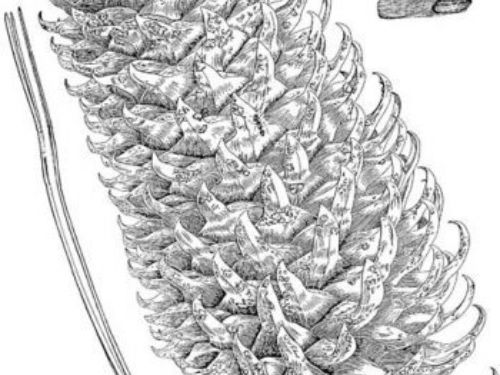 Description. Coulter pine is an evergreen coniferous species of tree that grows to mature heights of 75 feet (24 m) with a straight to contorted trunk up to 3 feet (1 m) in diameter, measured at breast height. The tree's crown is broad, thin and irregular.
Bark is dark gray-brown to nearly black in color, deeply furrowed, with long, scaly, irregularly anastomosing, rounded ridges.
Branches grow often ascending; twigs are stout to moderately slender, colored violet-brown, often glaucous, aging gray-brown, rough.
Foliar buds are ovoid shaped, resinous, deep red-brown in color, measuring 0.6 to 1.2 inches (1.5 -3 cm) long with white-fringed scale margins and cuspidate apices.
Leaves (needles) grow in bundles of 3 per fascicle, slightly spreading from the point of origin, not drooping, rather mostly ascending in a brush. Needles persist 3 to 4 years on the tree, measure 6 to 12 inches (15 - 30 cm) long and circa 0.08 inch (2 mm). They grow generally straight or slightly curved, twisted, and dusty gray-green in color. All surfaces have pale, fine stomatal lines, serrulate margins, and abruptly subulate apices. Needle sheath measures 0.8 to 1.6 inches (2 - 4 cm) long with a persistent base.
Pollen cones are ovoid to cylindric shaped, growing up to 1 inch (25 mm) long, colored light purple-brown, aging orange-brown.
Seed cones mature 2 years after pollination, gradually shedding seeds thereafter and are moderately persistent on the tree. The cones are massive, heavy, drooping, asymmetric at base, narrowly ovoid before opening, ovoid-cylindric when open. They measure 8 to 14 inches (20 - 35 cm) long, colored pale yellow-brown, resinous, attached by a 1.2 inch (3 cm) peduncle. Apophyses are transverse-rhombic shaped, strongly and sharply cross-keeled, elongate, curved, and continuous with formidable umbos forming long, upcurved claws 1 to 1.2 inches (2.5 - 3 cm) long.
Seeds are obovoid shaped with a 0.6 to 0.88 inch (15 - 22 mm) body that is dark brown in color with a 1-inch (25 mm) long easily detachable wing.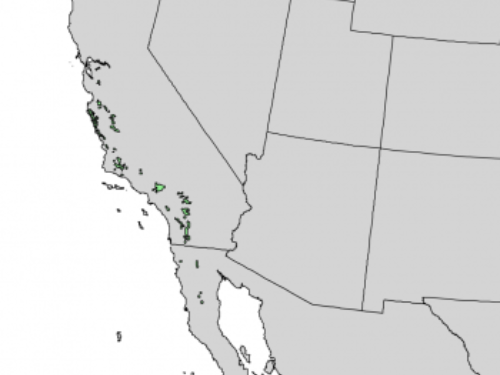 Distribution. This species is native to USA — California; and Mexico — Baja California Norte, growing at elevations of 1,000 to 6,500 feet (300 - 2,100 m) above sea level. Pinus coulteri is usually found on dry rocky slopes, flats, ridges, and chaparral, transitional to oak-pine woodland.
In Alta California, it occurs from Mount Diablo (east of San Francisco), south in scattered groves through the Santa Lucia, San Bernardino and San Jacinto Mountains to the Cuyamaca Mountains of San Diego County. In Baja California, it is found in isolated occurrences in the Sierra Juárez (e.g., one stand at 4,125 feet (1,250 m) on Sierra Blanca, isolated colonies at 5,000 feet (1,500 m) southwest of Rancho San Faustino, and at 6,000 feet (1,800 m) on hillsides immediately west and northwest of Laguna Juárez, and in small stands on the Sierra San Pedro Mártir, where it is found on northern exposures at 6,200 to 7,000 feeet (1,900 - 2,150 m).
Hardy to USDA Zone 8 — cold hardiness limit between 10° and 20°F (-12.1° and -6.7°C).
Attribution from: R. Kral, Pinus. Flora of North America Editorial Committee (editors.); Flora of North America North of Mexico, Vol. 2. ©1993, Oxford University Press.