Picea orientalis 'Skylands' / Skylands Caucasian spruce
Picea orientalis 'Skylands' is a robust, symmetrical, upright, tree form of Caucasian spruce with tiered branching holding fantastic golden needles held tightly against the stem. Older, interior foliage is more of a species-typical deep green in color — the contrast is striking. In spring, the display is amplified with the emergence or cherry-red pollen and seed cones. 'Skylands' is truly an exceptional plant.
When young, plants critically need shelter from intense sun until roots completely develop. In fact, immature specimens burn so badly that many "give up" on them. Gardeners have been known to erect sun shelters to protect their young trees from the sun. Once mature, the plants are quite tolerant of full sun.
After 10 years of growth, a mature specimen will measure 12 to 15 feet (4 - 5 m) tall and 5 feet (1.6 m) wide, an annual growth rate of 12 to 18 inches (30 - 45 cm).
This cultivar was "found" in 1950, growing at random at Skylands Gardens, part of the New Jersey Botanical Gardens at Ringwood, New Jersey, now known as Ringwood State Park. In the past it was sometimes seen listed under the cultivar name, 'Aurea Compacta.' However, 'Skylands' has become so popular over time that this is not likely ever the case today.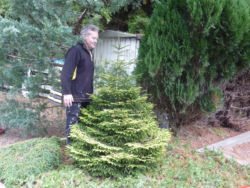 Skylands seedlings. Over the years, 'Skylands' has been a productive and successful seed parent for many of the dwarf, golden Picea orientalis cultivars in the trade. The most notable of which is Firefly, which was introduced in the early 2020s by Iseli Nursery. Others include 'Aebel Skylands Seedling' (a Buchholz Nursery introduction), and 'Sunrise' (from Bob Fincham at Coenosium Gardens). Pictured to the left is David Noline, who obtained Skylands seed from the ACS' Seed Exchange Program to a pleasing result.