Seed Exchange
The ACS Seed Exchange is temporarily on hold while seeds are being processed. We will alert members when it is back up.
The 2020 Seed List is here!
The ACS is happy to offer members the Seed Exchange list for 2020 and sorry that is already May before getting this posted for you! Every summer, Jim Brackman, who runs our Seed Exchange, heads to Oregon to hit up long-standing donors and supporters of the Conifer Society and collects cones. This year it was Iseli Nursery and The Oregon Garden, two of our biggest supporters in this effort. Jim also notes, "The treat for me when I contacted Rita at R&R Nursery and Landscape to enquire about collecting cones at Don Howse's old place. Thankfully, she said yes and it was amazing to see the breadth of the collection!"
ACS member William Dunagin sent in some Pinus parviflora 'Fukuzumi' seed and Jim made a seed swap with a new member in Russia. The seed from Russia is not on the list yet because it came in late and the seed needs to be cleaned up a bit, look for it to be added to the list in a few weeks. Thanks to Peter Gregg at Iseli, Doug Wilson at the OG, Rita at R&R, and William and Elena!
To Order Seed
Please be sure to mark your first selections with a circled number of packets you would like (like this: ①) and your ALTERNATE choices by marking with the number of packets and a checkmark (like this: 1√). WITHOUT ALTERNATE SELECTIONS JIM WILL USE HIS BEST JUDGMENT FOR SUBSTITUTES. This year, the price is $1.50 per packet, with a $9 minimum per order. Do not send cash, make checks payable to: American Conifer Society. If you know someone that requires a printed copy of the list, please ask them to send a self-addressed stamped envelope to Jim and he will get them a list. Please remember that seed donated is open pollinated. Orders are filled in the order that they are received. Number of seeds per packet varies based on inventory. If you are interested in donating seed or cones, please refer to this page for more details. For information on how Jim stratifies and germinates seed, send him an email.

Yes, you can grow carrots, petunias and perhaps an avocado from seed, but a conifer? That takes patience – and a passion for conifers. ACS volunteer Jim Brackman has both and is willing to share his experience with ACS members who want to try their hand at the ultimate challenge of conifer collecting, starting with the seed of a rare or unusual species or cultivar and bringing it to life in their garden.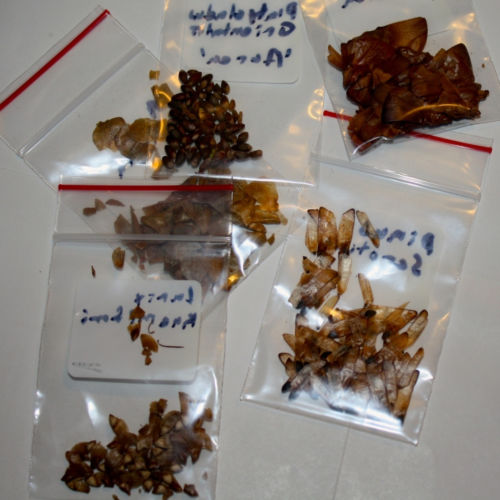 Every year Jim compiles an inventory of seed collected from arboreta, professional growers and interested ACS members who donate seeds to the Exchange. Early each year he publishes his annual list of availabilities. Members can request a seed packet from the list – the number of seeds varies depending on the quantity harvested the previous fall – and for a donation of $1.00 per packet (which covers postage and handling), they can try their hand at propagating an unusual specimen.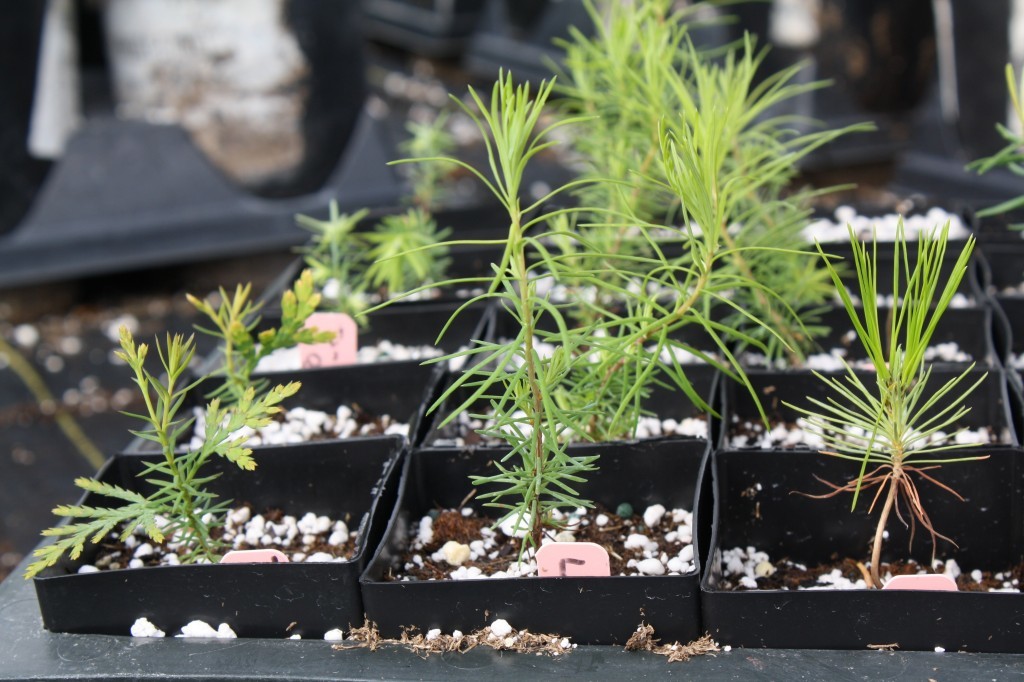 Since most of the gathered seed is open pollenated, there's always a chance that you will come up with a mutation or cross that is unlike any other and that, some day, you may be able to call your own. (See: The ACS Conifer Registration Program.)
Jim is always interested in your results. He is happy to receive your e-mails and pictures and will return the same when warranted. Just be patient during his busy winter-early spring time frame when his day job as head grower for a Weyerhaeuser container operation keeps him in the weeds.
MAKE SURE TO INCLUDE ALTERNATE CHOICES IN CASE YOUR CHOICE IS NO LONGER AVAILABLE. Call or email Jim (contact info below) if you have any questions.
The Fall 2009 issue of Conifer Quarterly carried an excellent article about Collecting Seed and Growing Seedlings. Read it here.
For more more information:
ACS Seed Exchange
5621 Old Highway 410 SW
Olympia, WA 98512
or e-mail Jim Brackman: [email protected]