Zen and the Art of Pruning
Zen and the Art of Pruning
We all have our favorite tools. A pocket knife that Gerber once made for LL Bean but long ago disappeared from their catalog. A spade shovel that my father used in his victory garden during WW II that has gained even more reverence for me since he died in February at 98. And then there's my Felco #9s (I'm a lefty) that I never thought you'd be able to pry out of my cold, dead hands but then Colby Feller did.
As president of the Northeast Region, Feller writes a column in Coniferous Contemplations, the NER newsletter. In the Spring 2013 number he tells us what his day is like working in Manhattan where his firm services quite a few terrace and rooftop gardens. Instead of wrestling with city traffic and the challenge of finding parking space for the van, Colby practices what he calls Ninja Gardening which entails traveling quickly by subway and packing all his necessary gear in a messenger bag. That means traveling light and that pursuit has lead him to reexamine all his tools for not just weight but efficiency.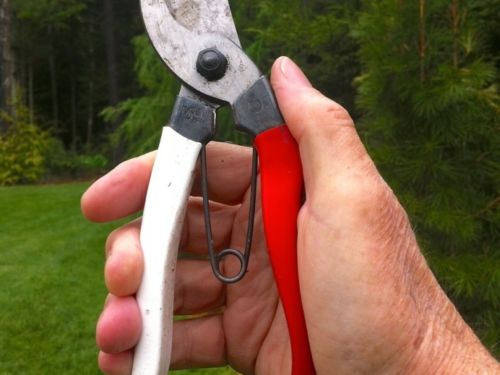 Like most of us when we get into the gardening game, he gravitated towards Felco pruners because that's what all the big boys used. Then one day a colleague pressed upon him an old pair of Okatsune pruners and it was like his sensei gave him his first sword. (Colby confesses to watching too many martial arts movies as a kid.)
It was not just the weight and feel of the tool that made him feel it was made for his hand but it possessed some kind of a mystical karma which led him to Google where, he writes, he found this about the manufacturer:
Tobisho is a blacksmith shop with over 200 years of history. There have been eight master blacksmiths, with two forging pruning shears. The blacksmith town of Yamagata was built by Yoshiaki Mogami, a Samurai, therefore Yamagata became known for the production of Samurai swords. These secateurs are hand forged from amazing blue paper steel, deep in the mountains of Yamagata. Hand forged have advantages over machined secateurs because normal secateurs have one bit of steel - the blade, welded to another - the handle creating potential weakness. Hand forged secateurs are hammered out of one piece of very high quality steel, from blade to handle, lending them great strength.
He sold me there. Feller says that a good pair of 8-inch pruners (Model 103) costs about $100 but I went to my favorite online suppllier, A.M. Leonard and got mine for $59.49. There is a smaller (7-inch) size available from other vendors and a new large (8.25-inch) model that is hard to find.
You can find Colby's entire article in his "City Digs" column in the Presidential Proclamations blog.
Comments