Wrapping up 2013
Two loud crashes woke me up the other morning.
It took a few seconds to remember that Mac Hunter had e-mailed me the night before that he'd be dropping off the last load of bark mulch early and the two thundering claps from his truck's banging tailgate were what startled me awake. It also signaled the start of my 2014 gardening season — and the end of 2013.
The ground is hard enough in the mornings now for Mac to drive his dump truck over the lawn to my staging area at the woods' edge. My wife will comment that, with the leaves off the trees, we can now see from the breakfast table the two unsightly piles of dark loam and mulch that Mac left at the end of the yard.
Yes, I counter, but they allow me to create the raised island beds of conifers and companion plants that surround the house. If I don't get my supplies in place now, come next season, when I want to start planting again, there will be nothing to work with. The five feet of snow we get, plus spring rains, means that the ground (which, under the meager two inches of turf, is clay pan) will be squishy until the end of June. Would you prefer instead as a lawn ornament a six cubic-yard dump truck embedded up to its axles?
The ground is getting hard to work; it's time to call it a season, which I do with some reluctance. Fall is my favorite time in the conifer garden. The push of new growth has long subsided and the trees are concentrating their energy below ground establishing a root system to get them through the winter and to develop proper buds for spring. However, for a guy raised in northern New England, summer's heat and humidity (and bugs) don't encourage me to do much work in the garden.
This past season I had a good excuse to stay inside and behind the keyboard since we were rebuilding this website. But with its launch in August, and subsequent debugging, when I finally got outside at the end of September some weeds were taller than my dwarfs.
The ACS National Meeting in Mt. Kisco, NY, and a month later, the ACS Western Regional Meeting in Olympia, WA, were ostensibly 'business trips' but, as long-time ACS members know, these meetings are really a chance to be inspired by showcase gardens, compete for rare items in benefit auctions and visit specialty nurseries where you can find cultivars unobtainable back home — often at discounts because of ACS membership.
The visit to the conifer mecca of the Evergreen State unleashed a conifer lust that had been building all year and shortly after returning from Olympia, I had a dozen new cultivars to plant — but also to make room for — which meant dismantling established beds and rethinking the spacing and arrangement of older specimens in the ground.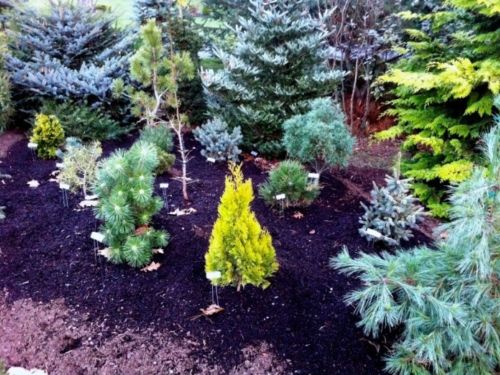 The seedlings and grafts I've acquired through ACS events are generally in 4" pots or #1 (occasionally #2) containers. It's a concession to my budget and geographical location since shipping can be costly. But there's also another avenue for ACS members to acquire rare conifers that Larry Stanley (a former ACS President,) proprietor of Stanley & Sons Nursery in Oregon, has in place.
S&S is a wholesale nursery that, since 1976, has been providing rare cultivars, many of which were found or propagated there, for other growers, nurseries and botanical institutions including arboreta. They have a buying program that active ACS members can participate in that requires placing a minimum order to fill one of their shipping boxes which holds 15 cultivars in 4" pots (10 -1 gallon plants, etc.) After registering at their site, you can order online or request a PDF of their availability list from which to make up an order to mail later. Soon you'll have a collection of rare conifers unlike anything found in your local nursery. (Cultivars that I paid less $10 for then, are now, after five years, worth hundreds of dollars retail — not that they could be found in a local garden center or that I'd sell them.)
Needless to say, plants in 4" pots are not for the display garden but, rather, something to be parked in the 'nursery garden,' a sloping, well-drained, sunny location near the house where I can easily keep an eye on things. Some are there to test their mettle against the Maine weather (plants from the Pacific Northwest are always being challenged) but also to let them achieve the habit that made them a collectable in the first place so I can see where they might fit when more mature.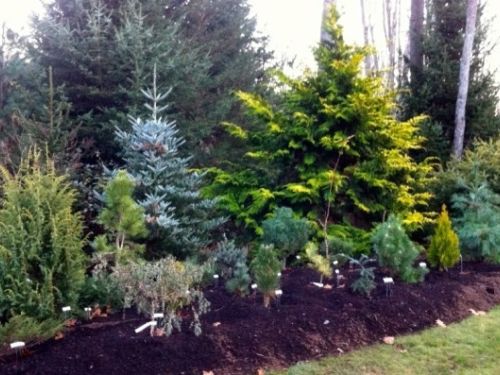 Fall is also a time to take a hard look at each of the established beds for crowding and see if a redesign is required. At the 2011 at the National Meeting in Michigan we visited the Harper Collection where I had an epiphany about planting conifers. While I have neither the land mass nor resources to spread them out as Chub Harper directed to allow for their ideal growth, every year I make an attempt to recalibrate my planting plan as best as my landscape and aching back will allow.
Therefore, much of the past two months has been spent finding new homes for over three dozen conifers, some which had just arrived from Washington. Since the native soil is too poor to amend, raised island beds are extended outward with Mac's loam and mulch. Specimens are moved forward or to the side to give them more space and accommodate newcomers. This also gives one a chance to rethink the interplay of form and foliage (thank you, Sara & Jan); color and texture. As plants mature their emerging growth habits provide opportunities to rework the palette and pattern of your design.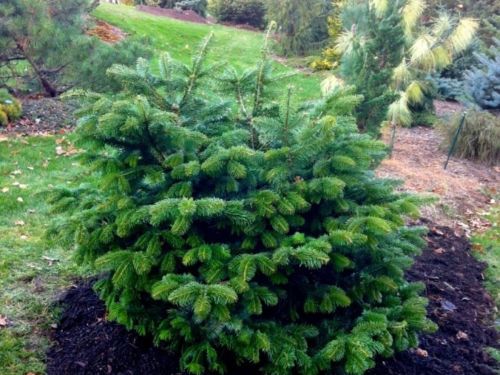 This past week I finally wrapped up the 2013 season. One indication that the clock was running out was when I was soaking a European Silver Fir 'Barabitz Star' hoping to get it to settled in its new bed but also to make sure there was enough moisture in the soil for the winter (an abnormally dry fall this year had me watering regularly) when I noticed that the water droplets on the needles were freezing! That last task took the remainder of my mulch and loam, prompting the call to Mac for reinforcements.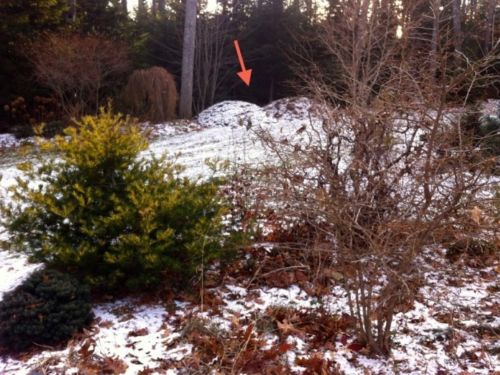 Regarding those two ugly brown mounds he left that will disrupt our view of the back yard this winter? The next day we received our first snow cover.
Tonight it's going down to 11.
Comments