Winter Conifer Desiccation: Waiting out the Results
Winter Conifer Desiccation: Waiting out the Results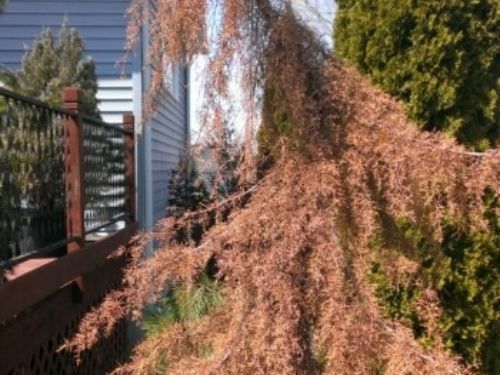 All I had to do was to read the Farmer's Almanac, and I would have prepped my conifers for the winter of 2014. I would have anticipated frigid temps and massive snows. But I didn't. Then came Hell to my conifers. They burned as if consigned to the relentless fires of winter's winds and sun.
Winter desiccation came to conifers in the ground, as well as those same cultivars in decorative containers. The grip of the Avenging Angel did not get all of them, but those which were hit, were hit hard. Cupressus glabra 'Raywood's Weeping' looked fine until the temps moderated. Then the brown occurred, down to the lowest branches. My container 'Raywood's Weeping' looks as bad as the garden tree, which, by the way, has been flourishing in the ground for four years. The latter is on the northeast side of the house, protected from the winds and even the sun. But not the cold.
Abies pinsapo (Spanish fir) has lived protected, both in containers and location, ever since they made their way east from the 2011 Portland national meeting. But, as you can see from the photos, they burned. In the same area of the house, on the northeast-facing deck of the house. Cedrus atlantica, Atlas blue cedar, took a beating. There are buds, but only time will tell if they will bud out and produce new foliage. My Cedrus deodara 'Hillside' was also deemed "safe" by me. After all, the newest USDA Zone maps declared my area of Michigan close to Zone 6. However, as you can see from the plant's damage, it is less than marginal to my Zone.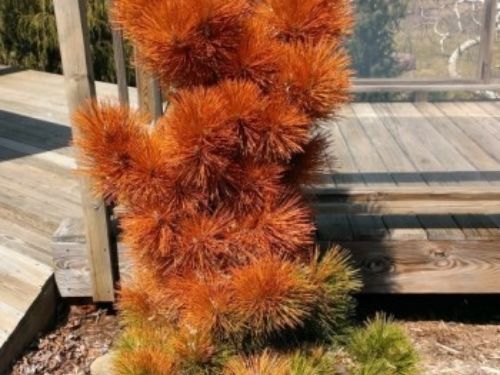 Pinus thunbergii 'Thunderhead' has grown in my garden for the past four years. It bore the past few winters and never flinched. Now, as you can see, it has suffered. I have been told that it might come back. The buds look and feel viable. The rest of the plant is sad. My Pinus densiflora 'Golden Ghost', veterans of several winters since 2009, have before gone brown only to return to their multi-colored needles in early summer. Right now they appear damaged. Even Cupressus nootkatensis cultivars, used to the environment at my house since 2002, have tinges of winter burn.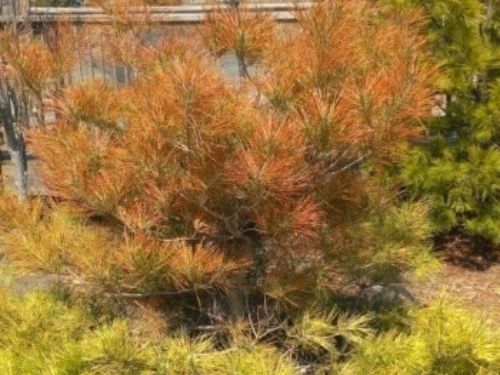 Despite all the winter woes, which conifers seemed undaunted by the arctic vortices? My numerous Pinus heldrechii cultivars, to the letter, closed their needles to cover their candles and thumbed their noses at the winter of 2014. Pinus strobus 'Christopher', all of my junipers, all of my eastern white pine cultivars, all of my Douglas firs, all of my Picea pungens (Colorado blue spruce) and my Pinus densiflora (Japanese red pine) other than the sad 'Golden Ghost' --- all came through.
Only Chamaecyparis obtusa 'Fraseri', of all my Hinoki cypresses, survived unscathed by winter desiccation. I have three: one in a container on my NE deck (green and lovely), one on a NW-facing deck (green-green), and one protected by the solid railing of a deck (peeked, but not burned).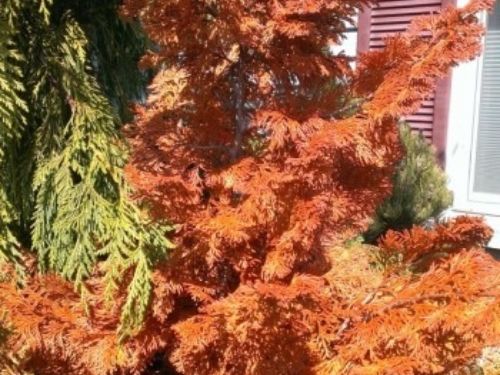 Should my burned conifer cultivars in containers survive and push new growth, they will reside this coming winter on the NW side of the house. They will be wrapped in burlap if they are in the ground and away from the protection of the house, or if they are marginal to Zone 5.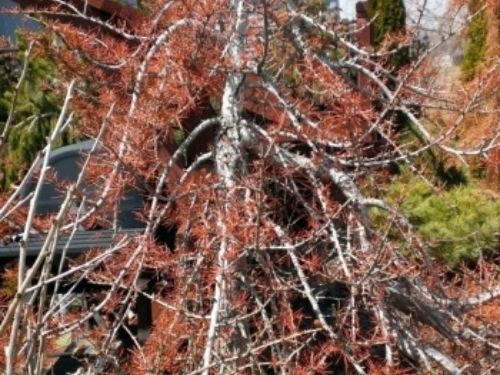 It is now a waiting game to see which of my damaged conifers will survive the worst winter in my neck of the woods since 1978. After all, I have heard from several corners of the scientific and environmental worlds that global warming brings swings between massive snows and freezing temps, wet cool springs and hot dry summers. It is, indeed, a waiting game. What did other Midwesterners or Easterners observe in your gardens this winter?
Comments