Welcome to The Vista Garden
Welcome to The Vista Garden
Before there were conifers, there were fish.
Maybe not in geologic time but at least since 1989 when I moved from Queens, NY, to Stone Mountain, GA, to start a custom design aquarium company, Just Add Water. I had never even owned a house plant until 1997 when my wife Kimberly and I bought this house in Conyers, about 25 miles east of Atlanta, surveyed the three-acre lot and decided that it needed some shrubs. (That's what we called everything for a while.)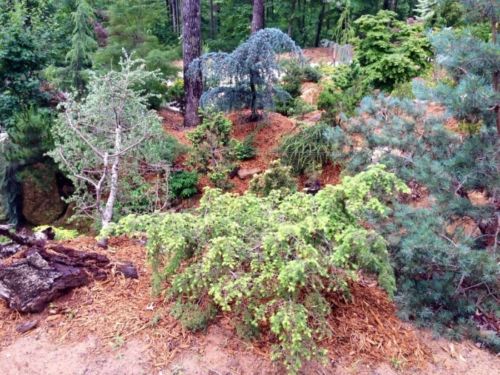 The first ten years developing the garden we were in acquisition mode which meant ordering from the usual West Coast suspects (Bucholtz, Mitch, Stanley & Sons, Meadowcroft, etc.) but I also visited some of the specialty nurseries up and down the East Coast when traveling on aquarium business.
My first acquisition was a 7 gal. Hollywood juniper, Juniperus chinensis 'Torulosa,' which is with us still. We gave tons of perennials a shot but the voles got most of them in less than two years so you could say natural selection pushed us in the direction of conifers with Japanese maples for contrast.
Sandra Cutler's book, Dwarf & Unusual Conifers Coming of Age, was our Bible but our library has grown along with our plant acquisitions in those 15 years. Ten years into the garden's development — and with the purchase of the log cabin and another three acres next door — the idea for The Vista Garden was born.
We are situated on a sloping site in what is (appropriately named) Rockdale County. It soon became obvious that the design plan needed to take advantage of the natural grade which would provide opportunities for different viewpoints, even looking up underneath a plant from below. And of course, there was the abundant native rock that would provide a more natural environment when properly exposed and sited.
Needless to say, a Bobcat became a necessary investment and I soon was playing Bob the Builder in my front yard creating paths, landings, grottos and viewpoints. While I did my thing, Kimberly was Mulch Girl, providing the same kind of practiced eye she brings to our aquarium business where she provides the finishing work on all the cabinetry. She also kept our two young daughters from trampling the miniatures and out of their Dad's hair — what's left of it.
We joined ACS in 2002 at about the same time we thought we might get others interested in conifer collecting by offering some plants for sale. Visitors were always asking where we got some of the unusual cultivars they saw in The Vista Garden so we started a small rare plant nursery operation on site in the hope of providing a local resource for specimen conifers.
The aquarium business still pays the bills around here but we hope that, as the garden grows, some day the nursery will be able to support our garden enterprise where the different vistas created by the sculpted and sloping terrain provide visitors with a new appreciation of conifers' color, texture and form.
We are honored that the ACS has put The Vista Garden on its list of activities for the National Meeting in June. We're pleased to give you this preview here and hope to meet you in person this summer. Meanwhile, if any members have questions or comments on The Vista Garden, please write us in the Comments box below.
---
Ed. Note: This is the second in our 'Welcome to My Garden' series which offers a preview of upcoming conifer garden tours for members. If you missed it, visit Mert Bohonos's garden which will be part of the NER annual meeting in September.
Comments