Wakefield Estate 'Pop-Up' Garden Workshops
Wakefield Estate 'Pop-Up' Garden Workshops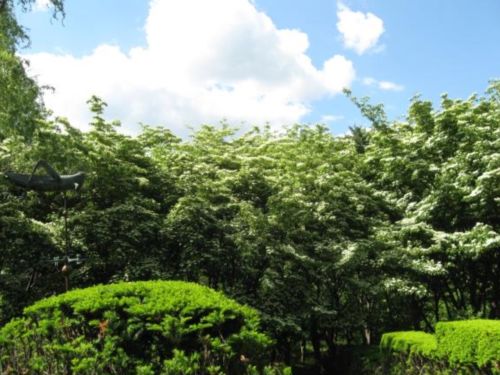 This year, there are even more great reasons than usual to get out for the opening day of the 9th Annual Dogwood Days at the Wakefield Estate in Milton, MA. The annual, week-long, Dogwood Days celebration is timed to coincide with the bloom of over 300 kousa dogwoods at the estate.
On Sunday, June 9th, not only will your get to see one of the best displays of kousa dogwoods in years, but you can also catch enticing short "pop-up" programs with some of the very best local experts and celebrate the new Dwarf Conifer Collection, now a Reference Garden for the American Conifer Society.
Schedule:
10 AM - Coffee and Conversation: the history of dwarf conifers. Debbie Merriam, Wakefield Arboretum director, will lead a session in the garden on the history of dwarf conifers and the unusual efforts by plantsmen of searching for and harvesting brooms that will be used to create some of these amazing plants.
11 AM - Garden Design with Dwarf Conifers. Christie Dustman, award winning landscape designer and ACS member, will host a one-hour program on conifers and how to use smaller/more unusual conifers in gardens. With Wakefield's new Dwarf Conifer Garden as a back drop and "canvas," Christie will share her insights and tips on blending dwarf conifers into your garden with use of companion plants and garden objects.
12 PM - Ground Covers and Woody Plants in Your Garden. Jeff Thompson, Norfolk County Agricultural High School staff member and accomplished horticulturalist will lead a walk-about and discuss the use of both coniferous and herbaceous ground covers as well as a variety of woody plants to enhance the landscape.
The Gardens are located t 1465 Brush Hill Road, Milton, MA and will be open from 10am to 4pm. The entrance fee is $5 and will include all workshops. For more information visit the website: wakefieldtrust.org or call 617-333-0934.
Comments