Tom Dilatush (1924 - 2013)
Tom Dilatush (1924 - 2013)
Tom Dilatush, a founding member of ACS and well respected nursery owner in Robbinsville, NJ, died in Charlottesville, VA, on November 22 from complications due to leukemia. He was 89 and had moved to Virginia in 2009 with his wife Elinor (who survives him) after closing down a nursery business started in 1916 by his father.
Originally specializing in Ilex (he named his daughter Holly,) Dilatush Nursery began offering rare plants and dwarf conifers in the 1970s and he was among the early nurserymen to see the potential in this new specialty like Jean Iseli (Iseli Nursery, Boring, OR,) Jim Cross (Environmentals, Cutchogue, Long Island) and Mike Johnson (Summer Hill Nursery, Madison, CT) with whom he traded scion wood and who propagated some of Dilatush's discoveries.
His special interest was Chamaecyparis obtusa but he also had a fondness for native Picea and Tsuga canadensis. "When we'd drive through the woods, he'd be breaking frequently for witches brooms," says Elinor. "I got pretty good at spotting them too." Whenever he set off to hike in the woods a supply of plastic bags for cuttings was essential equipment.
His son Tom, Jr, recalls that family outings always revolved around the potential for seeing interesting trees, "no conifers, no trip," he said in an e-mail. In a blog posting Tom, Jr. recalls visiting Matinicus, a 1.6 square mile island 23 miles out in the Gulf of Maine in the 1960s, a vacation prompted by an exchange of letters with a mail order customer who had purchased by some Ilex opaca from his father. Matinicus, which has a year round population of 50 today, mostly lobster fisherman, was worlds away from suburban New Jersey — but not to Tom, Sr. who would bundle up the family for nature hikes.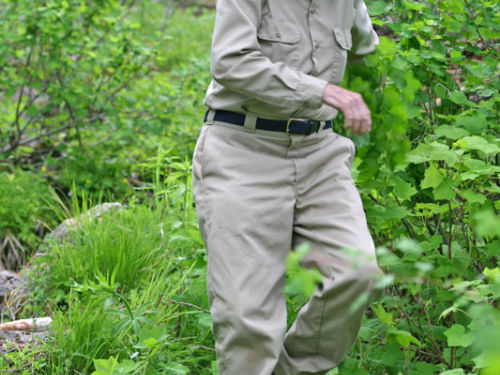 "Sub-arctic plants were favorites of his, ... he'd be searching them out. His surprise got me curious, and I asked him why they would be here. For the next half hour or so, my dad pointed out all sorts of things that were readily observable – clues – every single one of which I'd missed.
...He pointed out the trees and shrubs that were deformed by wind; evidence of frequent winds dominantly coming from one direction. He showed me how the rocks on one side of the knoll were more worn than on the other side – more evidence of the wind. He showed me how the soil on the windward side was covered with gravel, while on the lee side it was sandy – the wind blew all the small particles from one side and dropped them on the other. He showed me the plants that could be found on the knoll that were typical of plants that could survive under very harsh conditions – evidence of both wind and cold temperatures. He showed me the black lichen that grew on the knoll but not down lower, and told me how the lichen was a "pioneer" plant that created soil and organic material that other plants could thrive on – more evidence of harsh conditions.
Then we looked around and started picking out how the flora – the plant life – varied quite a bit from place-to-place on the island. My dad was struck by how much variability there was in such a small place (the whole island is only 750 acres) – and I got my first taste of micro-environments.
There were a lot of lessons for me in that couple of hours, but the biggest one for me is one I haven't mentioned yet: that was the first time I remember realizing just how connected all these elements of natural history were. Rocks and trees and flowers and lichen weren't just randomly sprinkled all over the landscape – there were reasons these things were where they were. And if you worked at it, like my dad, you could learn them, or figure them out."
His daughter Holly
wrote
:
"Tom's family and friends will remember a warm and delightful man with a deep understanding of plants and their natural history, and a keen appreciation of the beauty one can find in this land's woods and mountains."
Comments