The 2017 Outstanding Service Award is Presented to: Michael Balogh
The 2017 Outstanding Service Award is Presented to: Michael Balogh
Presentation Composed and Delivered by Bruce Appeldoorn
The Outstanding Service Award is given each year by the American Conifer Society's Southeast Region to recognize an outstanding member who has contributed to the goals of the society for many years. This year's recipient has demonstrated such allegiance and dedication since the inception of the Southeast Region as a branch of our society. As a nurseryman, Michael Balogh has contributed plants for the Society's fundraising efforts for over 20 years, amounting well into the thousands of dollars of donations that manifest themselves in some of the auction plants you see before you tonight. He has served as President of the Southeast Region from 2002-2005, when the group was young and the road was rocky, to say the least. Michael's persistence and friendly manner helped make the transition to the group we are today--viable, fast-growing, and intensely interested in our rapidly-expanding specialty. Many of you have visited his Mountain Meadows Nursery in Weaverville, NC before and know of what I speak.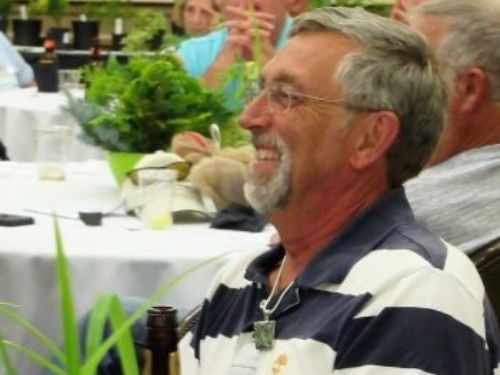 I believe I first met Michael around 1976, when he and his OSU college-sweetheart wife, Kathleen, stopped in at the plant store/caboose that my wife and I were operating in the Biltmore section of Asheville. We immediately seized on the plants and other interests we shared in common, and have been fast friends ever since. Our families grew up together—his featured a long succession of dogs, cats, chickens, hamsters, gerbils—I could go on. Our kids were best friends, too. All this from two nearby and similar nurseries that could have been fierce competitors but chose the road of helpful cooperation and collaboration, instead.
From a residence in West Asheville with a tiny back yard, Michael and Kathleen relocated to Weaverville around 1977. Much more suited to horticultural pursuits, the new rural property proved to have great soil and abundant water, and the modest nursery expanded over the years. To make ends meet, Michael engaged in landscape construction and installation, mostly for higher end residential installations. While he still continues as an installer today, the excitement is now focused on the nursery itself, and the product line has expanded into miniature hostas and smaller growing conifers.
All of this is never easy, and the Weaverville location is a lot colder than most of us have it at home. In 1983, the nursery endured a night of 16 below zero and a 60 mph wind, and ten years later the Storm of the Century deposited over two feet of snow that crippled the entire region. Come to think of it, it's amazing Michael was ever heard from again.
Our early conifer inspirations came from Jordan Jack and his Washington Evergreen Nursery, which moved to nearby Leicester, NC in the 1970's. Jordan, always a gracious and giving person, gave us free range over his entire place during the late 1980's and allowed us to take many cuttings, the progeny of which are in many of your gardens today. And Dr. JC Raulston has to figure prominently in there somewhere—his arboretum at NC State University in Raleigh is always at the forefront of new selections for the Southeast (and it's on the Convention tour next year), and his personal attentions to us are to this day greatly appreciated.
The invention of the Internet has made rural nurseries like Mountain Meadows much more accessible to the public. The nursery today has evolved into truly a family affair, as Kathleen now has a studio of hyper-tufa items and artwork and son Ryan contributes his field skills and his flair for metal sculpture as well. Kathleen's influences are also felt in the product line, as perennials have always been her personal focus. The future looks very bright for this family nursery and I encourage you to visit when your schedule allows.
I have half a lifetime of memories I could choose to share with you, but I will restrict myself to this one. Michael and I were travelling together to the ACS National Convention in Boston about 15 years ago during the period that city was overwhelmed with the construction infamously known as the "Big Dig." After arriving at the hotel, we decided to head into town in search of a lobster dinner (no GPS, inadequate map, in the dark, with a pickup truck still filled with plants). Needless to say, everything was ripped up and under construction, and signage was terrible. After a few hours, the two newbie out-of-staters got turned around again and again, became hopelessly lost in a seedier end of town, and ended up in a parking spot on a dead end street looking at a sign that said something like "No U Turn." Exhausted from the ordeal, we blamelessly regrouped, broke the traffic laws, headed back to the hotel, and each had a cold sandwich instead of the fabulous lobster dinner we had been promising ourselves for the last 700 miles. The show would go on for another day.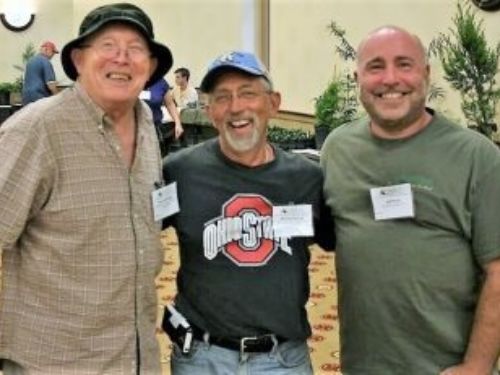 Over the years, I have collaborated on many projects with Michael, some much more physical than my body would like to remember. We've done some great residential gardens together, installed some fantastic conifer specimens, and, I hope, helped make the world a little more beautiful place. Our most recent significant collaboration has been at the new conifer gardens at the Missy and Wayne Galloway residence in North Asheville, which will be the site of an upcoming ACS event in 2018 in conjunction with the National Meeting in Raleigh. While still a very young garden, this place is already spectacular in its setting and in its breathtaking collection of unusual and dwarf conifers—I hope you'll get to see it .
In closing, Michael has always been there for me, no matter how rough life gets. Over the years, he has saved my ass many times. And so, it gives me great pleasure to present the Outstanding Service Award to Michael Balogh and Mountain Meadows Nursery. May he continue his passions and live long enough to see "a conifer in every garden."
Excerpt from the June 2017 Southeastern Conifer Quarterly. Gain access to archives of past newsletters and the National Conifer Quarterly by becoming a member of the American Conifer Society.
Comments