Southeast Reference Garden Grant to State Arboretum of Virginia
Southeast Reference Garden Grant to State Arboretum of Virginia
Ginkgo biloba collection improved and expanded
Text by Steve Carroll, Director of Public Programs, State Arboretum of Virginia
Photographs (except as noted) by Tim Farmer, PR Coordinator, State Arboretum of Virginia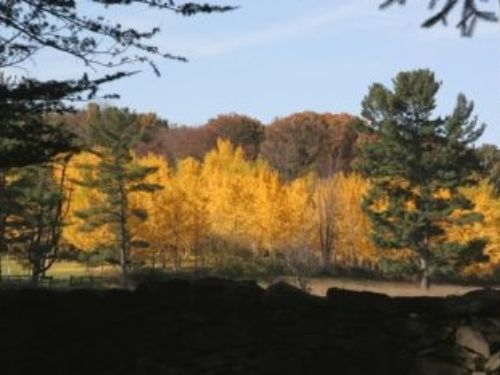 There is no mistaking a ginkgo, even from a distance. In spring, its characteristic, bright-green leaves cluster along branches at the end of short shoots. These are often divided into two lobes, giving rise to its scientific name, Ginkgo biloba. In fall, when leaves turn that stunning yellow-gold, ginkgo are even more recognizable. October finds trees quickly shedding their leaves—a trait unusual for the conifers with which ginkgos are often associated. Ginkgo are strikingly beautiful year-round—but then there is the matter of those foul-smelling, fleshy seeds!
From an evolutionary standpoint, ginkgo are one of our planet's most remarkable plants. Though distantly related to conifers, this tree is unusual enough that it is generally classified as the sole member of its genus, family, order, class, and even phylum!
Millions of years ago, ginkgo was widespread across northern latitudes, even in North America. However, it now grows naturally in only a restricted area of China (and even that is debated). Western scientists learned of ginkgo first as a fossil and only later as a still-living tree. For this reason, the ginkgo is often called a "living fossil," much like the dawn redwood and wollemi pine.
The State Arboretum of Virginia is fortunate to have what I believe is North America's largest stand of mature ginkgo, a collection of over 300 trees planted in rows. These trees are not cultivars. All the original plantings, which began in the late 1920s, were started from seeds from a single female tree on the UVA grounds in Charlottesville. The arboretum's first director, Orland E. White, planted them in order to determine the sex ratio of ginkgo offspring. It turns out to be 1:1, though Dr. White did not live long enough to learn this.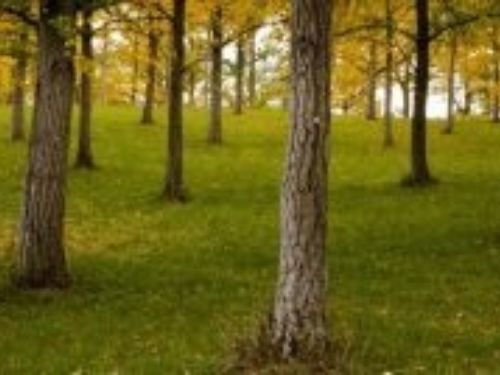 Over the decades, additional seeds from the same tree were used to fill in gaps. The most recent plantings, including those supported by this grant, were transplanted saplings from our own ginkgo grove, so they are "grandchildren" of the UVA tree and offspring of Arboretum trees.
Unfortunately, work on this valuable collection has not kept pace with need, and many trees were calling out for care.
We were fortunate to receive a 2015 Reference Garden Grant from the ACS Southeast Region. When combined with State Arboretum funds, we were able to accomplish three important objectives outlined in our proposal:
We hired a certified arborist to prune damaged and diseased branches. This will slow further damage and disease while simultaneously improving the grove aesthetically.
We planted ginkgo saplings in spots where trees had died in past years. In wetter, low-lying areas we planted dawn redwoods, creating a large and unusual "living fossil collection." Fifty trees have so far been planted. Additional trees are growing in our nursery and will be moved to the ginkgo grove when they reach suitable size.
We added the ginkgo to the Arboretum's Dial-a-Tree program, a series of professionally recorded messages that highlight select trees and that can be accessed by phone—for example, by visitors standing in the ginkgo grove—or through any suitable device via our web site. To listen to this message, visit blandy.virginia.edu/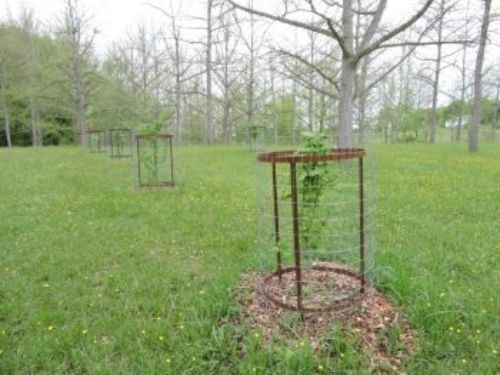 Large numbers of visitors come to the Arboretum specifically to see our ginkgo grove, especially in October when we post frequent ginkgo-color updates on the Blandy Experimental Farm Facebook page. The work undertaken as a result of this grant will help ensure our ginkgo.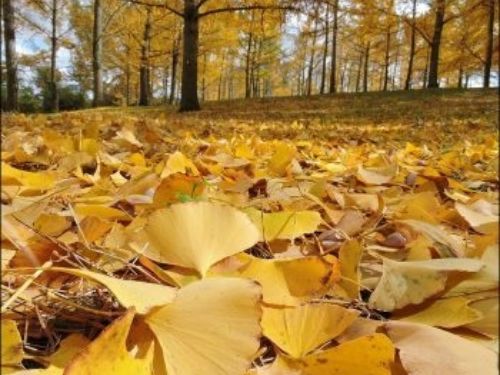 About the Author: Steve Carroll is the Director of Public Programs for the State Arboretum of Virginia.
Excerpt from the June 2016 Southeastern Conifer Quarterly. Gain access to archives of past newsletters and the National Conifer Quarterly by becoming a member of the American Conifer Society.
Comments