SER Region Meets in Memphis
SER Region Meets in Memphis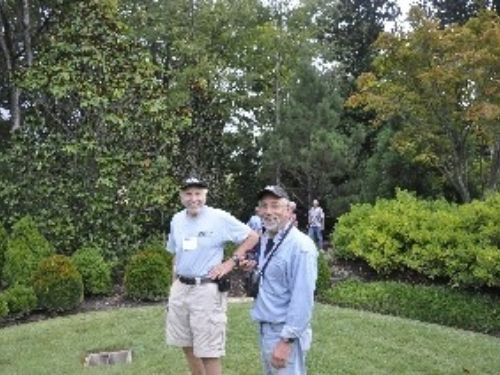 The 2013 Southeast Region (SER) meeting took place in Memphis, TN, October 11-12, 2013. For the first time the convention, meals and plant auctions did not take place in a hotel but in an elegant setting — the Dixon Galleries and Gardens — a splendid place to have had the events. Local ACS member Kennon Hampton arranged everything, including the visits, bus transportation, food arrangements and — supported by his wife Molly — did a wonderful job. He was around every minute and watched out for us. The meeting had 75 attendants from AR, FL, GA, KY, MO, MS, NC, VA and WI. One-third came from many locations in TN.
The program included visits of the Dixon Gardens, the Memphis Botanic Garden, the UT Research and Education Center in Jackson, TN (under the tutelage of Jason Reeves,) Brussel's Bonsai Nursery in Olive Branch, MS, and private gardens in Memphis and Jackson, TN.
Carol Reese, Specialist of the UT Ornamental Horticulture for West TN, gave a delightful slide talk show about "Plants with Stories to Tell". Newly elected SER President Dr. John Ruter (GA) introduced his new book Landscaping with Conifers and Gingko for the Southeast co-authored with Tom Cox (GA). Tom's presentation prepared the audience for next year's ACS National Meeting in Atlanta in June. Another highlight were, as usual, the silent and verbal plant auctions. And not to forget: the SER Merit Award, given to Barbie Colvin (GA) for her achievements as coordinator for the Reference Garden Program. The Southeast has 15 Reference Gardens, more than any of the other regions. The presenter was John Quackenbush (GA), outgoing SER Treasurer and recipient of the 2012 Award.
All in all, outgoing SER President Dr. Sue Hamilton, Knoxville, TN had the responsibility for this meeting and deserves our thanks.
---
(11/6/2013) SER member Janice LeCocq attended this meeting and has just sent us some of her photos which we are pleased to add. — Web Editor
Memphis Botanical Garden
Comments