Selections from the Dodge Collection to be Auctioned at NER Annual Meeting
Selections from the Dodge Collection to be Auctioned at NER Annual Meeting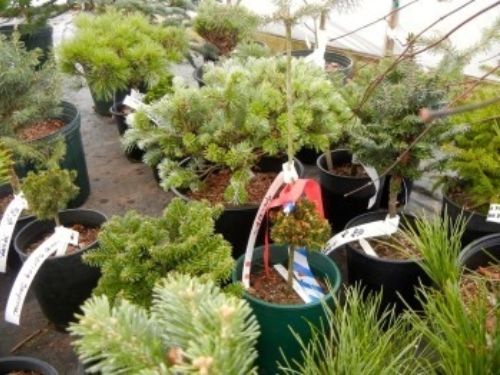 A prime selection of 80 plants representing 61 different cultivars from Dodge's Bethlehem Nursery in Connecticut have been acquired for auction at the September meeting. Most are of exceptional quality and quite rare. They will be part of the benefit auctions that will take place after Saturday's dinner. Download the list and take it to the auction with you for the best information in making your bids.
Shortly after Dodge died in January two of Dennis' friends, the New Jersey conifer collector Jeff Zage and Connecticut nurseryman John O'Brien were approached by the Dodge family for advice on disposing of the nursery inventory since the business is being closed — although Mary Lou Dodge intends to continue living on the property.
Over a series of visits Zage and O'Brien inventoried over 8,000 conifers and Japanese maples; their final list included 1,800 Sciadopitys verticillata and 1,200 Acer. They then developed a plan to liquidate the nursery inventory at a series of private sales for Dennis' friends and professional colleagues. ACS was invited to participate.
At the region's annual meeting February 22, Plant Sale Chairman Jerry Kral got approval from the Board to spend up to $2,000 to acquire plants from the estate for the auction. ACS members O'Brien, Ed Shinn and John Mohr went through the collection and made the selection yesterday.
The plants will be maintained by Al Pfeiffer of Oriental Garden Supply (Pittsford, NY) until the auction in nearby Rochester in the fall.
"Although the circumstances that brought us together in this was quite unfortunate," said O'Brien, "we are grateful to Mary Lou and the family for allowing us to remember Dennis in this way. By distributing Dennis' prized plants to the ACS — an organization that he supported in many ways for many years — Dennis is allowing our members to share in, and extend, his legacy in the world of conifers."
Comments