Select 2016 NER Auction Conifers
Select 2016 NER Auction Conifers
SOME SPECIAL CONIFERS FOR THE NER, NH, 2016 ACS AUCTIONS
by Jerry Kral
We have nine plants from the collection of the late Dennis Dodge thanks to the generosity of John O'Brien who will also be one of our auctioneers. Plants available for auction from the Dodge collection are shown below. Click on the plant names to see the ConiferBase descriptions and pictures of mature specimens.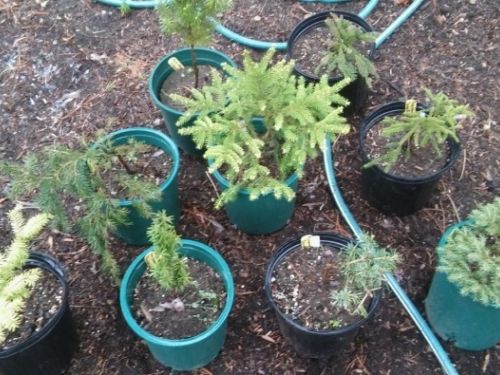 Bottom Row, left to right: Abies balsamea 'Eugene Gold,' Taxus baccata 'Aldenham Gold,' Picea pungens 'Everett,' and Picea abies (No label).
Middle Row, left to right: Picea abies 'Claudine', Picea orientalis 'Aebel Skylands Seedling', and Picea orientalis 'Spring Frost'.
Upper Row, left to right: Abies siberica 'Lukasz' and Crytomeria japonica (No name, from Poland supposedly with exceptional hardiness.)
Frank Goodhart working with John Mohr has acquired a 3 Gal., Japanese Umbrella pine, Sciadopitys verticillata 'Grüne Kugel' and a 6 gallon Bald cypress Taxodium distichum 'Lindsey's Skyward'. Grüne Kugel translates to "green ball" in the German language and with a size estimate of 20" in diameter at 10 years, a 3 gallong should be a premier specimen. And, if this isn't enough, it changes to a bronze-gold color for winter. (Z5-if protected) 'Lindsey's Skyward' is a dwarf bald cypress where a 16-year-old specimen may reach 10' by 6'. A 6 gallon specimen might already be half that size ready to make an instant, jaw dropping statement in your garden/collection. (Z4)
Bob Davis was given the task of acquiring several conifers on standards. Rare at most auctions, these beauties on their tall stems allow gardening right up to their trunks and really "stand out" when planted in a low ground cover such as 'Mother Lode' creeping juniper. Most of these specimens will be in 1 Gal. containers grafted at 12", 18" or 24". Some of these are almost impossible to find as standards and this should be considered a "once in a blue moon" offering! A partial list follows;
Abies koreana 'Kohouts Ice Breaker' (1 G Std.)
Abies koreana 'Silber Mavers' (3 G Std.) Note: At a growth rate of ½ inch a year in a 3G is remarkable!
Abies lasiocarpa 'Lopalpun' (1 Gal. Std.)
Picea abies 'Acrocona' (3 G Std.)
Picea omorika 'Pevé Tijn' (1 g std.)
Picea orientalis 'Professor Langner' (1 G Std.)
Picea orientalis 'Tom Thumb Gold' (1 G Std.)
Pinus parviflora 'Kin-po' (1 G Std.)
Pinus parviflora 'Regenhold Broom' (1 G Std.)
Pinus strobus 'Sea Urchin' (1 G Std.)
Please note that this is only a small taste of almost 100 cultivars we will offer at auction. Our Plant Procurement People have searched the country far and wide to offer at auction rare and possibly, one-of-a-kind plants. Individuals and many corporate donors also bring their best. Of course, you do need to attend to take advantage of this opportunity.
Join us at the 2016 Meeting in Keene, NH
Comments