Recap of Atlanta Meeting - with Photos!
Recap of Atlanta Meeting - with Photos!
WOW! If you were in Atlanta for the 2014 National Meeting, you know what that one syllable word means, and more. I have been going to national meetings only since 2008, but this one was one of the best. It had minimal "windshield time", a relaxed pace, beautiful gardens, and delightful company. Add to that unique keynote presentations, and attendees enjoyed a super meeting. If you missed it, you missed a great time. If you were there, you have a memorable event to look back on with a smile of satisfaction. Hats off to the organizers, to John Ruter and Tom Cox!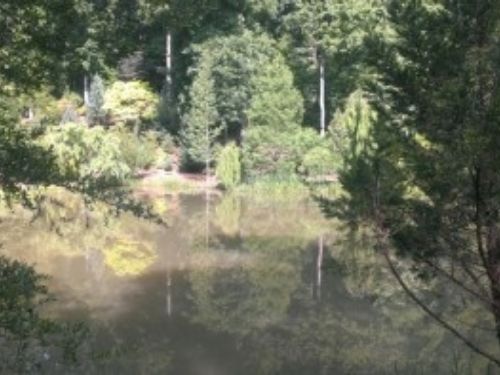 There is something about the South. It is formal and yet easy-going. The ambience matches the sultry weather, which shone happily down upon us. Nature co-operated. The gardens were both welcoming and elegant. The Cox Arboretum opened its gates to reveal a well-planned and multi-textured landscape. It was like entering a grotto, which, in turn, enclosed us. It is a treasure; so many conifer cultivars. I love the way the conifer beds slope up from the central path. You get the feeling that you are on a lowered stage, and that the central actors are on the main floor and balcony for you to see and appreciate. All the trees and plants were easily accessible and labeled. Our hosts were beckoning and comforting.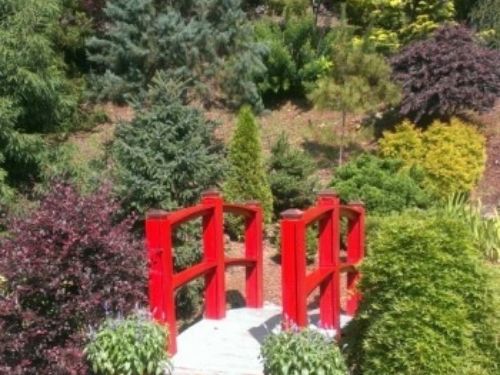 In similar fashion, the conifer collection at Smith-Gilbert, an ACS Conifer Reference Garden, was beautifully displayed. Through winding beds, you had the sense that you were in an art gallery; each conifer being a painting in a winding lounge. Here we were able to see the plants up close and personal, just as we did at the Cox Arboretum.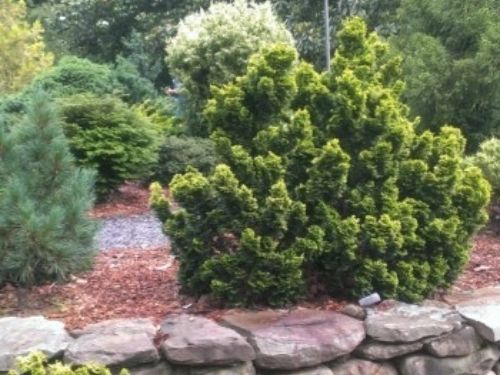 Both private and public gardens change with every season and with every year. It can never be said that "I have been there and don't need to go back." It would be like saying that "I don't need to visit the Louvre in Paris, France, again. I have been there already." Great beauty and care can never be seen enough or taken for granted. As a student of literature and the arts, I have always seen another detail I missed before. That is the greatness of admiring and learning from nature and human endeavor.
The third of our garden visits took us to the home and gardens of Jody and Kimberly Karlin. The Vista Garden is just that, a series of vista-s. The Karlin's have created, along with nature, garden beds which look like mini forested, mountain ranges and valleys. Everywhere the eye looks, there are unique sights of color, texture and shape. The vistas could be miniaturized into rock gardens, but miniature they are not. Trees are banked up the slopes of the valley gorges so that all are clearly visible.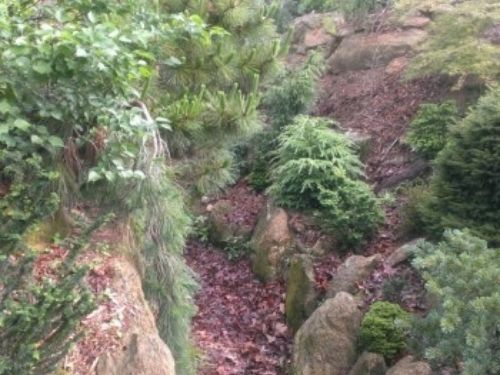 For me personally, Atlantic Botanic Garden brought me to a place Tom Cox introduced to me back at the Charlotte national meeting—container conifers. What a beautiful facility! Dancing waterfall topiaries and conservatories with container tropical conifers take the visitor to romantic and fantastical places. Fascinating were the tropical conifers. Their foliage goes from prickly and pinchie to feather-like. They are like large bonsai, totally dependent on human care. Atlanta Botanic is also an ACS Conifer Reference Garden.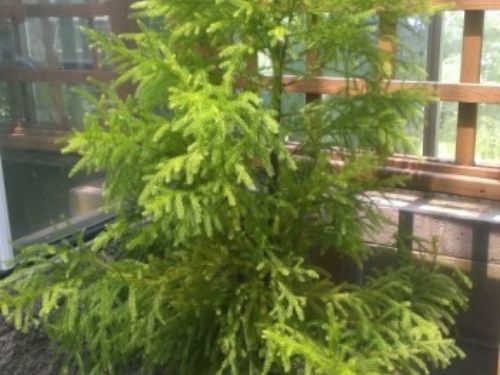 As you all know, part of our mission as a Society is to educate the public on conifers. At each meeting, whether regional or national, speakers present last-to-the-minute information about conifers. Dr. Jason Smith, Associate Professor of Forest Pathology at the University of Florida, Gainesville, spoke to us about tree disease in Torreya taxifolia. Dr. Smith reported that, in the 1940's, T. taxifolia were very common. The 1950's saw the beginnings of a rapid die-off of the plant. By the 1980's, only ca. 1,500 trees were extant. The culprit killing them is a fungus, Fusarium torreyae. Ex situ conservation is taking place at Atlanta Botanic. We learned that forest pathologists at Georgia Tech are investigating whether the pathogen is native or exotic. It is important to conserve the Torreya taxifolia since the subtropics and tropics have the greatest variety of conifers, and losing this species would be a tragedy. .
The second presentation of the meeting occurred on Friday evening. Bill McNamara, Director of Quarryhill Botanical Garden, Glen Ellen, California, was the speaker. This was one of the most unique conifer presentations I have ever seen. We didn't just see trees. We saw the people and places where the special conifers were sought. We saw homes and villages and mountain ranges. Bill and his crew have scaled many a ridge and tree to gather seeds and specimens. They have braved administrators bent on keeping a certain conifer in situ, only to win them over and have a chance to see the protected conifer. It was a beautiful presentation with screen on screen imagery, each projection being a triptych.
Two ACS members were recognized for their outstanding contributions. The Justin C. "Chub" Harper Award for Development in the Field of Conifers went to Derek Spicer, co-author of Encyclopedia of Conifers, which is a definitive research text on conifers. The Emelie and Marvin Snyder Award for Support of the American Conifer Society was awarded to Bill Barger, longtime donor of auction plants, propagator, auctioneer, website developer and administrator, and developer of the conifer database.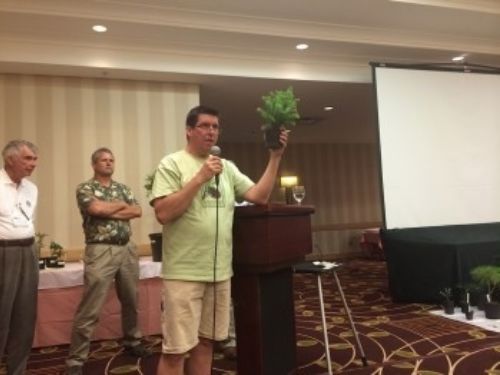 The auctions were as lively as could be. There was humor and even some screaming. Fun was had by all. I even heard that plans were being made to take conifers onboard aircraft so as to make the trek home. The auctions netted $9,274. Congratulations to all the winners.
Coming to a national meeting should always be a show of support both for the Region, which hosts and sponsors it, and for the American Conifer Society. So, saddle up folks, we're headed west in 2015 and then back to the Great Lakes in 2016. See y'all there!
Editor's notes:
All photos by Ron Elardo unless otherwise indicated.
Ron has a new email address: [email protected]. He'd love to hear from you!
Comments