Pinus taeda 'Eisenhower'?
Pinus taeda 'Eisenhower'?
Have you ever watched a good teacher at work in a classroom of restless youngsters trying to impart a lesson on something of little interest to most of them — such as science?
They do it by telling stories, such as the most famous one about the the laws of gravity: Isaac Newton observes an apple falling from a tree and eventually figures out how gravity keeps the moon from falling to earth. Or something like that.
Stories told by an engaging narrator can somehow fire synapsis in young brains to connect facts which lead to a greater understanding — even an appreciation — of formerly boring things. Like loblolly pines.
Perhaps the most famous Pinus taeda, the Loblolly Pine, made news this week by falling victim to an ice storm in Georgia last week. Its owners, the stewards of the Augusta National Golf Club, decided that their famous "Eisenhower Tree" was irreparable and had to be removed.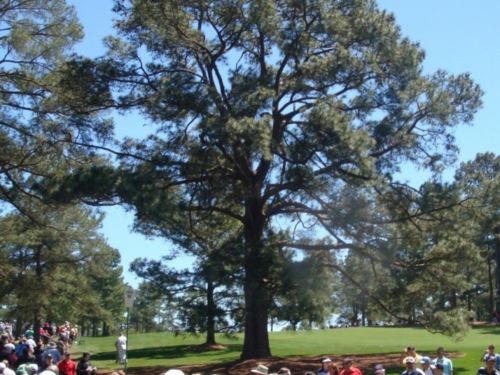 Since the Masters Tournament starts in seven weeks the big news was what would club management do to replace this 65 foot high, 120 year old specimen situated about 200 yards off of the 17th tee. This conifer has been snagging golf balls for generations and was often a significant factor in the outcome of their storied tournament as finalists headed for the 18th and the coveted green jacket awarded the year's Masters Champion.
In 2011 Tiger Woods injured himself trying to make an awkward shot under its canopy and not only lost the match but had to sit out several tournaments while he recuperated. But perhaps the most famous incident with this loblolly occurred in 1956 when President Dwight Eisenhower, a long time club member, attended a meeting and proposed that they remove the tree that was ruining his game.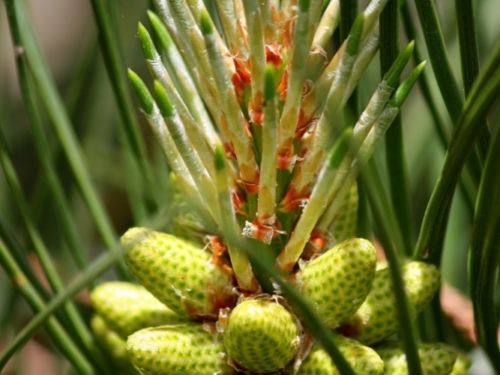 Rather than create an incident by refusing the request of a sitting President — and arguably the most powerful man in the free world — the club chairman promptly adjourned the meeting to avoid discussion. Naturally, this only created a greater incident and caused this loblolly to be named The Eisenhower Tree.
As much as this story illustrates the obdurate traditions of a venerable Southern institution (it wasn't until 2012, more than three quarters of a century after its founding, that Augusta accepted female members and chose Condolezza Rice as one of two women to break their grass ceiling) there are other facts to be recounted that might make the loblolly even more memorable, if not to adolescents, at least to conifer nuts.
Take the odd name loblolly. This species doesn't mind having wet feet and can often be found growing in the soggy clay common to much of its range. Colloquially this kind of mire was called a loblolly because the consistency of the soil reminded the 18th century settler of a thick soup, broth or pudding obtained by boiling on a stove which, in some parts of Britain, was called loblolly. Thus, thick soup = mucky soil = pine trees that can grow in a mudhole = loblolly pine.
Despite the lowly connotations of such an environment, the loblolly pine has become the dominant evergreen species in the Southeast because managed forestry practices (fire suppression) have reduced the prevalence of longleaf pine and slash pine. According to the Forest Service, after the ubiquitous red maple, the loblolly is the most common species found in U.S. forests. It has become a favorite of the timber industry because of its rapid growth, large size and fragrant yellow wood. It is grown in vast plantations from Texas to Georgia for timber and pulp.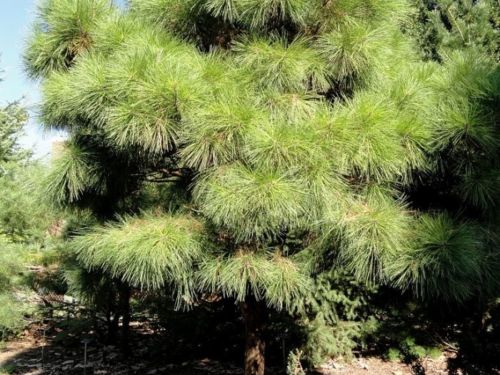 Shouldn't such an important conifer be formally acknowledged by giving it a name that will ring in the popular consciousness like "The Eisenhower Tree?" After all, Benjamin Franklin has a tree named after him (Franklinia alatamaha, "The Franklin Tree," also a Georgia native) and, while he is the father of the postal system in this country and he did his part during the Revolutionary War by getting France to support our cause against England, he didn't play such a seminal role in war as did Eisenhower during World War II nor did he rise to the office of the presidency.
So, do I hear a motion to petition the International Cultivar Registration Authority for conifer cultivar names at Kew to designate a Loblolly Pine cultivar as Pinus taeda 'Eisenhower'? I'm sure that among the august membership at Augusta there was somebody making sure that scion wood was taken of their Eisenhower Tree so that it can be propagated. (There has been press speculation that the club could possibly have a large replacement in the ground by April or, at the very least, a brass plaque commemorating the tree's historic significance in Masters play.) Soon, everybody will start calling the loblolly 'The Eisenhower Tree' after our distinguished 34th President.
All of these disparate facts about the loblolly pine swirled to the surface this week and some day may be formulated into a interesting story by an inspiring teacher of science, botany or horticulture. Since the northern limit of hardiness of Pinus taeda is southern New Jersey, however, I won't likely be planting one in Maine and, thus, my adolescent kids won't have to endure the story of The Eisenhower Tree.
Readers of this blog are not so fortunate.
Comments