Photos from Conifer Day at Lael's Moon Garden Nursery!
Photos from Conifer Day at Lael's Moon Garden Nursery!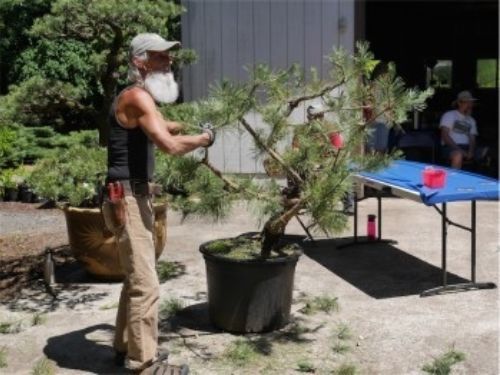 This past Saturday, the ACS Western Region held a "Conifer Day" at Lael's Moon Garden Nursery in Rochester Washington. The venue was stunning, with lots of new and unusual conifers and companion plants to whet or spark our guests' appetites.
Jock Demme of Iseli Nursery donated a selection of large, landscape-ready specimens. He discussed their use in the landscape and how they could help create year-round garden interest. These, and some choice collector-level plants donated by European Nursery and Stanley and Sons, were used in a raffle that raised over $500 for the Society.
After a tasty lunch, Bonsai and Niwaki Master Dave DeWire gave a captivating pruning demonstration on a rather large Japanese black pine. The bidding was fierce and the raffle bucket quickly filled for the chance to win the resulting work of art. Ironically, the winner was a Lael's employee who won on a single $5.00 ticket!
The event was open to the public, resulting in five new members for our society. Nature provided us with beautiful weather and the full carts of plants leaving the nursery proved that everybody had a fabulous time.
Special thanks to Kathleen Pottratz and Anton Klemens for helping with the logistics and to Bethany and Larry Lael for supplying their time, space and great lunch!
Comments