Pearl Fryar, an American Original
Pearl Fryar, an American Original
When we relaunched this website earlier this year it included a section with videos which was largely populated by some dozen short features produced by Larry Nau with Jerry Kral showing off some of his favorite conifers in his Rochester, NY, garden. A web search uncovered a few other relevant videos but one was especially notable — a one-hour documentary on the garden of Pearl Fryar.
The son of a sharecropper, assembly line worker and self-taught topiary artist, Fryar has turned his yard into a museum of classical and abstract evergreen sculpture that has made tiny Bishopville (pop. 3,471) not only a tourist destination in central South Carolina but has won recognition from the Garden Conservancy and a visit from Martha Stewart's crew for a segment on her TV show.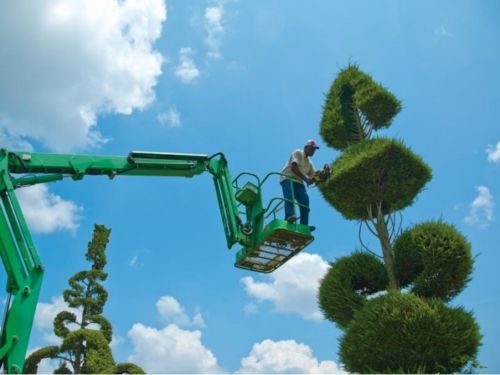 The October issue of ACS' Southeastern Conifer contains a story on Pearl by Lindsey Kerr and it is reproduced here.
---
On any given day, visitors to the Pearl Fryar Topiary Garden in Bishopville, SC, will find Pearl outside talking to visitors and trying to sneak in a few minutes of pruning. Pearl loves to talk and, at 73, he seems to be doing more of it than ever.
Nevertheless, he still finds deep satisfaction from spending an hour sculpting a juniper from the top of his cherry picker or painstakingly zip-tying together the young branches of an oak tree. Over-flowing with trees and shrubs trimmed into fantastic shapes, Pearl's garden attracts visitors from across the US and internationally.
Pearl Fryar is originally from Clinton, NC, a small farming community. After a stint in the Army and years living elsewhere, he moved to Bishopville in the mid-1970s with his wife and young son. After a few years, Pearl bought property outside of town and went to work on making his yard something different, unique, "a cut above."
In 1985, he won the coveted Yard of the Month award, but didn't stop there. He said that something "clicked" when started trimming and shaping plants. Over the next 30 years, through countless hours of work and heavy doses of talent and determination, Pearl transformed his yard into a masterpiece of abstract art in the form of topiary.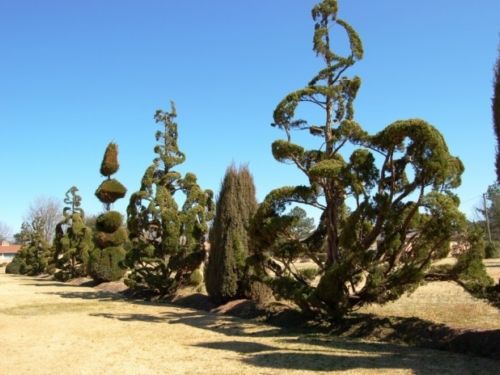 Since the very beginning, Pearl's garden attracted attention. At first, it was more of a local curiosity, but artists and journalists quickly saw his talent and spread the word of his remarkable garden. Since the 1980s, he has been featured in many publications, from Southern Living to the New York Times. In 2005, an independent production company filmed a documentary about Pearl titled A Man Named Pearl. It was released in theaters to critical acclaim in 2006 and has since been shown on many television stations. He has also appeared on various television programs, most recently the Martha Stewart Show in 2010.
Thanks to publicity and word-of-mouth, Pearl has become a world renowned topiary artist. Visitors come from around the world to witness his art and to shake his hand. Today, it is estimated that 20,000 visitors come to Pearl's yard every year.
When Pearl began his garden in the early 1980s, he did not want to spend money on plants. What was the point of buying perfect specimens if he was just going to cut them up? Instead, Pearl collected most of his plants out of the "throw-away" pile at the back of local nurseries. No matter how ugly and broken they were, Pearl took the plants he found and placed them around his yard. Consequently many of the cultivars in Pearl's garden are unknown. It is difficult for even an expert to identify the plants because they are cut into abstract shapes and pruned frequently.
Horticulturists and gardening enthusiasts who visit Pearl's garden often exclaim "You can't do that!" when they see how he has cut certain conifers. When giving tours, Pearl likes to point out a juniper ground cover (cultivar unknown) that he has trained to grow up a light pole in his back yard. After 30 years, the juniper looks like a large conical tree. He tells visitors: "I didn't have any limitations because I really didn't know anything about horticulture. I just figured I could do whatever I wanted to with any plant I had."
A row of eastern white pines (Pinus strobus) and loblolly pines (Pinus taeda) are topped and cut into lollypops or "Dr. Seuss trees" near the south side of his house. Pearl cuts the new growth off at least once a year with his gas-powered hedge trimmers. Inspired by Pearl, Moore Farms Botanical Garden near Lake City, SC, now has several pine topped and cut into tiers.
Over the years, Pearl has collected a few trees that generally do not do well in his Zone 8a climate. In the mid-1980s, each winter Pearl planted the live tree he had purchased for Christmas. Until he recently replaced it with a metal sculpture, he had a 30 foot tall Norway spruce (Picea abies) growing next to his house. He also has at least one Fraser fir (Abies fraseri), a Colorado blue spruce (Picea pungens), and Balsam fir (Abies balsamea).
When Pearl first started working with plants, he took what he could find. Now, however, he is a bit pickier about the plants he works with. One of his favorite conifers to work with is the genus Juniperus. On the south edge of his property, there is a fantastic hedge of 30 foot tall Hollywood junipers (Juniperus chinensis 'Torulosa' syn. 'Kaizuka') cut into shapes that some people describe as "sailing ships." Pearl trims these junipers once or twice a year. The last cut comes in late fall or early winter.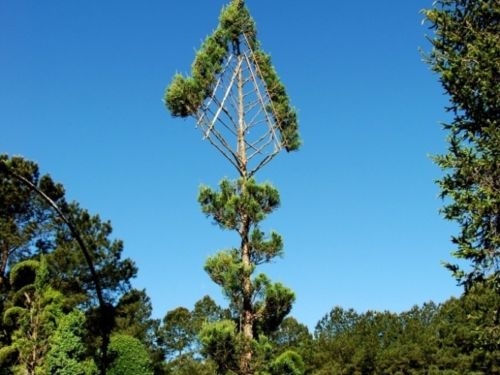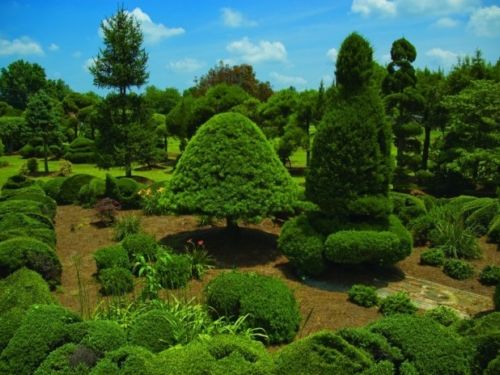 Comments