NER Fall Rendezvous
When September arrives the days are still comfortably warm and the harvest of our gardens begins. The nights, of course, are cooler so the deciduous trees start to change color and most true New Englanders will tell you that "This looks like the best leaf peeping season they have ever seen." To me there is no better place or time for an ACS Rendezvous than in New England in autumn. So it was that Sue and I (and, of course, Bella) left our home south of Boston to participate in the last Rendezvous of the year at the nursery and farm of long-time ACS member (and regular volunteer auctioneer at our annual meetings) John O'Brien of Granby, Connecticut.
Heavy clouds made the weather a bit iffy all the way but, as we pulled into the nursery, the sun broke through and provided a beautiful fall day for the event. We were soon joined by other Connecticut nurserymen who trucked in a broad variety of conifers and complimentary plants: Broken Arrow, Bruce Perran of Perran Nursery, Jay Angle of Jay's Nursery and our own Brent Marcus of Conifer Kingdom (well, we do share him with the WSR since his nursery business is in Oregon but he lives in Boston where he runs his design practice.)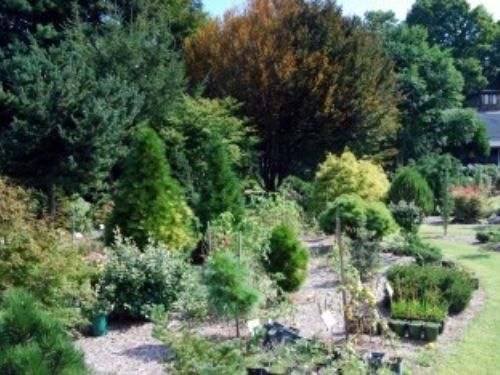 All vendors contributed some choice specimens to our mini silent auction. Their trucks were no sooner unloaded than other coneheads started arriving and we soon had cars from five different states parked on John O'Brien's front acre. After a brief introduction, John gave a guided tour of the conifer display gardens surrounding his home on the grounds of the nursery. He has been developing his gardens over the past decade and now displays an impressive variety of mature conifers. (He also has one of the largest [2,000 cultivars!] selection of hostas in the country, but that's another group.) He shared his design philosophy of letting a specimen plant 'grow in', then cultivating a garden bed around it, then adding many examples of specimens for sale.
Different beds were positioned to provide ideal growing conditions while grouping various conifers with complimentary plant material. There were such interesting combinations that members of our group could be heard saying they would try to reproduce the effect in their own gardens. The tour eventually lead to his "back forty" where a former hay field is being used to "line out" some of John's varied stock of conifer cultivars, presumably until they can find a home in our own gardens via a NER annual meeting and tailgate sale where O'Brien Nurserymen are a regular presence.
After the tour many of us found a shady spot in the gardens to picnic; others wandered about to look at the offerings up for bid in the silent auction as well as other prime specimens in the sales area. The auction plants were varied and the interest high; I believe that nearly everybody who bid won at least one tree by the end of the day.
By mid-afternoon we thanked our host, said our good byes to our conifer friends old and the two new participants who were not yet members but, we hope will soon join, and had a lovely, leisurely drive back through the Connecticut countryside which offered tempting stops at orchards (where we discovered some wonderful just-picked peaches) and quaint country restaurants.
The event raised almost $400 for the ACS treasury and we found a few trees in O'Brien's back forty in definite need of relocation to our Hanover garden. Many thanks to John for hosting and helping to organize the Rendezvous. Thanks too to all our fellow conferites and vendors who made the day such a success!
Comments