NER annual meeting held in Massachusetts
NER annual meeting held in Massachusetts
This year 102 members of the Northeastern Region convened on Massachusetts' South Shore, an area defined as south of Boston and before Cape Cod extends its' crooked arm into the Atlantic, for its annual meeting September 14-15.
Headquarters was in Rockland, MA, at the Holiday Inn. This is the backyard - literally as well as figuratively - of Coniferous Contemplations' esteemed editor, Suzanne Mahoney (and her always willing and ever patient husband, Mike), who planned the weekend event and then had everyone over for lunch in their garden on Saturday.
Friday night's dinner speaker was Brent Markus, the thirty-year old wunderkind landscape architect (Markus Specimen Trees, with practices in Chicago and Boston), nursery operator (Rare Tree Nursery [wholesale] and Conifer Kingdom [retail]) and Cornell Ph. D candidate. (He didn't tell us about his One of a Kind Cuff Links, LLC, which deals in luxury contemporary and antique cuff links - but that's for another presentation.)
Brent's illustrated talk focused on the importance of color and contrast in the conifer landscape and was amply illustrated by examples of completed projects that include many of the unique specimens he grows at his Oregon nursery and ships to his work sites in the Midwest and East. He also demonstrated that he is not averse to using Acer palmatum for counterpoint in his conifer-centric gardens and, not surprisingly, he is growing all types of Japanese maples for this purpose as well.
Saturday morning, under glowering skies, our bus departed for the first garden of the day, that of Mark and Vera Anderson in Hanover MA. Their New England farm-house-style home is located on a one-acre corner lot in the suburbs where Vera, a long time perennial lover, has recently become interested in conifers.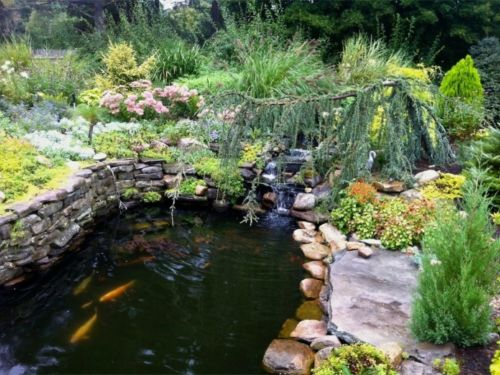 In what she described as a work in progress, Vera and Mark have, in the past five years, gradually reshaped their back yard with specimen conifers as focal points but also as shielding borders to their neighbors' property. Unfortunately the sky opened up shortly after the buses arrived but the Anderson's newly constructed summer house (i.e., storage and work space) provided a convenient shelter from which to observe their handiwork.
A principal feature of the back yard was a koi pond inhabited by some lunkers that were 24 inches or more and a remarkably situated overhanging blue atlas cedar that defied gravity - or maintained its precarious position because its root ball was restrained by cleverly positioned deadmen buried out of sight.
The rain stopped by the time the busses reached the Duxbury garden of Rochelle Albin who, some 20 years ago, moved into this home in a glade at the bottom of a small wooded valley. She selectively cleared the native pine and understory plants, including plenty of poison ivy. Her nearly two acre property still retains many of the mature natives but now the winding paths she created take you through a woodland garden that sports an understory of hydrangea, laurel and rhododendron but also mature specimens of such imports as Japanese pine and cedar and western fir.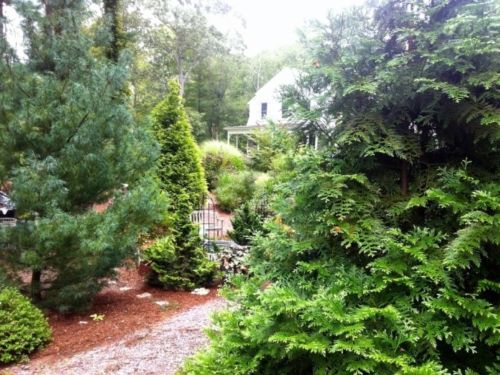 From the road, the house sitting at the back of the lot is barely seen through the tall pines and oaks that are interspersed with informal plantings of giant hosta, oak leaf hydrangea and other shade lovers. As this roadside buffer thins out, closer to the house. Albin has planted specimen conifers such as Pinus parviflora 'Kinpo', Abies larsiocarpa Compacta,' and Pinus strobus Curly'- which led to a spirited discussion with some dissenters insisting that the cultivar was Torulosa.'
Rochelle was attending the ACS international trip so such burning questions were never answered but the group explored with abandon, discovering many trough gardens (some in old bathtubs!) stuffed with miniatures, including conifers. It was unfortunate we were unable to meet the owner as the character of this landscape indicates a blithe spirit gardens here.
The next stop was under a shining sun (finally!) and a catered Tuscan d jeuner at chez Mahoney in Hanover. Twenty two years ago Suzanne and Mike built this Norman style (don't you dare say Tudor) home on two and a half acres of an old corn field. It helped that Mike is a professional carpenter but as gardeners they were both amateurs.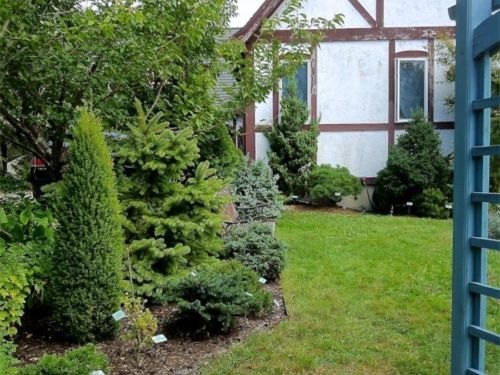 Sue went through a perennial phase and, by chance, picked up a dwarf conifer at one of Les Wyman's conifer promotions and that lead to joining ACS (where today she serves on the Board) and now is mother hen to over 400 conifers.
In her case, the ACS mentioned also refers to 'Acquired Conifer Syndrome'. We have tried to plant so that, by the time all the herbaceous material has passed, she noted, we have beautiful blue, yellow, mauve, silver and green sights from all our windows. Talk about year round color!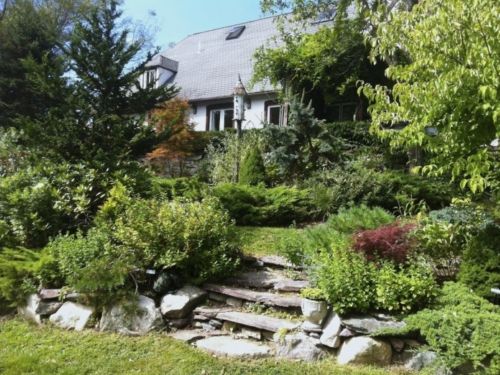 The many island beds, some that border the lot, others that wrap around it as it slopes to a new pond and waterfall in the rear, demonstrate the benefits of active membership in ACS. A decade of attending national and regional meetings, auctions and tailgates have resulted in one of the most diverse displays of conifers and companion plants seen on these tours in many years. If the labels on the plants didn't answer visitors' questions, Suzanne could, even to remembering from whom and when she acquired the specimen.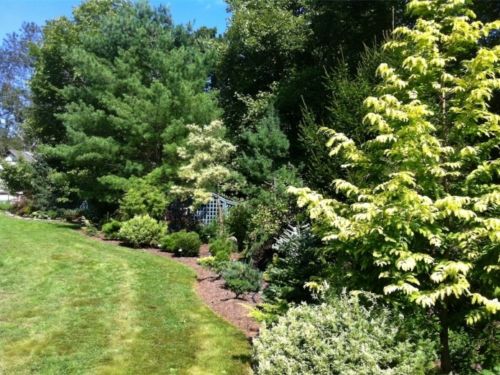 After a leisurely catered lunch under tent in the rear garden we boarded the buses for the final garden, that of Gerry and Rindy Bennett just one street away.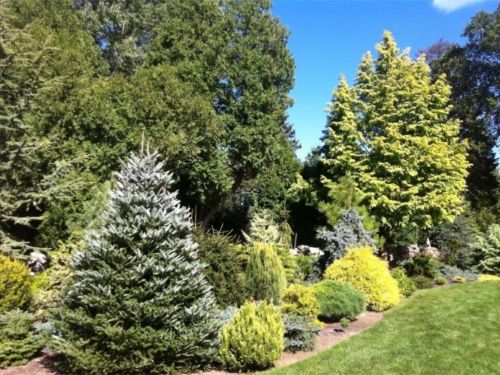 While the Bennetts have been in the historic (1780) colonial house nearly 40 years, the garden had been largely perennials. Most ACS visitors were astonished to learn that this now conifer-centric garden, of over 200 specimens, many quite mature and in excellent health, was only seven years in the making. Gerry was quick to credit to John Gallant of Katsura Gardens (an ACS Corporate Member), a 15-acre nursery in nearby Plymouth, who was on hand to give members the dirt on the redesign of the gardens.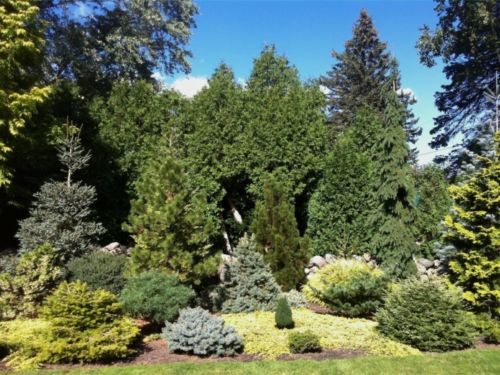 With three daughters and 11 of their 13 grandchildren within walking distance to their house, the Bennetts wanted to create a more colorful year round garden space for the family and found conifers to be a lower maintenance solution. Besides, Gerry wanted to spend more spare time with his early settlement American antique collection, most items dating between 1690-1720.
In a most remarkable garden folly ever seen by this observer, Bennett brought in craftsmen from the nearby historic Plimoth Plantation to build a one and a half story replica of a Post Medieval English style early colonial to house his antiques.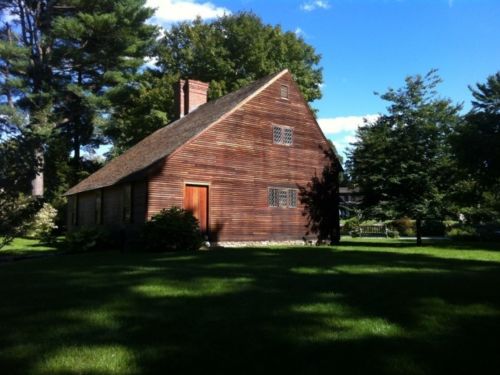 The weather-boarded home (stained to look unpainted) stands in the middle of the back yard next to the swimming pool. (The downstairs area serves as a changing area, conjuring up the incongruous image of Puritans in swim trunks.) Yet, everything about this site exhibits exquisite taste, top quality materials and a decidedly personal design that includes hundreds of evergreens bordering the property and culminates in a densely planted conifer display in the rear.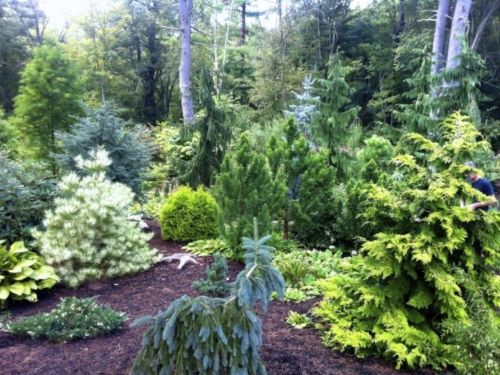 After returning to the hotel and a brief social hour the silent auction was held where some 228 donated plants found new owners.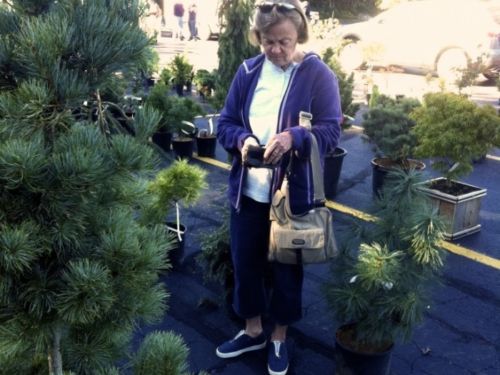 A buffet dinner was served with the silent auction plants distributed in 20 minutes during dessert and, shortly after, the heady verbal auction commenced at which another 50 plants were bid up by the usual cast of raconteurs (John O'Brien, Ran Lydell, Jerry Kral and, in a welcome return to the podium, Bill Wells) who dispatched them all in record time of 45 minutes to many of the attendees present.The ever popular Sunday morning tailgate drew crowds to the hotel parking lot. Brent Markus (blue hoodie), who spoke Friday night, brought several Japanese maple cultivars from his Rare Tree Nursery.
This performance sets a new benchmark for next year's gathering, which will also be a National Meeting and therefore include many people from away who will get to see how Noreasters throw a party.
Comments