Mainely Niwaki
During last fall's Western Region Annual Meeting in Olympia, WA, I got a chance to attend a clinic conducted by Dave DeWire of Dragonfly Farms in Kingston, WA, who is a master of the Japanese art of niwaki, a method of sculpting garden trees.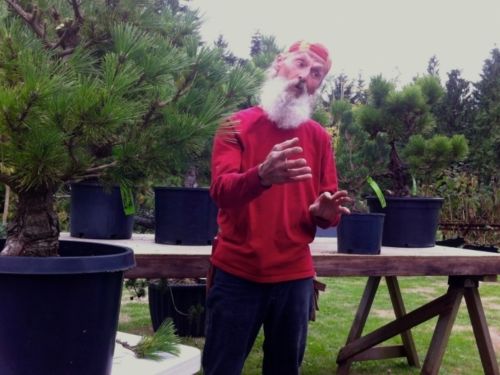 It's a form of bonsai, but on a larger scale, with the trees in the ground as opposed to being in a pot. The roots of niwaki trees are not worked on (as in bonsai) because they are needed to support the larger amount of vegetation found in the dwarf conifers that are the favorite subjects of this art form.
Niwaki is not only a feature of Japanese-style gardens but it is starting to appear in many well-tended formal gardens on the West coast. Conifers such as Japanese black pine (Pinus thunbergii) and Japanese cedar (Cryptomeria japonica) are favorite species but Japanese evergreen oaks, cherry and maple are used as well.
DeWire explained that to become a sensei of niwaki one had to look at the tree as less of a garden specimen and more as an individual and to coax out of the tree a shape that the tree wants to achieve. "I look at the tree for a while until it speaks to me," he said. He gets his inspiration from the selected specimen before transforming it with the traditional Japanese pruning techniques like tate-kae (reshaping the trunk or branches by cutting back.)
Since so many pop cultural events that originate on the West Coast take years to migrate east to midcoast Maine, I was quite surprised the other day when, driving my daughter to school by a back road, I discovered that someone had taken up niwaki to improve the appearance of a property and create showcase specimens close to the street. I asked around to try to find out the name of the horticultural hipster bringing avant-garde gardening to Brunswick and that led me to Mauvais "Mo" Boucher (the French Canadian influence is strong here) who is an arborist with Boucher Bros., a local firm.
It turns out that Mo was working under contract for CMP, our local utility, and since his employers didn't care how he got the job done (as long as he got the job done!) he decided to bring a little artistic flair to the task.
I was marveling at two very large Pinus strobus that Mo had recently finished. They exhibited what I detected might be a style that niwaki artists call kyokukanshitate, for the tortuous shape the trunk takes, and another, a sokanshitate example that formed twin spires.
I asked him how he determined his approach, thinking that he might be using the same Zen principles that guided DeWire's artistry. "I call it 'thattaway,'" Mo said. I was unfamiliar with the term, which sounded more like something from the Penoboscot language of the Native Americans who once lived here than Japanese. When I asked for a translation he said, "Well, if the power line is thisaaway, then I take the tree thattaway."
He had to work efficiently since his contract stated that he had to get it done by today, April 1.
Comments