Jean Iseli: My Most Unforgettable Character
Jean Iseli: My Most Unforgettable Character
When I was a kid Reader's Digest was one of the country's most popular magazines and one of its most popular features was called "My Most Unforgettable Character." When that question was posed to me recently, without thinking, Jean Iseli popped to mind.
Gone now twenty eight years this June, Jean (pronounced" John") Iseli still occupies the most prominent place in my pantheon of conifer characters that I have encountered over the years. The youngest in a nursery family who had emigrated from Switzerland to the fertile Willamette Valley in Oregon, he had early first-hand exposure to the rigors and uncertainties of the nursery business. Trained as a mathematician at Linfield College in nearby McMinnville, he was first employed by the US government in Washington DC and became involved in the defense research project known as ARPANET that eventually evolved into what we now know as the internet. It is reported that he also designed computer programs for guided missiles used in Vietnam. He dabbled in painting, ran an art gallery and briefly taught mathematics back at Linfield sometimes sporting a toga with laurel branches in his hair, occasionally lecturing students while standing on his head (hopefully not wearing the toga!)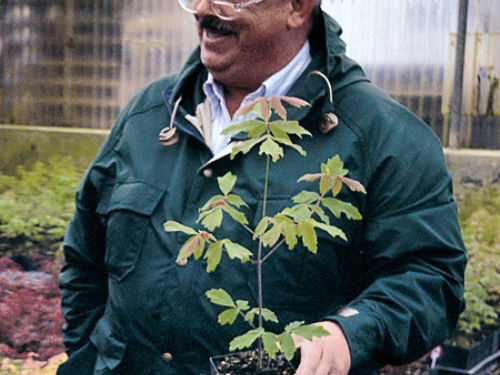 These were the rumors, speculations and folk lore that surrounded Jean Iseli - some I heard from the man himself - and, as befit legends, most were too good to spoil by verification. He was a complex and mystical person whose conversation was at times difficult to follow. It has been said that he painted word pictures and I would agree. At times these pictures could be lyrical and quite arresting but also, sometimes more abstract, making it difficult to decipher his meaning. Best of all he was a master raconteur who loved to tell (as well as hear) a good story.
Once, when he was touring the garden of the highly educated, refined and accomplished Portland gardener Jane Platt, he said that if she would visit him at his nursery he would show her a new conifer cultivar he was certain would provoke "multiple orgasms." Ms. Platt was reported to have replied with an enigmatic smile, "That would indeed be very interesting Mr. Iseli."
Jean was a man with vision and great communication skills - his exchange with Ms. Platt notwithstanding. He would sit at his computer and fire off voluminous letters to people he had heard were conifer collectors. He could be quite charming and soon relationships developed that were further cultivated by telephone calls that could last for hours. In those early days of the nursery (when I was Jean's only sales representative) my wife would frequently want to know who I had been talking to on a Sunday afternoon for two or three hours (JoAnn remembers it being three to four!). "Oh, I'd say, that was only Jean Iseli wanting to know how things were going."
From these initial contacts with a few collectors Jean built up a list of prospects that turned into a remarkable network of conifer enthusiasts world wide. One of Jean's most important relationships in the early years was with John Mitch who had a nursery nearby and whose specialty was unusual grafted conifer varieties and Japanese maple cultivars. Mitch had assembled quite a collection of plants over the years which he used as stock plants for cuttings to be used for his liner business.
Mitch had either discovered himself or had otherwise come into his possession a most rare and unusual Japanese maple called 'Red Filigree Lace'. It was, and probably still is, the most finely dissected red lace leaf maple in existence. He had kept it hidden away for fear of people taking unauthorized cuttings and ultimately had the intention of patenting the plant. I guess by then Jean and John had become good friends so one day John revealed his secret plant to Jean. Jean was smitten on the spot and offered to buy it. John told him what his ambitions for the plant were and said to the man from Boring, "you can't afford it."
After intense negotiations Jean became the owner of this sensational maple when he wrote Mitch a check for $10,000! Initially, it was the transaction, much more than the plant itself, that became the sensation. The news of this purchase flashed around the plant collector world like wildfire.
The following spring small packages started to arrive at the homes of plant collectors in the East accompanied by a letter that began: "Permit me to introduce myself; my name is Jean Iseli from Boring, Oregon. Please accept my gift to you of a new Japanese maple cultivar 'Red Filagree Lace'" The letter went on to inform the recipient that the sender was an Oregon nurseryman and plant collector himself and, by the way, was wondering what plants the collector might have in his collection?
Many of the collectors in that early period were quite competitive and didn't realize that Jean had sent much the same letter to all of them. Each probably thought they had made a unique connection with a collector from outside of their region and therefore not likely to be a competitor. Soon they began exchanging grafts and scion wood with the Oregon nurseryman and not surprisingly, many of these plants began to find their way into production at the Iseli nursery.
Years went by, but sooner or later plants once known only to exist only in collections began to arrive in Eastern garden centers. When Iseli Nursery started shipping to the East, the same plants that were once prized by the competitive collectors, they became diminished because now they had become common and everyone could enjoy them. Most became disillusioned, sold off their collections and moved on to other interests. Some of them, in very logical fashion, focused on other collecting opportunities to satisfy their acquisitive nature.
For example, Joe Burke, the great Japanese white pine collector, turned his attention and affections to old sewing machines; his basement later became full of them. Joe Caesarini went from collecting grafted conifers to gold coins and then ultimately on to antique Chinese porcelains of which he had an astonishing museum quality collection that filled every nook and cranny of his house. Then there were the others like Ed Resek and Joe Reis who accumulated conifers because they simply enjoyed them. These folks always shared their plants with whomever was interested and were not bothered in the least by their popularization, such were their generous spirits.
For somebody who could at times be painfully shy, Jean Iseli was a very proficient people collector. Those who fell under his spell over the relatively short time that spanned his nursery career have remained to this day part of a devoted band of followers - some would say it's a cult. I imagine that every devotee has a copy of Don Howse's photo of Jean hanging somewhere in their work space of him holding an Acer griseum in his hand and wearing a sly smile on his face.
As with those little black and white dog figure magnets, there were also some people who were repelled by Jean, but a great many more were attracted to him and became loyal adherents. As a leader he inspired great loyalty. He had a vision of what he wanted the Iseli Nursery to become and inspired everyone who worked for him to help achieve that goal. He hired good people and appointed them to positions of responsibility. The young Milt Toby proved to be an excellent choice as production manager. Likewise, Don Howse, his early chief administrator and able front man who would quickly step in when he sensed Jean was feeling shy and didn't want to meet with people. Don also served as our most knowledgeable staff horticulturist. Sandy Ditmar, who has forever had the huge job of inventory control, has been there from almost the beginning. So too Jock Demme, the sales manager. Most of the folks in both production and sales have been there for a very long time caused in large part, I think, by the stature and enduring legacy of Jean Iseli.
Probably the best hire Jean ever made, many have thought, was Paul Halladin as the head propagator by now almost forty years ago. Fresh out of college then, and still today annoyingly fresh-faced, Paul brought with him a good educational background but little hands-on horticultural experience outside of working in the family nursery when he was younger. Paul brought order and discipline and good nursery practices to what had been a haphazard operation.
Production started to swing into high gear when Paul took over enabling salesmen to be hired and the nursery set on a path of continuous growth. Paul went on to distinguish himself in his field by advancing the knowledge and technology of plant propagation and particularly with the rooting of conifer species heretofore believed not possible. He has quietly been responsible for the acquisition and development of many new conifer species and cultivars for the nursery and is responsible for many successful garden-worthy plants which have been thoroughly evaluated and tested. He has likewise culled out plants once thought to be promising that he believed did not measure up and would ultimately cause the consumer disappointment.
Jean Iseli built a great organization that has managed to survive for all of these years in spite of a succession of ownership changes following Jean's death when it seemed that management was more interested in cashing in on what had been built than on building upon the foundation Jean laid down. It is indeed fortunate that in this long interregnum leading up to the present day ownership that general manager Greg Pilcher was there to keep the enterprise from running off the rails. I'm not sure of this, but I think Greg too must keep that little picture of Jean somewhere in his office, as he has certainly remained true to the nursery's mission as set out its founder.
Unforgettable characters have a way of propagating followers.
---
Ed. Note:
For more reflections from Ridge, read
Four Remarkable Plantsmen
Comments