In the True Spirit of Christmas
In the True Spirit of Christmas
All of us remember adolescence as a mixed blessing. Watching it emerge in one's children gives us a chance to once again relive the agony and ecstasy of these years. However, one of the downsides of this phenomenon is beginning to effect not just a family ritual but my last shot at buying one more conifer before the weather closes down the nursery yards in northern New England for the year.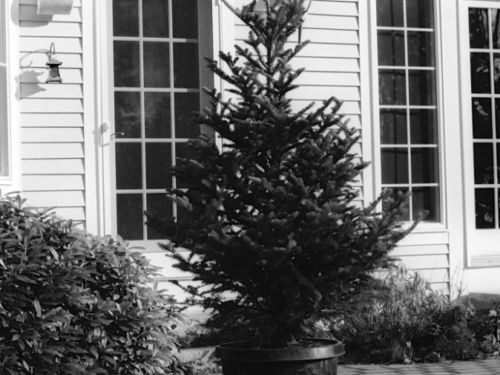 I've written about our Living Christmas Trees before but haven't updated that report for two years because I suspect rising hormone levels around here are killing off a tradition. Last year, when it got to be that time of the year to scour the nurseries in midcoast Maine for a cultivar I didn't already have — but at 50-60% off — I came across a nice Fraser fir of just the right size to put in a 25-gallon pot for Christmas and into the ground by New Years.
Now, before you start pecking away in the Comments section below, let me say that I fully appreciate the irony of buying an Abies fraseri straight species as a collectable.
The Fraser Fir is the most common — and preferred — Christmas tree in the northeast not only for its abundance but also because, on a tree farm, it can be easily kept to a tight, full, pyramidal habit. As a relative of Abies balsamea it has that same wonderful woodsy aroma; its silver undersides are especially attractive. Most of all, it has superior needle retention even after it has been separated from its life support system and subjected to the dry heat of hearth and home for the holidays.
Yet, of the nearly 200 cultivars that I've planted here in the past eight years, I don't have a Fraser! How did that happen?
Well, that was rectified last year when I put my chosen selection in a pot and announced to the then 13-year-old Anna and 11-year old Mac that we had our 2012 Living Christmas Tree and it was ready to be decorated. Their reaction was a polite, "Great, Dad," and then they returned to their texting.
Our decision to spend the holiday week away also conspired to reduce the level of holiday festivities around the house to the point that the Fraser not only sat in its pot on the patio all December and never made it inside, but also it never even got decorated!
When we got back in January it went into its prepared spot easily enough but somehow it didn't have the aura and warm memories of previous living trees that had been the center of our celebrations in years past.
So this year, before I got excited about a new acquisition, I polled my constituency and to discover that nobody had any interest in visiting a nursery to select the 2013 tree but that they thought it would be nice if I continued the tradition. Did you get that pronoun? It was "I," not "we." Not wanting to disappoint "them" — but also not wanting to traipse all over the surrounding counties looking for something interesting — I made an executive decision that was an inspired compromise. (Are you listening, Congress???)
A Bristlecone pine that I've neglected too long has been losing direct sun to encroaching woodland canopy and it isn't likely to make it through another season. Transplanting it has been on my to-do list for years but the job was always put off in favor of planting new acquisitions or relocating other, more interesting and more attractive selections elsewhere in the garden.
I decided to dig up the Pinus aristata, make it our Living Christmas Tree for 2013 and transplant it in a sunny location after the holidays where it will have a better opportunity to grow into a healthy tree. With any luck, it could outlive me by a thousand years, given its genetic propensities.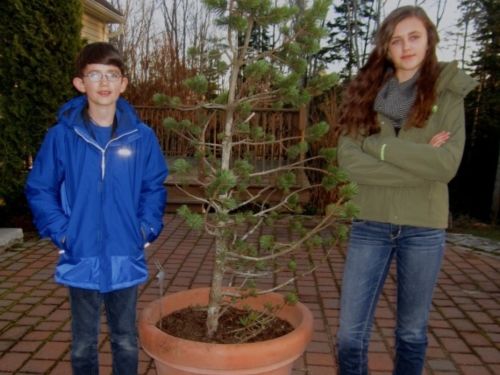 Because of the difficult environment in which it grew up, this Bristlecone is stunted, weak, threadbare. It's not a good specimen of a noble species that is one of the longest living organisms on earth.
I'm not going to decorate it with a lot of gaudy baubles to mask its sad shape; perhaps I'll give it a few ornaments made of wild bird seed that it can share with the chickadees and nuthatches that have ignored it all these years. (It has never coned.) But I'm going to give it a place in the sun and a new life.
I'm also going to give it a name: Tiny Tim.
Trees from some Christmases Past
Comments