From Zero to 330 in Record Time!
From Zero to 330 in Record Time!
I remember walking into my first Regional ACS meeting and seeing the walls of the ballroom completely lined with plants that were up for auction. So many plants. It was like being in Plant Heaven! That was 10 years ago, and seeing ballroom walls lined with plants still seems like Plant Heaven to me. I've had the pleasure of organizing our regional auction for the past few years and 'rustling' plants for our auction is something that our region does really well.
So how do we get from zero to 330 plants in just a few weeks? It's pretty easy if you have the likes of Martin Stone, Sandy Horn, Bradley Roberts, and Jeff and Jennifer Harvey all contacting growers and nurseries, asking for donations to support our region and our Reference Garden Grant program. This year over 30 donors helped to make our auction a resounding success, bringing in over $7300!
The behind-the-scenes can get a little hectic as plant lists are sent across the airwaves and our 'list' starts to grow. This year nine of our Reference Gardens donated over 100 plants or garden-related items to our auction. And then there are our members who are also growers, like Michael Balogh, Bruce Appeldoorn, the Harveys, and Bill and Valerie Hinesley. Several members, like Paul Schneider, are also generous with plant material that they propagate at home. We also solicit donations from nurseries or growers that one of us 'knows'. And some of our members also donate a plant or two or three, just to help a very worthy cause. Ever so slowly our list grows from 15 to 50, to 73, 121, 207, 281 ... and as the meeting draws near, the last lists come in and we're over the magic mark of 300 items, the number we think is good for our meeting.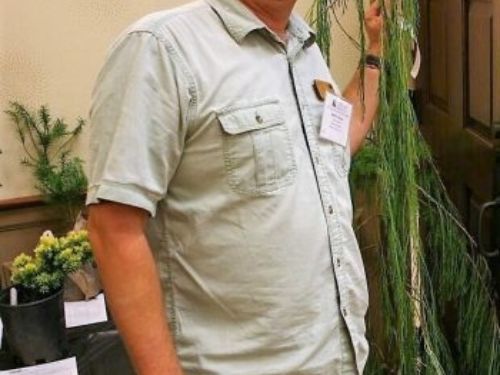 As the list is sorted alphabetically we find that we have fulfilled the ABC requirement, with the exception of Q, V, Y and Z. Yes, Acer to Xanthocyparis, we have them all. From small Rohdea seedlings and the teeniest of miniature conifers to a giant Chamaecyparis lawsoniana 'Imbricata Pendula', and an ever so stately 7' Thuja occidentalis DeGroot's Spire, the room is filled with a variety of sizes, shapes, colors and textures.
Once bidding begins for the silent auction, the room is like a slow motion merry go round, with attendees slowly walking plant to plant, carefully studying the cultural information, deciding whether there's a spot for it in their garden. Bids are written, higher bids are made, back and forth until 6:28 pm, when the '2 minute warning' is given and a last ditch effort is made to protect your bid by inching it up just a smidgen. Oh thank goodness when the gavel drops at 6:30 and the Silent Auction draws to a close! The finale to our meeting is the Live Auction, where 20 or so of our most unusual and spectacular plants are auctioned off to the highest bidder. If you snooze, you lose. This year, the highest bid item was Ginkgo biloba 'DD's Deluxe', a beautiful variegated cultivar destined to be a show stopper at the Baker Arboretum, as they persevered through an onslaught of spirited bidding and maintained the winning bid.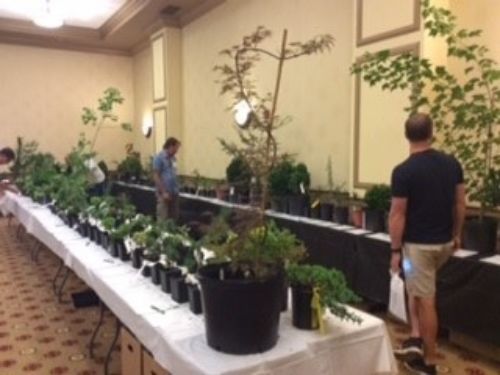 Next year our regional Plant Rustlers will once again put on their gear and head out, garnering the best of the best for the National ACS meeting, which we will be hosting in Raleigh NC, June 14-17, 2018. Mark your calendar and we'll see you there!
The Southeast Region ACS Extends Its Thanks to...
The 2017 Regional Meeting Donors:
Abbey View Farm
Amelia Lane
Appeldoorn Landscape Nursery
Architectural Trees
Atlanta Botanical Garden
Baker Arboretum
Barbie Colvin
Bill Blevins
Burk Renner
Byron Baxter
Camellia Forest
DiCaro Nursery
Dirt Dawg Nursery
Garden Design Nursery
Hawksridge Nursery
Homewood Nursery
JC Raulston Arboretum
Jeff Rutel
Maple Ridge Nursery
Memphis Botanic Garden
Moore Farms Botanical Garden
Mountain Meadows Nursery
Mr. Maple
Norfolk Botanical Garden
Pat McCraken
Paul Schneider
Piccadilly Farms
Pine View Nursery
Plant Delights
Stanley and Sons Nursery
State Botanical Garden of Georgia
Summers Nursery
The Unique Plant
University of Tennessee, Jackson
University of Tennessee Gardens, Knoxville
Excerpt from the June 2017 Southeastern Conifer Quarterly. Gain access to archives of past newsletters and the National Conifer Quarterly by becoming a member of the American Conifer Society.
Comments