From the President's Desk Winter 2014
From the President's Desk Winter 2014
I'm writing this over the New Years holiday after having spent most of it fixing a roof damaged by our latest blizzard. So naturally my thoughts turned to the balmy days of summer when I hope to see many of you at our National Meeting in Atlanta.
In deference to the climate down south, this year's meeting will be held earlier — June 12-14. Look for your registration materials in the mail by late March or on the ACS website. Southeast Region President John Ruter and his team have assembled an outstanding collection of gardens and arboreta filled with conifers for us to visit. National meetings provide a unique opportunity to visit outstanding gardens, bid on rare conifers and enjoy the fellowship of hundreds of other coneheads. Please join us in Atlanta in June!
We've been more proactive in our membership efforts this year. Thank you to the hundreds of ACS members who have welcomed our phone calls and follow ups to e-mails. This has provided us with an excellent opportunity to chat with many members and hear their comments and suggestions. I am grateful to the volunteers in each region who have assisted with this endeavor.
Increasing membership has been a topic of discussion and action for the Society and its leadership since our founding in 1983. In recent years, however, every horticultural society that I am aware of has been experiencing a greater challenge recruiting new members. The ACS has been fortunate to have many individuals create opportunities to recruit new members.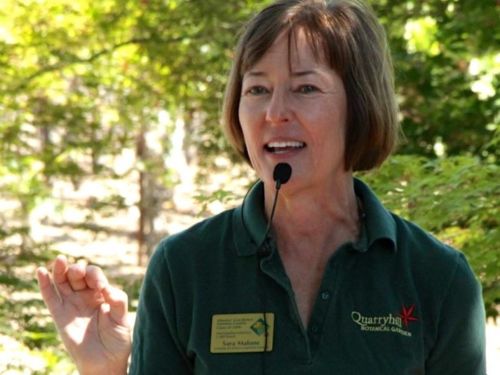 Byron Baxter led off 2013 by distributing ACS materials at his booth at the Ohio Landscape and Nursery Association show. Thanks to his efforts the ACS gained close to 20 new members. Later in July Sara Malone helped to organize an event launching Quarryhill Botanical Garden in Glen Ellen, CA, as the Western Region's newest Reference Garden. (They have added two more since then.) This event helped Sara enlist over 25 new members this past summer.
Without a doubt, the all time champion of ACS membership recruitment is Gary Whittenbaugh of Iowa. In November Gary signed up his 300th member since he began his personal crusade over 14 years ago. Gary's technique is to be friendly and enthusiastic about conifers, freely dispensing information about their cultivation and, at times, giving away a donated cultivar in a small pot with each new sign up.
There are many opportunities to find new members and we encourage you to make a New Years resolution for 2014 to sign up at least one new member this year. Most ACS-ers belong to local garden clubs and many are members of a Master Gardeners' program — all of which may be a source of potential new ACS members. Local garden stores and nurseries that sell conifers, as well as area garden shows and horticultural trade shows, provide other recruitment opportunities.
Some ACS members participate in local garden tours where there are more prospects. Events at our Reference Gardens or a local Rendezvous provide yet other opportunities for recruitment. And, of course, the new website is packed with information about conifers and our organization — including the ability to process new memberships online — where you can direct a friend who might be a good candidate to join our organization.
Here in Rochester, NY, I am partnering with my friends Jerry Kral and Elmer Dustman to co-ordinate a winter gathering of area members. In the immediate metro area we have over 22 ACS members, with an additional 12 members within an hour's drive. We are creating an opportunity to meet in an informal and fun atmosphere in the middle of our harsh upstate winter to talk conifers and perhaps show off some pictures of our gardens.
We encourage you to find such opportunities to create a convivial atmosphere for conifer collectors in the off season and use this as an opportunity to bring a friend who might want to join our ranks. (We are also going to use this opportunity to huddle about final plans for our 2014 Northeast Regional Meeting in September which I hope many ACS members will consider participating in.)
The greatest resource for soliciting new members is our current members who are willing to share their passion for conifers. We need your help to educate your gardening friends and neighbors about conifers and the ACS.
We have ACS brochures, past issues of CQ and of course our website to assist you in living up to your New Year's resolution of getting at least one new member for 2014. Contact your Regional President, Director or Membership Chairperson if you need some promotional materials, suggestions or assistance. Together we will grow the ACS, expand the awareness of conifers and make new friends along the way.
Thank you for your membership in the American Conifer Society. I also want to express my gratitude to our hundreds of Sustaining and Patron members whose extra support helps us with our many programs and awards.
See you in Atlanta!
Comments