Eddie's Legacy
If you are a collector, chances are you have at least one conifer in your garden that bears Ed Rezek's name — or whose origin can be traced back to him. Rezek was one of the remarkable plantsmen who helped popularize dwarf conifers in North American horticulture and was a founder of ACS.
As we wind down this year in conifers its worth reflecting on some of the people whose passion, talent and commitment to discovering and propagating plants for the small landscape have not only broadened the palette of garden design but provided a very satisfying avocation for many of us. Earlier this year I asked Ridge Goodwin, who was just starting his career in the nursery business when he attended the seminal ACS meeting, to reflect on some of the luminaries in the conifer world that he has known. His blog post, Four Remarkable Plantsmen, included Rezek and I'm reposting it here for those who missed it. As with its initial publication, Ridge is hoping that you can add some thoughts to his reflection about Ed Rezek, his introductions or the early days of dwarf conifer collecting. - Web Editor
---
Eddie (as everyone called him), was from Malverne, Long Island. He developed his fascination with dwarf conifers at the end of WW II when, as a young Marine staff sergeant, he found himself in Peking where dwarf plants were part of the Chinese culture for centuries. He once told Newsday garden writer Irene Virag that for years "I carried the picture of the Forbidden City in my mind." He and his nearby friend Joe Reis, who had similar interests, would travel around Long Island together on weekends visiting large estates, grave yards, nurseries and arboreta searching for mutations on conifers called "witches brooms." When they found them they would bring back scion wood to their homes, graft them up in their small make-shift greenhouses and set them out in their collections.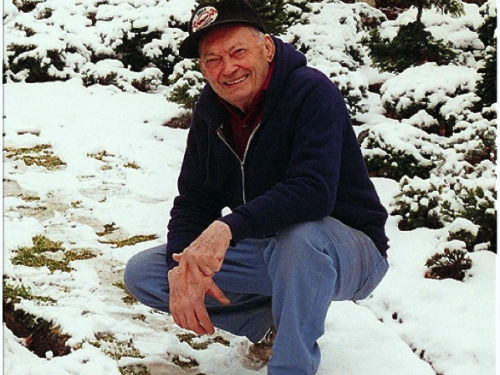 Both men were of modest means, Joe was a printer and Eddie a postman whose houses were typical of suburban Long Island subdivisions that did not have large lot sizes and did not include a great deal of space for gardening – but what glorious use they were able to make of these small spaces!
Eddie, probably more than Joe, I remember as more of a collector, who had artistic and design talent which was brought to bear in the miniature landscapes he created on small irregularly shaped beds in the tightly restricted space of his back yard. Inevitably, small colorful plants began leaking out to the front of the house and ultimately spilling down the street finding their way into neighbor's yards here and there.
Eddie, like Rudi Kluis, another great plantsman of this era, was a master of his materials, and had an innate sense which plants worked well together and how to create interesting compositions of contrasting shapes, sizes and colors that kept the eye bouncing from one tableau to the next without repetition or tiring the eye. All of this was done mostly with dwarfs and miniatures, which as many of us know, are particularly difficult to work with and to keep healthy, indicating Eddie's highly developed skills as a plantsman.
Rezek's place became a mecca on Long Island for aspiring conifer gardeners willing to take the time to seek him out. He would always be ready to offer some advice, if asked, and no one left his property without a sense of wonderment at his talents, nor without a gift of a plant from of his greenhouse or cutting beds that was likely one of his own discoveries.
Up until his death in 2005 you could always count on running into Eddie at the various ACS regional and national meetings freely offering his advice and lending his authority to conversations concerning correct nomenclature of conifer cultivars and where they had been discovered. He was also a major contributor of scion wood to Jean Iseli out in Oregon as he was building his nursery and the two were very good friends.
There is almost nothing good any knowledgeable plant person will say about the invasive Norway maple but Ed Rezek may redeem the species yet. One, which probably began life as a volunteer seedling in the hedgerow between his and his neighbor's property, started raining down aberrant seed into several of Eddie's planting beds resulting in a most astonishing variety of odd looking progeny popping up in his display beds.
At first an annoyance and a weeding problem, Eddie soon came to recognize that these odd-ball mutations from a weed tree germinating right under his nose merited much closer attention. He began to separate them into several distinct forms from which he selected the most promising performers. Some grew to species size without any side branching whatsoever making a most wondrous bean-pole while some were dwarf, some intermediate and some had dark crinkly foliage, etc. There were many distinct cultivars. Such an outpouring of seedling diversity has probably never yielded such a bonanza of unique new plants and thankfully, it happened in the back yard of one of the foremost mutant plant collectors of our time, or else they might not have been noticed at all.
---
Ed. Note: In the winter of 1995-96 Rich and Susie Eyre met with Ed Rezek on Long Island and brought a movie camera to produce this one hour tour of his garden and those of some of his friends, including the garden of the recently departed Joe Reis. This video (made with the lower res cameras of the day) has been on the Eyre's Foxwillow Pines Nursery site and we have ported it to our video page with their permission.
For more reflections from Ridge Goodwin on the early pioneers of conifer collecting in America, see My Most Unforgettable Character.
Comments