Dennis Dodge (1934 - 2014)
Dennis Dodge (1934 - 2014)
Dennis E. Dodge, longtime ACS member and proprietor of Bethlehem Nursery in Bethlehem, CT, died suddenly on January 3 of heart failure at Waterbury Hospital. He was 79 and is survived by his wife and partner in the nursery, Mary Lou, and their two sons, Michael and Steven, and a daughter, Terri. Dodge was the 2006 winner of the Harper Award for Merit in the Field of Conifers and was widely respected for his expertise in Sciadopitys cultivars.
After serving as tank commander overseas in the Army, Dodge returned to Connecticut in 1960 to open up an auto body shop in Waterbury that he ran for 40 years. His garden gradually evolved into a nursery that he operated for 29 years where he propagated and developed rare and unusual dwarf conifers that were prized by collectors the world over. He also enjoyed hunting, fishing and rooting for the NCAA Champion UConn women's basketball team.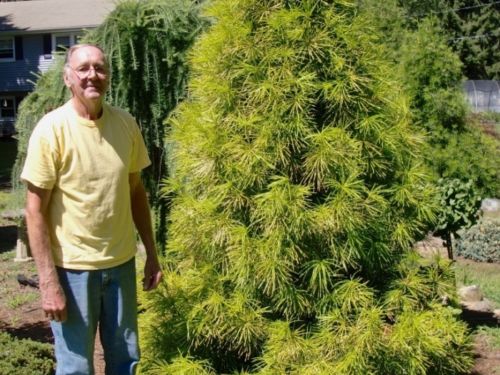 "The American Conifer Society — and in particular the Northeast Region of the Society — has lost one of its most outstanding, knowledgeable and generous members," said ACS President Larry Nau.
"Dennis' contributions to the Society date back to its founding. He was a magnanimous donor of trees to all of the Northeastern Region's events. When the Region hosted the National meetings he made an extra effort to have the very best trees available for our benefit auctions.
"Dennis was well connected with conifer enthusiasts and growers around the world such that he managed to get the latest cultivars — of Abies concolor and Sciadopitys verticullata to name a few — to his customers and ACS colleagues. He will be sorely missed by all; our condolences go out to Mary Lou and his family."
In lieu of flowers, contributions in Dennis' name may be made to Bethlehem Volunteer Ambulance Association, P.O. Box 401, Bethlehem 06751; or to Bethlehem Volunteer Fire Department, P.O. Box 504, Bethlehem 06751.
Comments