Conifers Still Key at the JC Raulston Arboretum
Conifers Still Key at the JC Raulston Arboretum
When J.C. Raulston first came to NC State University at Raleigh in 1975 to kick off a new program in woody ornamentals he wasted little time before installing conifer trial beds. The conventional wisdom said that conifers would not grow in the hot, humid southeastern US, but J.C. soon proved otherwise. The original conifer collection flourished over the years and conifers were added throughout the JC Raulston Arboretum (JCRA). As trees grew the conifers became somewhat shaded and when the JCRA added an additional two acres it was decided that new conifer beds in the full sun were needed. Thanks in part to a grant from the American Conifer Society, Southeastern Region, these new beds are establishing well.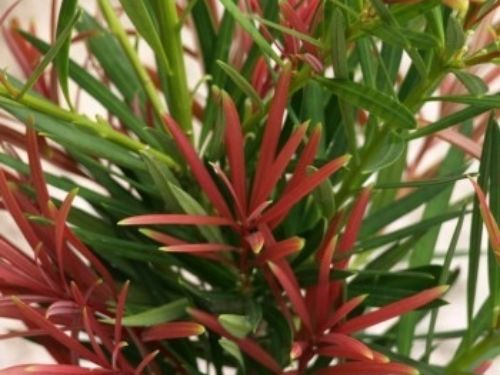 J.C.'s philosophy was to plant straight in the red clay to test plants in the same way many homeowners do. Over the years our techniques have changed and since we constantly remind our members and visitors that a successful garden starts with the soil, we now amend our new beds to give plants their best chance to thrive. The new bermed beds built for the conifers were created with approximately 2 parts native top soil (red clay), 1 part expanded slate (Permatill), and 1/2-part Novozymes compost. The combination of clay, expanded slate, and compost has worked well throughout the JCRA providing excellent fertility, aeration, and water holding capacity while limiting compaction and settling of soil.
A crushed gravel path made from a local material known as Chapel Hill gravel combined with some permeable pavers forms the path system and makes an excellent contrast with the mulched beds and ties this collection to our other Arboretum paths. After the beds were roughly constructed and bermed to about 36", paths were cleared and compacted.
A base layer of crushed stone 3"-4" thick was put down. Paths were graded to a low spot which was dug out to create a 3'x3' dry well filled with gravel and topped by permeable pavers. The crushed stone paths were compacted and topped with 1" of Chapel Hill gravel which was again compacted.
A total of about 70 conifers were installed during the first phase of planting with room for almost double that number of dwarf specimens. With the addition of these new plantings, the JCRA currently has close to 500 taxa of true conifers displayed through-out the grounds (search our Current Plantings to see what we are growing) and an additional 75 or so in the nursery waiting to be planted.
Since the collections are being evaluated there is a regular shift in emphasis for the collections to reflect current interests. The 100 year drought of 2007 reminded us how extremely drought tolerant Podocarpus macrophyllus is once established. We've been collecting all the forms of it and other podocarps that we can find to evaluate ever since. Of course many of the species are quite tender but we don't take anyone's word until we kill them ourselves.
As the conifer collection grows, it remains a key feature of our evaluations and a source for information about what performs in the southeast. We are actively trying to cultivate as wide a diversity of genera as possible to display the incredible range of conifers available for the landscape. In addition, we have begun propagating and growing a variety of "plasticarps" to replace the interior plants in our education center. These are the tropical and sub-tropical conifers with mostly wide, plastic-textured foliage which grow well in relatively low light conditions. Plants we are growing in this group include Sundacarpus amarus, various Agathis species, podocarps, and Araucaria.
As we move forward with trials and evaluations, we are looking for more selected forms of southeastern native conifers. Some recent plants under evaluation include various Juniperus virginiana selections such as 'Regal' (introduced through the JCRA) and an unnamed very columnar, very blue form.
There are plenty of Pinus taeda witch's brooms in the wild but there have been relatively few selections of dwarf loblollies and other southeastern pines and relatively few variegated or gold selections. Obviously there is still much to learn about conifers for the southeast and after 35 years we are only beginning to scratch the surface.
---
Mark Weathington is Asst. Director and Curator of Collections at the JC Raulston Arboretum at NC State University in Raleigh. A version of this story appeared in the December 2013 issue of Southeastern Conifer. For more, including photos of the Raulston today, go to the Reference Garden section.
Comments