Coniferous Contemplations — Mid July 2016
Coniferous Contemplations — Mid July 2016
Hello, Western Region Coneheads; and welcome to prime time! From my vantage point in western Washington, I could not ask for a better summer. Ever since the season's brutal kick start in May with record heat, we've settled into pleasant maritime conditions with adequate natural rainfall and delightful moderate temperatures. This all results in an amazing display of local conifers — everything is looking lush and healthy. The Evergreen State is truly earning her nickname this year.
Events, meetings and various Opportunities for Amusement
I had the pleasure last month to attend the ACS National Meeting near Columbus, Ohio. As always, it's an honor and a unique experience to visit great gardens and rub elbows with so many "legends of the game," interpreting and comparing notes about how certain trees behave in all of the different parts of the country.
During seminars I was presented with a new idea or two regarding propagation. I look forward to trying them out in my efforts to achieve better success with those pesky Picea. The short version is that my cool (55°F) greenhouse may be still too warm. These trees seem to really want to be cooler and dryer than many of us give them in the weeks post-grafting.
The auction was jam-packed with coniferous wonders and many items that I've never seen before; plants that are either brand new, extremely rare or very difficult to propagate. My major score was this freshly grafted Pinus flexilis 'Ginger Baby,' a miniature seedling from Jerry's Morris' well-known witch's broom 'Ginger Quill.' Legendary plantsman, Andy Duvall from Michigan donated this plant as well as its sister, 'Eenie Weenie.' Now that I have one of them, I must have the entire family. That's how this collector operates. 'Ginger Quill' is easy enough to locate in the trade; 'Eenie Weenie' is going to take some work.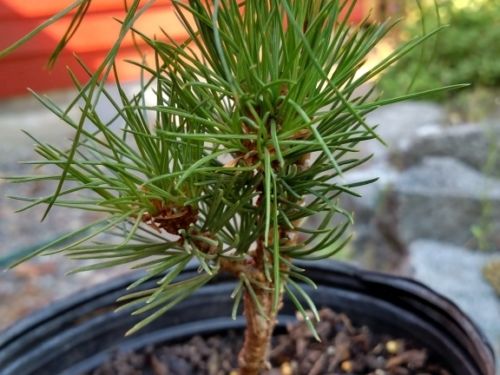 Looking back on last month's National Meeting, I couldn't help but think that our upcoming Regional Conference in Seattle has everything they had and a few things they didn't.
Update on the Seattle Conference
At the time of publishing this article, we're at just over 50% of our maximum of 55 registered guests, so there's still time to join in the fun if you don't delay. In recent conversations with our auction plant acquisition team, they've stated a goal to make this our most memorable and awesome auction ever. Fewer bidders means a better opportunity to score that special plant and, oh by the way, they will all be "special plants."
We've been invited to check out a second private garden on Friday morning! Not far from Jim Singer's place in Kirkland are his friends and fellow ACS members, Dan and Jeanne Everts. Their garden is home to a nice selection of dwarf conifers, nearly as many Japanese maples to complement them, and one of the best water features you'll see anywhere.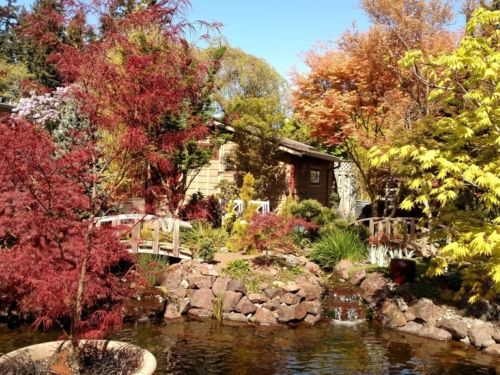 It gets even better! ACS Founding Father, Bob Fincham told me that his next book, Lost but not Forgotten, will be made available for the first time on Saturday, September 10th. His latest work details the exploits of the early pioneers of American conifering. If you're like me and like the story behind the plant equally or more than the plant itself, you're going to want an autographed copy as a memento of the event.
In the coming weeks, I'll be putting together a list of local nurseries and gardens which will be open for you to visit as part of any pre- and post-meeting activities. My garden, Glacier's End Arboretum, will be open to you on Sunday, September 11th. I'm less than an hours drive from our conference site, so it'll be an easy side trip, especially for those of you traveling from Oregon and California.
Speaking of Glacier's End
Although I'm not a big fan of "zonal denial" I've been pushing the envelope with one of my favorite pines, namely Longleaf pine, Pinus palustris. After 4 winters of acting more or less like like a clump of grass (completely normal behavior for this species), it's apparently gathered the strength to grow skyward. I look forward to the future with this one.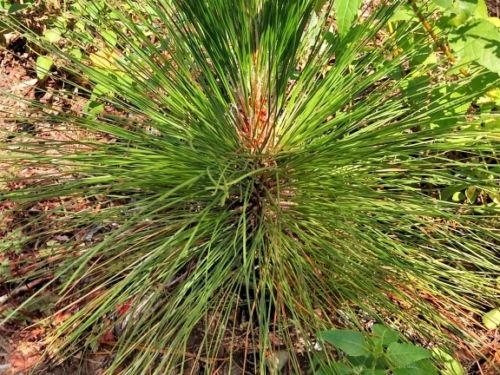 Got cones? 2016 is a big mast year for my Abies numidica. Let me know if any of you wants seeds this fall. No guarantees regarding fertility or who the pollen daddy is. Just be aware that there was a lot of fir pollen flying around these parts last spring, so crazy hybridization is a strong possibility.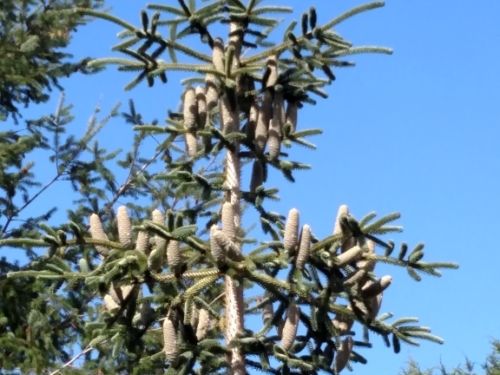 What does a hobby grafter do who doesn't particularly like the idea of having his own "can yard" of young plants? Check out this rather large box. I call it the nursery box. It's 16 feet long, and 4 feet tall and wide. It's filled with a fast-draining mix of pumice, bark fines and a bit of compost. The plants you see were all grafted during winter 2014/15 and they're all extremely strong and happy. An added bonus is that I've experienced very few losses. I consider this experiment to be an overwhelming and rather attractive success. I recommend one of these to anybody who does low-volume production. Beginning this fall, these plants will be strong enough to plant out into my collection (or maybe somebody else's).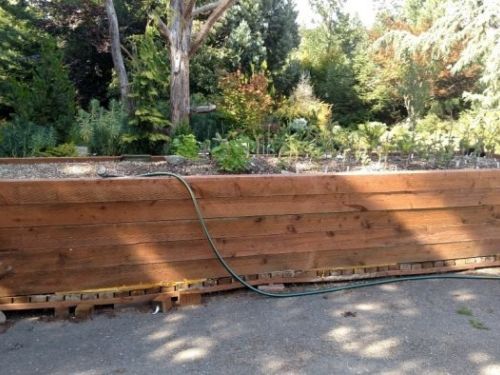 That's all for this edition. I hope to see many of you in Seattle this September. Please feel free to log on to the website to enter your comments in the space below. We appreciate your comments. This is designed to be an interactive website by the members for the members.
Dave,
Conehead.
Comments