Clark 'Doc' West (1918 - 2014)
Clark 'Doc' West (1918 - 2014)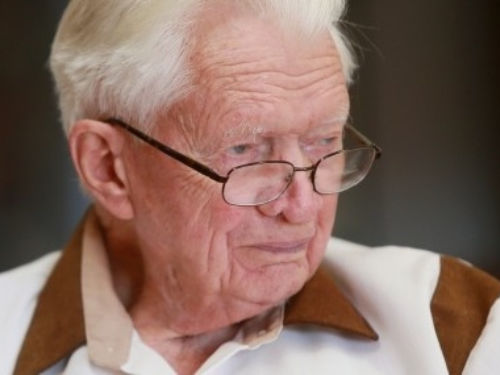 Clark D. West, MD, a long time ACS member, volunteer and officer in the Society died peacefully January 11 in Cincinnati. He was 95. He is survived by his son Michael West; stepchildren John Lachenman, Ken Lachenman, Thomas Lachenman, Sherry McCurry and Donna Ruger; and several grandchildren and great-grandchildren.In a 2002 interview for the Oral History Project at the Center of the American Academy of Pediatrics, West said that he originally wanted to be a farmer but after watching two uncles that were farmers in the 1930s live hand to mouth "I was severely discouraged from that." However, recollections of planting a windbreak of Norway spruce with his father when he was four foretold what would eventually become an abiding interest in gardening and conifers in particular.At the College of Wooster he chose medicine as a career and graduated from the University of Michigan Medical School in 1943. After Army service in occupied Japan he decided that he was more interested in medical research than clinical practice and began researching therapies of kidney diseases, particularly those that affected children.In 1951 he was appointed assistant professor of pediatrics at the University of Cincinnati College of Medicine as well as research associate of the Children's Hospital Research Foundation. He would spend the rest of his career in Cincinnati where he would help define the medical practice of nephrology and developed many breakthrough treatments in the field. He retired as Professor Emeritus in 1989 but continued to conduct research, publishing his last two papers in 2008 at the age of 90.A resident of Harrison, OH, he liked gardening on his one-acre plot where he experimented with many different plants until he developed an interest in conifers in the 1980s, "substituting them for flowering plants because they look good all seasons of the year and you don't have to deadhead them."He joined ACS and was active in the Central Region, served as National vice president from 1996-1998 and received the Snyder Award for Dedicated Support of the ACS in 2011."As some of us knew from his professional accomplishments, Doc West was a visionary but also an exceptionally competent, kind, compassionate, and — especially — generous man," said Ethan Johnson, ACS Past President and a Curator at the Holden Arboretum in Kirtland, OH."Doc served as Vice President of the ACS, traditionally a stepping stone to the presidency. But during his term in office he recognized what a great leader Marvin Snyder would be and graciously stepped aside. Like those cultivars that he earnestly pursued, he was a rare specimen of a man."The family announced that sympathy may be expressed by a memorial contribution to Cincinnati Children's Hospital Medical Center or the Rowe Arboretum in Indian Hill, OH.
Comments
A little update concerning Doc West. The Children's Hospital here in Cincinnati honored Doc posthumously on the evening of February 19 at the Hall of Mirrors at the Hilton Cinti. Netherland Plaza. His sons Mike and John accepted the prestigious William Cooper Procter Medallion Award for the family. This award has been only given 10 times since 1960. Even though Doc is known for his 60 plus years in the very dedicated association with the hospital and the research he did which resulted in many children not having to go through surgeries to be cured, one would expect that this award was well overdue. I heard talk that many all along were expecting to hear from the Nobel people.

The ceremony included a very moving video of an interview with Doc shortly after he was informed of his being the recipient of the award. There were well over a hundred friends, colleagues, and family members present which gave Doc a standing ovation that seemed to last a very long time. I hope to obtain a copy of the video to show at the next summer's Central Region meeting.

As time goes on, the more I learn about what Doc was all about. Even though we mainly shared a terrific bond in conifers as many other ACS members did as well, it is humbling to realize that we all were associated with one of the greats.