Central Region Conifer College and Meeting
Central Region Conifer College and Meeting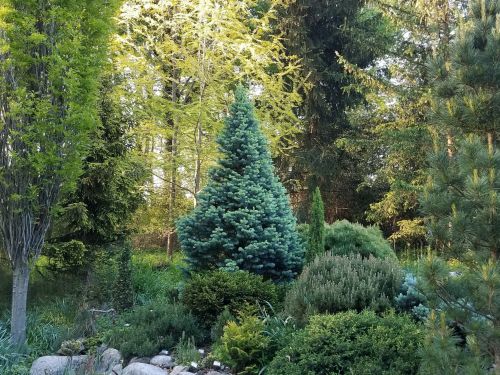 May 6, 2022 Registration Deadline Nears
2022 Dayton Conifer College & Conference
By: Dennis Groh, Bob Iiames & David Speth
Dayton, Ohio, will be home to two special ACS events on June 3 and 4, 2022. On this weekend, the ACS Central Region (CR) will host both a Conifer College (CC) and its annual conference. The two events promise to be a wonderful opportunity for cone-heads to once again meet friends, tour fantastic gardens, and attend a one-of-a-kind educational opportunity. Registration is now open for both events.
CC and Central Region Conference are being managed as separate, but complementary events. Registration forms for the two events can be found in the January issue of The Coniferite and the 'Upcoming Events' section of the ACS website.
Originally planned for 2020/2021 in Clinton, IA, the CC and conference were cancelled because of COVID pandemic. As Spring 2022 nears, there has been a dramatic reduction in the disease and easing of CDC mandates and guidelines. With these developments, the planning committee is optimistic that the Dayton events will proceed in the manner our members have become accustomed. The committee will continue to monitor the situation and stay in touch with people registering for the events.
Both events will be hosted at the Marriott University of Dayton Hotel. The Marriott is offering a special hotel room rate of $129 per night, plus tax. The discounted rate is available for reservations now but must be received by Friday, May 6, 2022. To reserve a hotel room, call 937-223-1000 and identify yourself as part of "American Conifer Society 2022 Room Block"
2022 CONIFER COLLEGE
What would you like to learn about conifers: how to grow them from seed, conifer cultivars and why they grow the way they do, or how to prevent winter injury? Or would you like to know more about rock gardening and popular companion plantings for conifer gardens, such as ground covers or Japanese maples? Whatever your interest, you are almost certain to find it covered in one or more sessions of the 2022 Conifer College.
The CC will begin at 7:30 am with check-in and end at 4:30 pm with enough time to join the conference.
The CC consists of two parts. Part 1 will offer sixteen 75-minute classes arranged in 4 sessions. From each session, attendees will be able to identify their preferences from the four concurrent classes. Part 2 will consist of a moderated question and answer session to which all college attendees will be invited. The 60-minute Q&A session will feature a highly knowledgeable panel consisting of CC speakers and other ACS experts.
A summary of the CC classes, registration fee and other information is included on the CC Registration Form. A more detailed description of the CC curriculum, including speaker bio and class description, is also available. Both documents can be found in the January 2022 issue of The Coniferite and the Upcoming Events section of the ACS website.
CENTRAL REGION CONFERENCE
The conference will open Friday, June 3 at 5:00 p.m. with a cash bar and a first look at the silent auction items. Dinner is at 6:00 p.m., followed by announcements, awards and our keynote speaker, Bob Fincham.
For those that have not met Bob, he is a founding member of the American Conifer Society and its first president. An expert on conifers, he has been actively involved with every aspect of the conifer world since 1974. During his keynote address, spend an hour with Bob as he talks about the humorous side of ACS' first-generation members. A copy of Bob's book, Gone But Not Forgotten, will be available at no purchase price to attendees.
On Saturday, buses will transport you on a tour of three Dayton area private gardens: Bette and Greg Rau Garden, the Bob and Karen Iiames Garden, and Brad Egbert Garden.
Saturday evening will include dinner, followed by a presentation of the 2022 National ACS Conference that will be held in the Philadelphia area in September. To round out the evening, you can enjoy all the fun and antics of the Central Region's fund-raising silent and live auctions.
Plans are in the works for pre- and post-tour gardens. There are rumors that several conifer suppliers may be available Sunday morning for a tailgate sale.
Please join us and participate in the FUN. The conference, combined with Conifer College, allows you to enjoy the camaraderie that's been missing for the past three years, tour fantastic gardens, take home new treasures for your own garden and attend a one-of-a-kind educational opportunity for Cone-heads and other plant-nerds.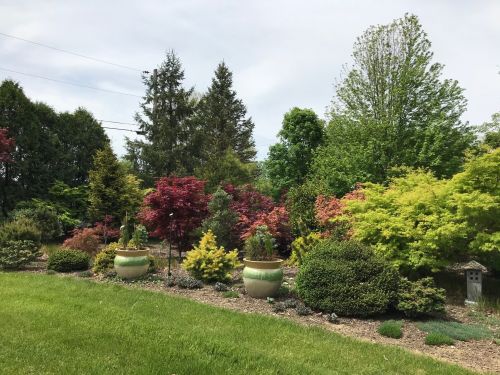 Comments