Bill Barger wins the Snyder Award
Bill Barger wins the Snyder Award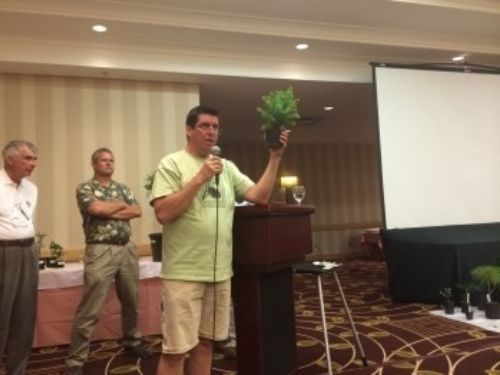 The ACS is delighted to announce that Bill Barger is the latest winner of the Marvin and Emelie Snyder Award of Merit for Dedicated Support of the American Conifer Society. Bill is a long-time ACS member and contributor. In fact, it's hard to come up with any aspect of the ACS where Bill has NOT made a contribution!
Bill currently serves as the Central Region Director and, as such, represents the Region on the Board. He brings to this position extensive experience, with past roles within the Society as creator of our website and its first webmaster—a role he filled for more than a decade—and Central Region President. Bill also started the Conifer Database, arguably the Society's greatest asset. Bill took the database to 4,600 records and over 2,275 photos by the time he handed over the reins in 2012. Roughly half of the visits to our website today are to the Database.
Bill has also been a regular contributor to Conifer Quarterly. He has provided photos and critical technical information. His love for conifers extends to his wonderful personal collection, from which he has made introductions from collecting and grafting. He and his wife, Susan, showcase his conifers in a lovely garden, which he opens to members. The Bargers have hosted ACS Central Region meeting visitors as well as international conifer lovers, such as the British Conifer Society, which toured in 2009. ACS members also note his generosity in sharing his plants, giving many to fellow collectors or donating specimens to gardens. In his spare time, Bill is an avid broomer and we understand that he is a pretty good shot!
Unlike many active ACS members, Bill does not work in the plant industry, making his dedication to conifers and educating members and the public that much more extraordinary. For his long-time, avid support of the Society and his willingness to initiate projects with little guidance or blueprints, we are pleased to honor him with this award.
Photo by Terri Park
Comments