Andy Duvall wins the 2018 Chub Harper Award
Andy Duvall wins the 2018 Chub Harper Award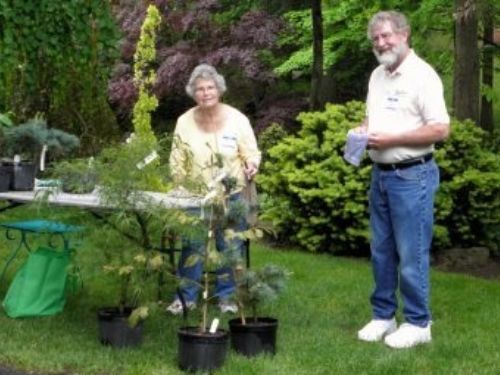 At the National Meeting in June in Raleigh, North Carolina, the ACS awarded William Andrew 'Andy' Duvall the Justin C. 'Chub' Harper Award for development in the field of conifers. Andy has a nursery in South Lyon, Michigan and over the years has introduced a number of conifers (and other categories of plants, both patented and non- patented) to the trade. Andy is a long time member of the American Conifer Society, a true plantsman, an expert propagator, a gentleman, and is very generous with his plant material.
Perhaps, of all his conifer introductions, Andy's most famous were Pinus strobus 'Squiggles' and Pinus strobus 'Wiggles'. These plants are sister plants from the same seed batch and both are unusual enough to have merit, not only for collectors, but also commercially. Both cultivars have now been spread far and wide and are found in many gardens both in the USA and Europe. What makes them rather special to ACS members is they were the result of the ACS seed exchange program. Andy purchased a packet of seed from Pinus strobus 'Contorta' from the exchange in the 90's. He germinated all the seeds and observed them for many years before making the two selections in 1999.
Some of Andy's other popular plant introductions include: Pinus strobus 'Beal's Starry Night', Tsuga canadensis 'Nessie', Pinus cembra 'Aristocrat', Pinus strobiformis 'Marshall Gulch', Picea abies 'Carol's Broom', and Cupressus nootkatensis 'Bridal Veil'.
Andy is an avid collector of conifers and has a nice display garden at his nursery. The plants are arranged artfully and properly labeled. He is a real plantsman with a vast knowledge about conifer cultivars and takes the time to share this knowledge with visitors to his nursery and display garden. Andy also is recognized by many of the major propagators in the conifer industry and regularly exchanges plant material and information with them. His skill as a propagator has enabled both his introductions and other quality conifers to become more quickly available to collectors.
We thank Andy for all that he has done for conifers and the ACS and congratulate him on this award!
Comments