And the Winners Are...
...Schwerin Pine 'Wiethorst' and Korean Fir 'Icebreaker.' These two unique conifer cultivars have been chosen the 2014 Collectors Conifer of the Year as announced by Dennis Lee, the CCOY chairman.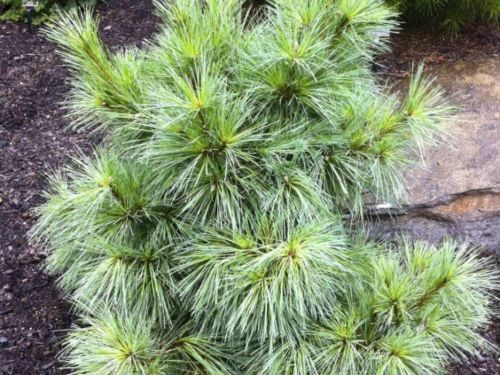 Limited numbers of these specimens are now available to active ACS members and will be shipped direct to the member's address by the growers this spring. (Shipping dates will vary according to the destination's USDA Zone hardiness.) Each plant will arrive with an anodized aluminum tag with its holder identifying it as the 2014 CCOY. This is the ninth season of the program with proceeds going to the ACS Scholarship Fund.
Pinus x schwerinii 'Wiethorst' is an interspecies hybrid of the Eastern white pine (Pinus strobus) and the Himalayan white pine (Pinus wallichiana) first discovered near Berlin in 1905 on the estate of the von Schwerin family but its parentage wasn't determined and formally recognized until 1931. This dwarf cultivar was discovered as a witches' broom by Johann Wieting of Giesselhorst, Germany, in 1987 who created the name by combining his family name and the place where he found it.
The Schwerin Pine combines the characteristic long graceful leaf of wallachiana with the superior cold hardiness of the strobus. More compact than the hybrid, this cultivar is considered one of the most elegant long leaf pines to be found in the cooler climes of North America and has only lately begun to be propagated by growers here.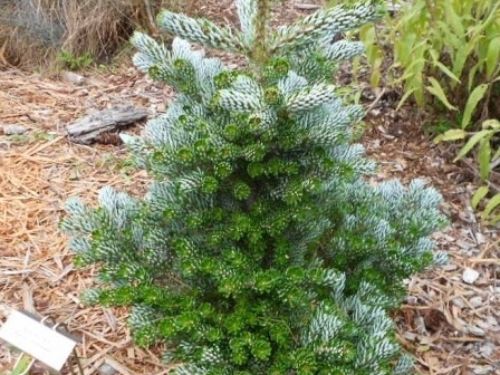 Abies koreana 'Kohouts Icebreaker' (sometimes called 'Icebreaker' in the trade) is a slow-growing miniature cultivar originally found as a witches' broom on the widely-known 'Horstmanns Silberlocke' by Jörg Kohout of Prietitz, Germany, in his nursery in 1998. Like its parent, its curling needles show their silver undersides but because it's a tight, round ball, 'Icebreaker' provides a more intense silver-white effect in the garden.
Both plants are available now to active ACS members on a first-come, first-served basis while supplies last. (Those wishing to join ACS to qualify, click here.) The downloadbable order form and additional information on these selections is available by clicking the "Order Form for 2014" link at the bottom of the Collectors Conifer of the Year page.
Comments