And a Good Time was had by All! - 2017 Southeast Region Conference Report
And a Good Time was had by All! - 2017 Southeast Region Conference Report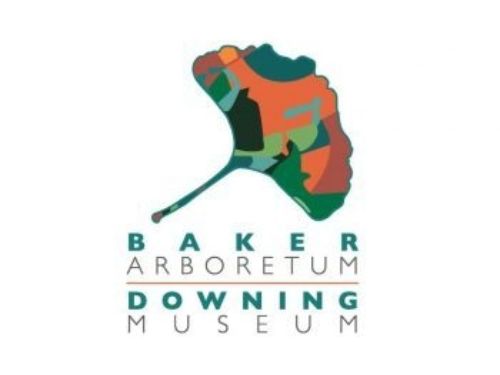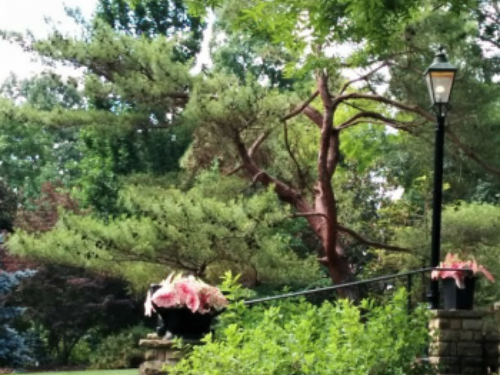 The conference activities scheduled at the Arboretum centered on using conifers in containers. Kevin Collard started with a demonstration of making papercrete troughs, which are easy to make, lightweight, and can be custom made to any size or shape you like. The material has a long history of being used as an economical building material and is weatherproof. It consists of 3 parts shredded, pulped newspaper, 2 parts Portland cement, and 1 part perlite. There are many websites with various recipes and techniques. Everyone had the opportunity to make one or two containers that they could use to grow one of the miniature conifers available in the auction!
Rickman Freeman followed with a discussion of using conifers to create floral arrangements. Freeman has had experience gardening and designing floral displays for numerous country music stars as well as at the Opryland Hotel in Nashville prior to coming to work at the Baker Arboretum as a horticulturist. He discussed tips for making cut plants last longer – cutting stems while they are submerged in clean water is the key. In Ikebana (Japanese floral design) there are three elements – air, earth, and man. These are represented by the different levels in the plants and the container. 'Rickebana' is Freeman's adaptation of these elements to create wonderful displays that can last for over a month and bring the garden into your home. The beautiful centerpieces he created for the tables in the Augustine Alumni Center showed us a whole new way to use conifers.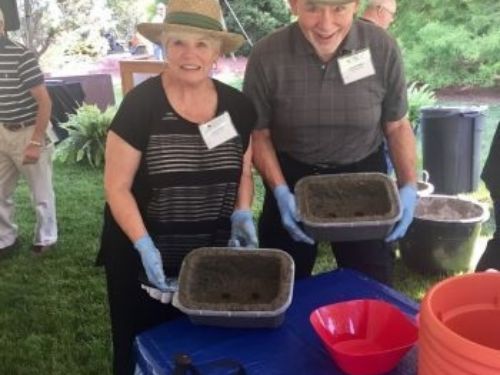 John Wall, a bonsai professional and member of the Nashville Bonsai Society, showed us how we could combine our conifers and containers to create an amazing work of art that could last for centuries! He discussed the basics of what bonsai is, how to create and maintain bonsai, and what bonsai doesn't have to be. In its most basic form, bonsai is a tree in a pot. The restricted root space stunts the tree that, when trained, can appear to be a miniature version of an ancient tree. He considers bonsai to be 30% art and 70% horticulture. If you don't maintain good soil, treat for pests, and fertilize your bonsai you could end up with a stick in a pot. He brought some amazing examples for us to see. A rocky mountain juniper that was estimated to be over 500 years old was collected in the mountains of Colorado where the harsh conditions of five centuries shaped it into an amazing sculpture. He did some maintenance pruning of a bald cypress that he collected from a Tennessee swamp and which has since won awards and been shown at the prestigious Artisan's Cup bonsai exhibition.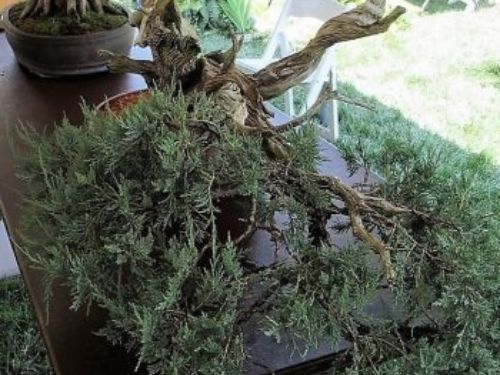 After spending the day at the Arboretum, we made it back to the Augustine Alumni Center where Mike Balogh of Mountain Meadows Nursery was presented with the Outstanding Service Award for his many years of dedication to the American Conifer Society SE Region.
After dinner, Dr. Bill Fountain of the University of Kentucky discussed the evolution of conifers and how they made it from the supercontinents of Laurasia and Gondwana to where we find them growing today. Gymnosperms (conifers, ginkgo, and cycads) began to appear about 400 million years ago while the oldest angiosperms (flowering plants) didn't appear until about 125 million years ago. He discussed how trees and pests co-evolved over time and how our modern world has introduced invasive pests that plants have no resistance to, such as hemlock woolly adelgid and emerald ash borer. He also talked about how trees form reaction wood in response to physical stresses such as wind and gravity. Conifers form compression wood to prop up a weak limb from the underside, while angiosperms form tension wood on the upper side to pull up a weak limb. These changes can be apparent on the outside of a tree and can help determine whether the tree is adequately adapting in response to stress or if it is at a greater risk of failure.
The fund raising plant auction was very successful. We had 337 plants donated (24 live auction and 313 silent auction) which were auctioned off for a total of $7352! Huge thanks go out to our donors. The proceeds from the auction are very important, because they allow us to support our regional reference gardens through grants.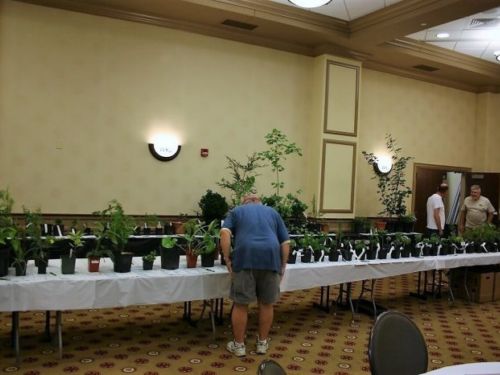 Following the meeting, a few gardens/nurseries were open for tours. Dr Mark Patton of Bowling Green opened his garden which had a well-manicured collection of conifers, Japanese maples, hydrangeas, and roses. Paul Schneider opened his garden in Portland, TN to us, showing off his amazing collection of conifers from a towering 80' dawn redwood to tiny miniature pines and Chamaecyparis. His sculptures were also on display throughout. Jennifer and Jeff Harvey's Dirt Dawg Nursery in Watertown, TN was open to visitors and Kevin Collard opened Pine View Nursery in Leitchfield, KY, for those travelling north.
If you weren't able to make it to Bowling Green, you can still visit Baker Arboretum. It's open year round. Just make it a stop on your next trip through KY. You'll be glad you did. And don't forget to make plans to attend the ACS national meeting June 14-17, 2018. The Southeast Region is hosting it next year in Raleigh, NC. See you there!
About the Author: Jared Weaver has served as the City Parks Arborist/Forester in Bowling Green, Kentucky, for the past decade. He is the Southeast Regional Director and represents our region on the ACS Board. He grew up in rural Pennsylvania, which instilled a love of plants, gardening, and the outdoors. He served in the US Army before moving to Bowling Green to attend Western Kentucky University where he majored in Horticulture with a minor in Art.
Excerpt from the June 2017 Southeastern Conifer Quarterly. Gain access to archives of past newsletters and the National Conifer Quarterly by becoming a member of the American Conifer Society.
Comments