ACS Western Region Meeting Recap - Photos!
ACS Western Region Meeting Recap - Photos!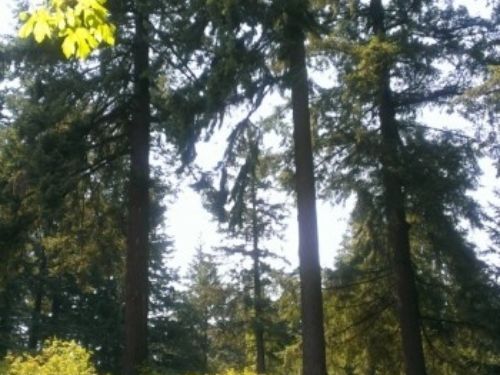 How the West was one? Wait a minute! It doesn't need to be won. It's already a winner.
Those folks in the Western Region really know how to throw a party. A Hilton. Super food. Great fun. Great environs. A nice, casual pace. And, most of all, wonderful people. I truly enjoyed myself.
Our first stop on Friday afternoon was the Hoyt Arboretum, an ACS Conifer Reference Garden. Grand conifers greet the visitor. They tower above the arboretum floor, like sentinels from a past which is being cared for like a treasure. Arboretum curator, Martin Nicholson, took the group on a casual two-mile stroll on the winding trails, past conifers of special note. I even discovered a witch's broom in a Douglas fir. That evening, we experienced the excellent planning of Anton and Jill Klemens, who headed up the meeting team. The plants were placed and the silent auction began.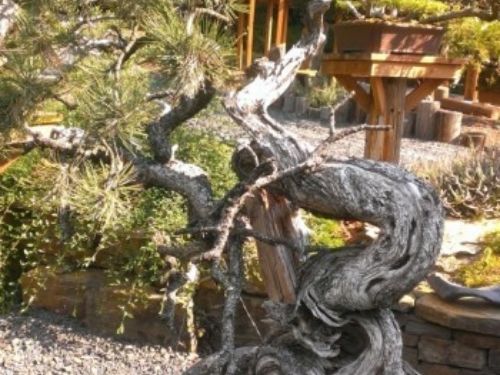 Saturday morning saw us down winding back roads to Ryan Neil's bonsai collection and high-end business. The story of this young man's journey from bonsai-enthusiast to bonsai-apprentice in Japan to businessman is as fascinating as his creations. Writing letters to bonsai-master Mr. Masahiko Kimura; sleeping in a tent for three weeks awaiting permission to enter Mr. Kimura's garden; working for six months on the master's house and having nothing to do with bonsai; finally gained him entry into Mr. Kimura's bonsai. He represents the 21st century westerner being forged by age-old Japanese apprenticeship practices. Ryan's bonsai are breathtaking.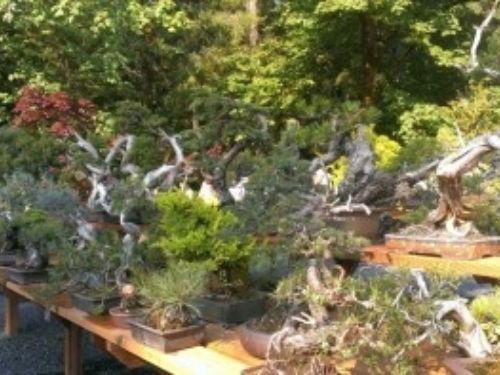 Having had our appetites for bonsai wetted, we then visited Randy Knight's Oregon Bonsai. The plants lay before us, and the buying began. Some of us bought trees ready for potting or container planting and shipping. At our next stop, European Nursery, Jan and his family opened their greenhouses to us for perusing and purchase. The stubs got tallied; the bays of the buses filled. Then back to the hotel.
The stalkers hovered over their silent auction bids until the final bell. David Olszyk, the master-of-ceremonies, and his wife Anita, both award winners as ACS Western Region Volunteers, led the silent auction, which was as wild and woolly as a bucking horseback ride. Screams and accusations abounded as Anton Klemens kept sneaking in the last bid to pump up the action. But we were not done.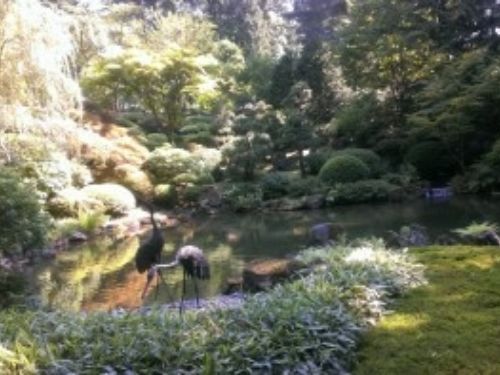 On Sunday morning, many of the group visited the Japanese Garden of Portland. What a beautiful facility! As the photos show, the Garden is filled with contemplative venues, created in Japanese fashion. From there, the group traveled to the home of Jeff Herbst. In the serenity of lovely conifer beds,container conifers and a meandering river, we saw our last place on this conifer journey.
This has been my third Western Region meeting in as many years. They have all been the same: superb. The 2015 National Meeting will be that and more and I can't wait! (Editor's note: the 2015 National Meeting will be held in Sonoma County, CA, Sept 10-12 with a post-meeting tour to Mendocino, CA, Sept 13-15)
Photos in the text by Ron Elardo. Photos in the following Gallery by Janice LeCocq.
Comments