2018 Post-Meeting Tour Gardens
2018 Post-Meeting Tour Gardens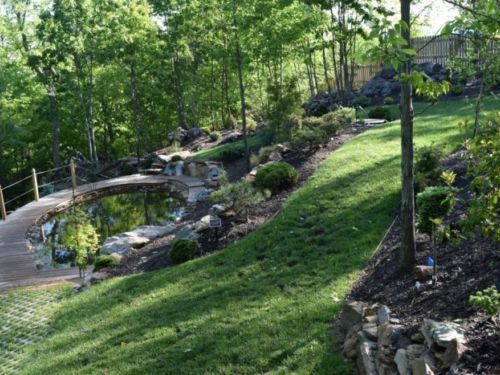 Warm up the short, chilly winter days by dreaming about gardens to see on the 2018 post-meeting tour! These are incredible gardens that you won't want to miss. As always, thanks to the garden makers for opening their private spaces to us, and for providing most of this information.
Chuck and Eileen Hutchison's Garden
The total makeover of this roughly one and a half acre garden has been ongoing since the Hutchinsons took possession eight years ago, they have done most of it themselves. They have also graciously offered to host us for dinner! The grounds are very diverse, with woodland, intimate pathways, an expansive yard, a natural boulder waterfall, a cutting garden overlooking the pool, and dry creek beds in both the front and back of the home. Each space displays its own unique blend of styles, statuary, and plants. The Hutchinsons have emphasized conifers such as Pinus strobus 'Loveable Fuzz Ball', Pinus thunbergii 'Thunderhead', Pinus thunbergii 'Green Elf', and Pinus flexilis 'Vanderwolf's Pyramid', to name a few. Chuck and Eileen's garden is an example of what can be created with the help of 50 tons of stone, 125 cubic yards of top soil, 80 cubic yards of mulch, great plant material, the love of nature, and strong backs!
Byron and Hazel Richards' Garden
Byron and Hazel have built their house and gardens from scratch over the last 30 years--everything except the roof shingles! As members of the ACS they have met and been inspired by great nurserymen, such as Talon Buchholz, Chub Harper, and Larry Stanley. This will give you a bit of insight to the types of mature conifers we will be seeing on this tour! As every gardener will tell you, a garden is a work in progress, and some are more adventurous than others! Just recently, the Richards' son commented that a particular spot on the property would be a good place for a fish pond. Several months later, they created a 90 x 70 foot koi pond with a pond cypress in the middle! Words of advice from these great gardeners include making sure you get the plants in the ground as quickly as you can and acquiring the best equipment you can afford. They are very excited to have us visit their garden and house on the post-meeting tour.
Tim and Matt Nichols: 'Mr Maple'
Matt and Tim Nichols are brothers who run a mail-order nursery, Mr. Maple in East Flat Rock, NC. They specialize in Japanese maples, producing from their collection of over 1000 different cultivars of Japanese maples. Matt is the current president of the North American Branch of the Maple Society and Tim sits on the executive board. Matt and Tim travel across the United States and around the world in search of the newest and neatest Japanese maples and other trees, making multiple trips to Japan each year. They have been featured on Japanese television and also on UNC TV. They recently were filmed in an episode of Growing a Greener World that will air nationally in 2018. Their passion and excitement for Japanese maple is contagious, so buyers beware!
These brothers' passion does not end with Japanese maples. They also produce quite a selection of conifers, grafting about 20-30 different cultivars of dawn redwoods including many variegated and dwarf selections. Their favorite dawn redwood is 'Schirrmann's Nordlicht', one of the 2015 ACS Conifers of the Year. Tim and Matt also produce over 150 different types of ginkgo. They have weeping, dwarf, columnar, variegated, and full form ginkgo trees. While most of their selections are male non-fruiting selections they do offer a few female types for the brave individuals who consider the nuts a delicacy. They also produce unique forms of bald cypress, Thujopsis, Chamaecyparis, and other unique conifersthat spark their interest.
While the nursery itself is quite a collection of plants, Mr. Maple also has two display gardens. One is Maplewood Gardens, the home of Matt and Tim's parents. The garden is filled with over 300 Japanese maples and a few ginkgo trees. The second is HIll Stone Arboretum, the home of Matt and Tim's uncle, Glenn Hill, a retired master stone mason. Needless to say, the gardens at Hill Stone are filled with his work and Matt and Tim's plants, including the Bomar Conifer Collection. One of the notable plants you can see there is a 10 ft + Acer palmatum 'Mikawa yatsubusa', which is considered one of the biggest of this variety of dwarf Japanese maple. Another notable tree is Pinus strobus 'Biltmore Blue' which was found as a witch's broom on a native white pine on the Biltmore Estate. This garden is filled with Japanese maples, conifers, ginkgo, and a large assortment of other unique plants to delight in.
Wayne and Missy Galloway's Garden
The culmination of the post-meeting tour (and the initial inspiration for having the post tour in Asheville) will be the Galloway Gardens on Elk Mountain. Missy and Wayne have opened their beautiful garden to us and will be hosting us for dinner, as well. Following dinner there will be a special auction of unique conifers and trees.
In 2011, Missy and Wayne Galloway, then Florida residents, purchased a second home in Asheville, N.C. The property, with an existing house and landscaping by Lowes, provided a number of basis for Missy's gardening plans. Missy developed a love of conifers while attending the three year Barnes Arboretum School in Philadelphia, but as a corporate wife with frequent moves she had never before had the opportunity to spread her roots and develop a garden. The 3½ acre parcel, with 10 acres adjoining, featured good sun exposure, an elevation of almost 4000', was next to two large state and national conservation areas, and had impressive rock formations. This was the palette, now where to start?
Step One was remove and replace. Missy's focus was clear: dwarf and miniature conifers, with Acer accents. 'Out with the Lowes, in with the specimens' became her theme song. Michael Balogh and Bruce Appeldoorn, two local nurserymen and ACS members, provided consulting, plant material and friendship. Missy and Wayne created separate gardens in existing areas and they learned what plants would enjoy the cooler elevation, many of which were not typically grown in Asheville proper. Wind and shade also were considerations, so placement for each plant became a multifaceted decision. Matt and Tim Nichols, owners of Mr. Maple in Hendersonville, N.C., joined in the fun with their broad selection of rare and unusual maples.
Step Two was to identify new areas on the property and clear them for expansion. These include a a steep slope, which required the construction of a wooden walkway, a small pond, and an 1800 gallon underground tank to capture rainwater for irrigation. Missy traveled to Oregon and met with nurseryman and ACS member Larry Stanley (the beginning of a great friendship) to acquire exceptional specimens. Soon, the established and expanded areas were alive with both young and more mature plants. Today, the gardens cover about two acres with over a thousand selections. The Galloways keep a database on the collection which is used to create labels with names and locations. The gardens' composition includes 25% Pinus, 25% Picea, 13% Abies, 12% Chamaecyparis, 6% Acer, and a diverse variety of additional plants. Their sources continue to expand, and the knowledge and encouragement they have gained from their many friends in the business has been invaluable. The gardens are a work in progress and provide never-ending joy to the Galloways, and we think that you will find them inspiring as well.
Get on the tour! For more information and to register, go to the events page. We look forward to seeing you there!
Comments