2017 Collectors' Conifer of the Year Selections announced!
2017 Collectors' Conifer of the Year Selections announced!
2017 Collectors' Conifer of the Year
An upfront warning! Even if you think your "Conifer Addiction" is firmly under control, these offerings may create overwhelming temptations. We hope they do, as your indulgence will provide the Society with additional monetary support to further promote conifer education and utilization. Additionally, as a benefit to members, we hope you find this program an opportunity to increase interest and enjoyment in your conifer collection and landscape.
It's our 12th year for the CCOY program and we are elated to offer a surprising new conifer selection, which has never been released. Here's your chance to be one of the very first to obtain a choice garden standout. In addition, we are very excited to offer a selection with an innovation in disease resistance and it, too, is surprising, especially with its name.
The first selection comes from a chance seedling which has only been under observation since 2005, but it is obvious that it is a garden gem. This structurally noteworthy dwarf has good hardiness and also tolerates heat and humidity well. Its refined, verdant green, twisted, scale-like foliage invites lengthy study. This plant will not only provide you the bragging rights of being 'the first', but will also fortify the structure and texture of your garden composition.
The second offering is also a chance seedling. It has been around for over 35 years but has lost favor because of a root disease. Now that disease-resistant rootstock has been developed, this come-back-beauty is grafted, and has the potential to be appreciated once more. As a narrow, upright, intermediate dwarf, it easily fits into a garden. Its dense, steel-blue foliage cries out for a prominent location, especially to compliment other colors.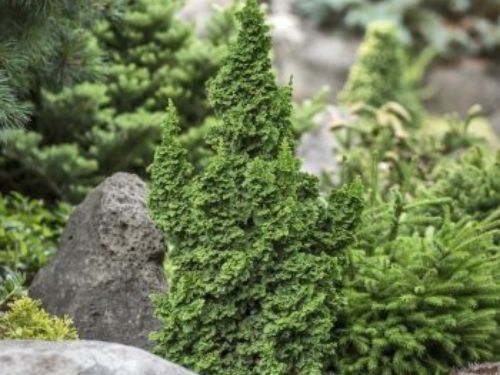 In 2004, Iseli Nursery sowed seeds from an Eastern arborvitae cultivar named 'Zmatlik', hoping to spot some unusual seedlings. One seedling did grab attention and they quickly realized it had several choice ornamental attributes "of the finest quality", or Primo™. This premium conifer has firm, spire-like growth which quickly captures and holds the eye. The refined, scale-like foliage twists and turns to provide much textural interest and beauty, resembling that of a Hinoki cypress (Chamaecyparis obtusa) rather than that of an arborvitae. In summer, it is a refreshing, vivid green, which eventually becomes muted for the winter. It is on the demure side, with only 2 to 4 inches (5 - 10 cm) of growth a year, so its proportions lend itself to troughs and small spaces. It responds well to judicious pruning although that is not necessary as sculptural charm and character will develop naturally without manipulation. In 10 years, with good growing conditions, expect 3 feet (1 m) in height and 1.5 feet (45 cm) in width. Primo™ is rated suitable for USDA Zones 3 through cooler micro-climates of Zone 8. It performs well in full sun or part shade with an average loamy soil. It appreciates soils with uniform moisture content and will be fairly drought tolerant once well established. The 7 to 9 inch (17 - 22.5 cm) tall tall cutting-propagated plants we have reserved are limited to 150 and have been carefully pruned to provide you with a stocky, healthy start. For a tough, unique, easy to grow, well-behaved plant with great form and texture, this is a prime candidate for contributing to that 'wow factor' in your conifer collection. Enjoy!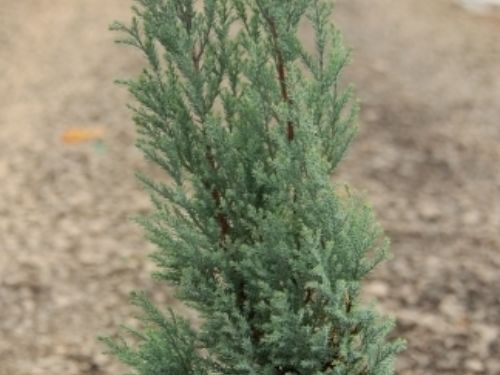 In 1854, Peter Lawson and Son nursery in Edinburgh, Scotland first received seeds of this species. Many unusual mutations appeared in the resultant seed crops and soon thereafter, this conifer became commonly known as Lawson cypress. Noted for its many colorful, ornamental cultivars, this false cypress became quite popular for landscaping purposes. However a root disease, Phytophthora lateralis, became prevalent and caused serious losses of both forest and garden specimens. Together, Oregon State University and the US Forest Service searched out and developed disease-resistant varieties, which are now used as rootstock in grafting susceptible ornamental varieties.
A typical Lawson cypress produces two types of foliage as it ages, juvenile and adult. As a very young plant it has short, needle like foliage. Later, overlapping scales appear which form cascading sprays of flattened, lacy boughs. 'Blue Surprise' however, never 'grows up,' maintaining upward pointing, prickly-looking foliage, which is actually rather soft to the touch. The fine-textured, steel-blue needles are highlighted with silver and take on a purplish cast in winter. Besides a unique color and a pleasing color change for winter, it has a handsome, narrow upright, dense habit that makes a slight spiral effect. Depending on the site, it may grow 2 to 6 inches (5 - 15 cm) a year. Over 10 years it can be expected to be around 6 feet (2 m) tall and 2 feet (60 cm) wide. It is tolerant of shade, but will dazzle much more in sun and have a more pronounced winter tint. It performs well in average soils, but good drainage is a must. Of course it cannot be planted too deeply so as to cause the upper grafted portion to root out on its own and be at risk for Phytophthora. It is suitable for USDA Zones 5 through 7. We have 100 robust, 18 to 20 inch (45 - 50 cm) tall plants reserved which are grafted onto disease-resistant rootstock. 'Blue Surprise' originated as an odd seedling, which was noticed in the 1960s by Anthony P. J de Beer, Tilburg, The Netherlands. At one time it could be found in many settings as striking pillars of blue. Now again it can add prominence. Restore and create!
Ordering: The Collector's Conifer of the Year program is restricted to active members of the American Conifer Society. Purchases are limited to one of each selection per member. The cost is $75.00 for either Primo™ or 'Blue Surprise'. Each offering comes with a conditional one year/one time replacement guarantee. Accompanying each plant will be an anodized aluminum tag with its holder which identifies the plant as a winner of the American Conifer Society's annual award of "Collectors' Conifer of the Year". Shipping is included in the above costs. For ordering, please complete the form in this publication. Orders will be filled by date of receipt until inventory sells out. All orders must be received by February 1, 2017. We cannot ship outside the United States.
Happy conifering to all of you!
Comments