2016 SE Reference Garden Grant Report: Smith-Gilbert Gardens
2016 SE Reference Garden Grant Report: Smith-Gilbert Gardens
Smith-Gilbert Gardens is considered one of Georgia's botanical gems. Located in north Georgia, it is in USDA zone 7b. The 16-acre woodland garden is owned by the City of Kennesaw, in Cobb County. This area is considered part of metro Atlanta and is conveniently located near a major interstate, about 45 minutes from the Atlanta airport.
The original acreage, including an historic house dating to the 1880s, was purchased by Richard Smith and Robert Gilbert in 1970. During their tenure as homeowners, thousands of plants were added to the property, creating a true collector's garden. In addition to the extensive plant collection, there are 30 outdoor sculptures, which were collected or commissioned by Smith and Gilbert.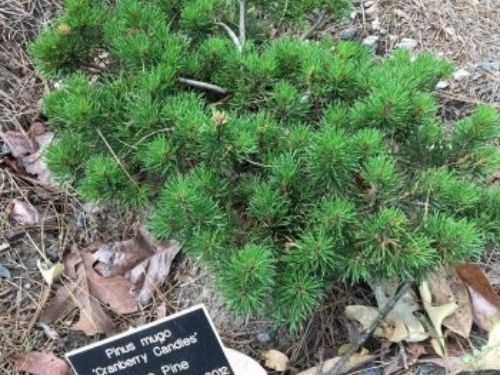 After Richard Smith's death in 2002, the City of Kennesaw passed a bond referendum to purchase the property in 2004. An additional three acres was also acquired, bringing the total size of the garden to 16 acres.
Located at the front of the property adjacent to the driveway, there is a quarter acre site that holds most of the Garden's conifer collection. Three circular planting beds interlaced with walking paths were established in 2008 to showcase a wide variety of conifers that might be ideal for our southern climate. Many of the dwarf varieties quickly outgrew the intended spaces, creating an uneven appearance to the collection. Larger trees shaded out smaller specimens, in some cases completely overshadowing them and obscuring them from view. In addition, some trees grew as very stilted forms as a result of this overcrowding.
We needed to make a change. Then, Mother Nature intervened in the form of a winter storm in 2014. We lost a large hickory and white oak, resulting in a significant loss of the tree canopy over the rock garden. As we evaluated the changes, we realized we could solve the conifer overcrowding as part of the rock garden transition from shade to sun tolerant plants. As a bonus, the diminutive size of the conifers would make them stars in the rock garden!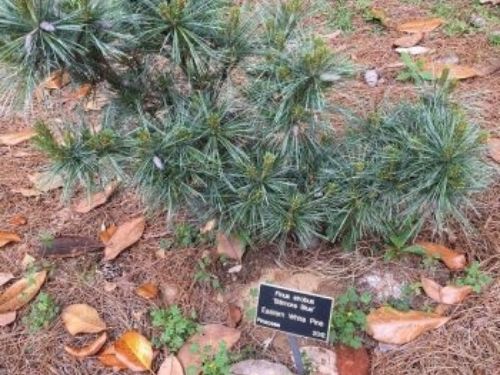 Rock and crevice gardening is relatively new and unusual in the southeastern United States, and this project puts the spotlight on this unique gardening style. Although alpine plants are typically used in a rock garden, that is not feasible in our growing zone. Instead, we are identifying and trialing look-alike plants that are adapted to a southern climate. Plus, following the tradition of the Gardens' founders – Richard Smith and Bob Gilbert – we want to test the boundaries and trial new plants for this region.
The rock garden is one of the most visited and photographed areas within the botanical garden. The founders were inspired by the rock garden at the Royal Botanic Garden Edinburgh to create their own rock garden in a southern climate. They selected local granite boulders from a quarry in Kennesaw and used slate chips as mulch around the plants.
The entire space of about one-half acre includes the rock garden (on a sloping hillside), waterfall and three cascading ponds (closed system with circulating pump), bog marsh, two sculptures and a viewing pavilion overlooking the area.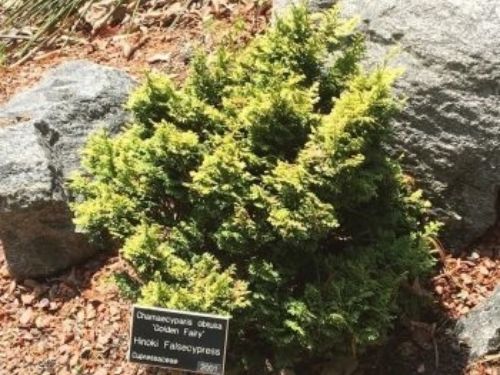 The native wooded canopy is comprised primarily of loblolly pines and oaks. Notable plants featured in the rock garden are Abutilon megapotamicum (trailing abutilon), Clethra monostachya (clethra), Cryptomeria japonica 'Spiraliter Falcata' (Japanese cedar), Rhododendron 'Flame Creeper' (azalea), and Vaccinium arboretum (farkleberry).
With grant funds from the American Conifer Society, we were able to launch Phase I of the rock garden renovation. We began by focusing volunteer efforts in this area. Volunteers from Georgia Power weeded, moved plants, and mulched as part of their Earth Day program. Volunteers from Citrix moved every boulder and repositioned them to create a more pleasing display.(see photo) In addition, a new group of volunteers from the Cobb County Master Gardener program began helping on Tuesdays, many times in the rock garden.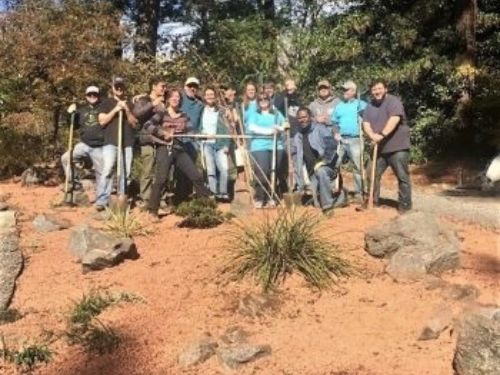 Several specimen conifers from the conifer garden were moved and several others were root pruned so they could be moved in the fall. Our core group of SGG volunteers cleared an area next to one of the ponds to recreate a bog garden that had been completely overgrown with weeds and a local nursery donated plant material, including unique pitcher plants. This small bed has now become a highlight for the school field trips!
The ACS grant helped us leverage additional funding from the Stanley Smith Horticultural Trust to start Phase II, which will include building the new crevice garden. We have a large plant palette of new plants to trial. And, we will finish moving some of the small conifers from the Conifer Garden to new beds in the rock garden.
This project serves to strengthen Smith-Gilbert Gardens' standard for sustainable garden practices by selecting plants for their non-invasive habits, as well as resistance to disease and insects
Excerpt from the June 2017 Southeastern Conifer Quarterly. Gain access to archives of past newsletters and the National Conifer Quarterly by becoming a member of the American Conifer Society.
Comments