October 22nd Southeast Region Rendezvous in Paris, TN
October 22nd Southeast Region Rendezvous in Paris, TN
Date: Saturday, October 22, 9:00 AM - Saturday, October 22, 2022, 5:00 PM
Place: 1540 Mineral Wells Ave , Pairs , TN 38242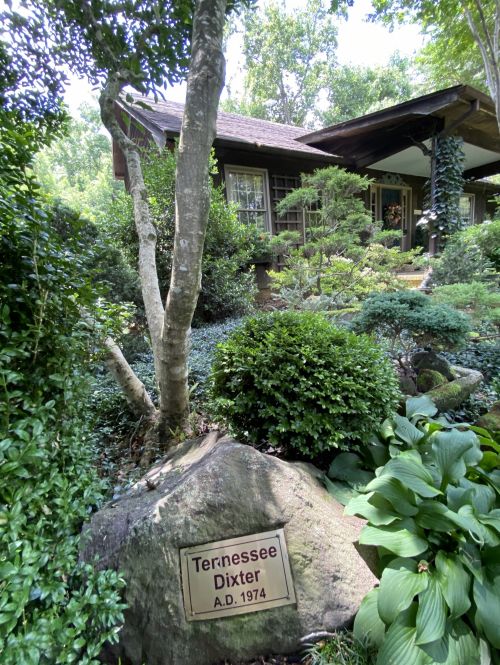 ACS SOUTHEAST REGION RENDEVOUS
We hope you can join us in Paris, TN, on October 22nd for a Southeast Region Rendezvous. Registration is required for this event. Register HERE now!
On Saturday, October 22, three Paris gardens will be open to visit. There will be a plant auction after a barbeque lunch and a very brief business meeting at 2 PM at the Garners' garden on Edmonds Place. The $25 registration fee includes the BBQ lunch. Deadline for registration is 8 a.m. on October 20. You may also wish to visit some of the nearby nurseries listed below and the West Tennessee Research and Education Center Gardens at the University of Tennessee in Jackson, an SER Reference Garden within easy driving distance, which is open from dawn until dusk Additionally, there are many good nurseries to visit if you are traveling across the state from Knoxville through Nashville. Here is the schedule of events:
9:00-12:00 Jimmy and Peggy Williams's garden
11:00-5:00 Mike and Judy Garner's garden and the garden of their neighbors, Danny and Minette Veazey
11:00-2:00 Silent auction (at the Garners')
12:30 BBQ lunch (at the Garners')
2:00 Business meeting (at the Garners')
2:30 Silent auction plants disbursed (at the Garners')
Accommodations: If you are staying over in Paris, here is a list of accommodations:
Featured Gardens:

Mike and Judy Garner, 100 Edmonds Place. Paris, TN 38242. 731-336-5984 or 731-336-5171 (for directions if needed)
Jimmy and Peggy Williams, 1315 E Blythe Street, Paris, TN 38242
UT Gardens-Jackson (open daylight until dark), 605 Airways Blvd., Jackson, TN 38301 Website: https://westtn.tennessee.edu
A few nurseries you might visit in the area:
Morris Nursery 2108 Hollywood Dr., Jackson, TN (731) 664-4455 (8AM – 5PM)
Four Seasons Nursery and Garden, 2489 US-45, Jackson, TN (731) 424-0736. (7AM-5:30PM)
Carter's Nursery, Pond and Patio, Inc., 2846 Old Medina Rd., Jackson, TN (731) 424-2206 (Fri 8 AM-4 PM, Sat 8 AM-2PM)
Greenway Nursery & Landscaping, 15474 S 1st St., Milan, TN (731) 686-3930 (Fri. 8 AM-5 PM, Sat. 8AM-4PM)
Wofford Nursery-Landscaping Co., 1414 E Wood St., Paris. TN (731) 642-8486 (Fri. 8:30AM-5PM, Sat. 8:30AM-4PM) (Same block as Quality Inn)
Please click HERE to register- We are looking forward to seeing you!
Michelle Reimert, Southeast Region President
Comments