February Zoom presentations 1pm CST
February Zoom presentations 1pm CST
Date: Saturday, February 4, 1:00 PM - Saturday, February 25, 2023, 2:00 PM
Place: Zoom lecture , ,
Free Presentations, registration link coming soon
Feb 4 Sharee Solow
Conifer Design S&M: Stupid and Mistreated!!!
We've all driven down the street and seen our beloved conifers used and abused in designs. Let's take a spin around the world and see examples from the beautiful to the beastly. Troughs, planters, bonsai, topiary, hedging, foundations, and all else coniferous is in the mix. You name it, I got it.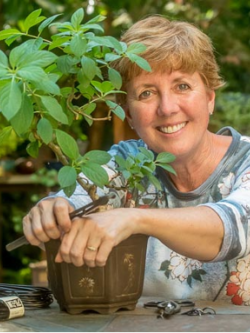 One of the Mid-Atlantic region's most respected state certified horticulturists and landscape designers, Sharee Solow, blends a lifetime of accomplishments and international travel to offer uniquely sophisticated landscape designs and garden design lectures. Not satisfied with a masters degree, her strong belief in formal education led to degrees in landscape architecture and horticulture. Next, in a design/build seminar in Atami, Japan, she earned certificates in Japanese garden design history, construction, and maintenance. A popular speaker and writer for professional landscape organizations, garden societies and arboretums, she is known for visionary ideas but also practical and realistic applications, often incorporating recent discoveries and trends from her travels.
Feb 11 Bob Iiames
Creating Design in the Collector's Garden.
Are you a plant nut and have to have one of every cool plant you see? Do you get home and alk around the garden wondering where to plant them so they don't look like soldiers in a row? Join me for a look at some gardens and gardeners that have solved the collectors' garden dilemma. See how they turn chaos into order through the use of color, texture, shape and form to create a cohesive look in their gardens. We will talk about how to put it all together so you CAN have one of everything and still have a garden that is beautiful and harmonious.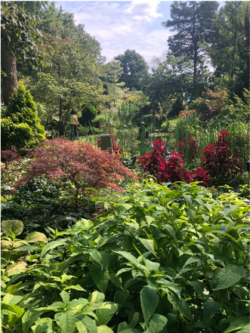 Bob Iiames is a groundskeeper at the 173-acre Lange Estate in Ludlow Falls, Ohio. He is a member of the ACS, Ohio Valley NARGS, and is current President of the Miami Valley Hosta Society. He received the ACS Central Region 2018 Distinguished Service Award. He lives in Englewood with his wife Karen. As you might imagine, his favorite pastime is gardening. His passion is dwarf and unusual conifers and currently he has more than 400. The gardens also showcase more than 400 Hostas, 250 Daylilies, rock garden plants and many other rare and unusual perennials. Bob has provided continuing education for Master gardeners and green industry Professionals as well as many entertaining programs for garden clubs and shows.
Feb 18 Elizabeth Price
Conifer ID: Arborvitae and Their Lookalikes (False Cedars). The conifers I plan on talking about are:
Calocedrus decurrens Incense-cedar
Chamaecyparis lawsoniana Port-Orford-cedar
Chamaecyparis nootkatensis Alaska-cedar
Chamaecyparis obtusa Hinoki-cypress
x Cupressocyparis leylandii Leyland-cypress
Platycladus orientalis Oriental arborvitae
Thuja occidentalis Eastern whitecedar 'Emerald Green'
Thuja plicata Western redcedar
Thujopsis dolabrata Staghorn-cedar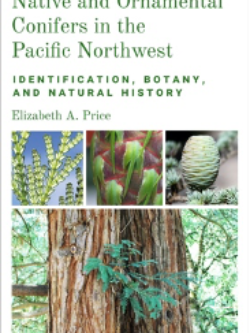 Elizabeth Price is a certified Oregon State Master Gardener who has been leading workshops on conifers for over a decade. She holds an MFA in creative writing from the University of Arizona and has worked as a writer, editor, and curriculum designer. An avid hiker, researcher, and photographer, she has resided among the conifer forests of the Pacific Northwest for almost twenty five years.
Feb 25 Christie Dustman
How to bring a Japanese inspired garden flair to your home garden
OVERVIEW: While the intensive labor required for a Japanese garden as seen in Japan is beyond most home gardeners, there are elements of Japanese gardens that can translate into our gardens. Let's celebrate how Japanese gardens rely on detail, form and shape to create their evocative moods. We will look at the use of line (a design principle and visual construct), balance, stone, plants, intentional focal points, integration between house and garden, and mood as it relates to how Japanese Gardens can influence our local gardens.
Over more than two decades, Christie has grown her company from a solo operation to fifteen employees, offering expertise in garden design, installation, and maintenance. She has established hundreds of gardens in the greater Boston area that continue to flourish and offer four-season sanctuaries.
Christie looks back fondly at her days in Upstate NY. Her parents both grew up in farming country and as such, had extensive food and flower gardens. She chuckles now at her early dislike of bugs, prickers, and weeding. "My early years were sprinkled with plants, gardens, and parks – no beaches." Her father, Elmer, still practices the art of Bonsai, now for 50 years.
"It was in my early 20's in Boston that my gardening genes emerged. It started with hastily planted perennials to fill in the area around my urban apartment before my parents came. Little did I know that my instinct to garden would take me back to school for Landscape Design and later, to start my own garden design company."
Christie's study of landscape design and horticulture includes training from The Landscape Institute (formerly Radcliffe Seminars), UMass Extension's Green School, and countless educational and certificate awarding seminars. Coupled with her gardening passion, she has grown CD & Co into an award-winning firm that values innovative design, practical solutions, superior plants and expert plant care. Christie has a gift for keen listening and tailors every project to the needs and taste of her clients.
Comments