Virtual Presentation: Creating New Vistas by Using Conifers in Containers by Gerald Kral - 1 PM Eastern on Saturday, Feb. 5, 2022
Virtual Presentation: Creating New Vistas by Using Conifers in Containers by Gerald Kral - 1 PM Eastern on Saturday, Feb. 5, 2022
Date: Saturday, February 5, 1:00 PM
Place: , ,
This event is free, but you must register to receive the Zoom link to view the presentation.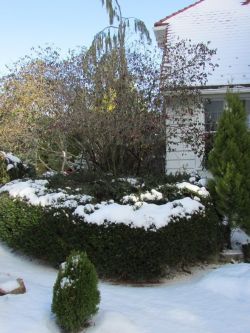 This presentation will cover everything you need to know to successfully grow conifers in containers. Get your inspiration fired up, as Gerald Kral explores the cultivation of conifers in containers and successful design techniques for showing off your conifers to best effect. Join us on Saturday, February 5th at 1 p.m., Eastern time for this exciting presentation!
From Rochester NY, Gerald Kral has been an enthusiastic ACS member for at least 15 years. He was elected to the Board for five consecutive terms. There are not many who have served on the Board longer. Jerry joins such legends of the ACS as: Eddie Rezek (10 years), Susan Martin (9 years), Bill Thomas (6 years), and Marvin Snyder (6 years). During his service on the BOD, Jerry proposed, championed, and developed the current ACS Scholarship Program. He still participates in the evaluation of candidates for this scholarship. Jerry and his able partner, Elmer Dustman, also organized two ACS National Meetings and three Regional Meetings for the Northeast Region. Unless you have organized a meeting, it is difficult to appreciate the commitment of time and personal sacrifice necessary to make everything come together smoothly. All of these meetings were well executed and well received by the attendees. Those who do it once, rarely volunteer to do a repeat performance. So, FIVE meetings is quite an accomplishment!

Every year, Gerry and his wife Karen open their expansive garden to a multitude of visitors and to garden tours of all shapes and sizes. Their garden has also been featured in Fine Gardening and other publications. Jerry's expertise with conifers is renowned as he trials new plants and seeks the best that nurseries and auctions have to offer. Just hope that you don't want the same plant at the live auction that Jerry is pursuing! Not content with planting in the ground, Jerry has developed a sure fire way to keep conifers in frost free containers over the winter, creating a dimensional environment to showcase his dwarf conifers. Studded through the Kral garden are sculptures, benches, chairs and whimsy. It is a must see for conifer and garden addicts.
Comments