Central Pennsylvania Rendezvous
Central Pennsylvania Rendezvous
Date: Saturday, September 7, 10:00 AM - Saturday, September 7, 2019, 5:30 PM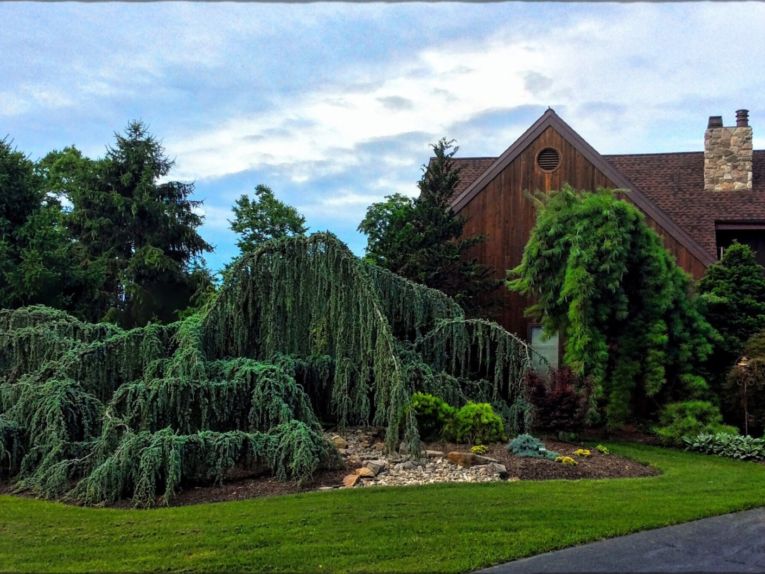 Please join the Northeast Region on September 7, 2019 at 10:00 am for a Central PA Garden Rendezvous. The rendezvous will include to two Harrisburg-area gardens and lunch at nearby Spring Gate Winery.
The first stop is the garden of Michael and Jeanine Larkin. MIchael is a long-time conifer collector and his garden features many varieties of conifers, Japanese maples and ginkgo. In the garden is a very large specimen Cedrus atlantica 'Glauca Pendula' as well as other specimen conifers and maples. Michael teaches gardeners how to make hypertufa containers, and throughout the garden is a large collection of these stone-like containers planted with conifers, maples and succulents. In addition, he has created several pieces of unique concrete garden art placed throughout the garden.
Lunch will be at Spring Gate Winery 5790 Devonshire Rd, Harrisburg, PA. ( just 8 miles away) http://www.springgatevineyard.com/ The winery has food trucks on site for you to purchase lunch, wine, and beer and nonalcoholic beverages are also available.
At 1:30 pm we will travel just a few miles away, to the garden of Kevin and Kathy Kelly. This garden is situated on a roughly half-acre lot in the middle of a suburban development. The garden was born 22 years ago on a flat piece of bulldozed land without a tree or shrub or any ornamental plant. Following his own ideas, and doing all the landscaping on his own, Kevin has created an all-season garden with over 140 conifers, over 20 Japanese maples and countless perennials interplanted with annuals for pops of color. His use of texture and form creates interesting vignettes. No pesticides or herbicides have been used for over 12 years.

The gardeners are looking forward to sharing their garden experiences with you.

If you have time you can visit two small but interesting nursery/gardens centers on your own. They both carry a nice selection of conifers and maples - Ashcombe's in Mechanicsburg (includes selection of maples and conifers from Buchholz Nursery) and Highland Gardens in Camp Hill (very nice selection of conifer and Japanese maples) or you can visit Hershey Gardens with an amazing butterfly house just a short drive from the last garden.

To register, please email Michael Larkin, or call 717 561 0704. This will allow us to plan the event and provides us a contact number in case of bad weather. Directions to each garden will be provided at the time of registration.
We hope to see you there!
Comments