2024 ACS Photo Contest
Date: Friday, June 2 - Sunday, August 20, 2023
Place: , ,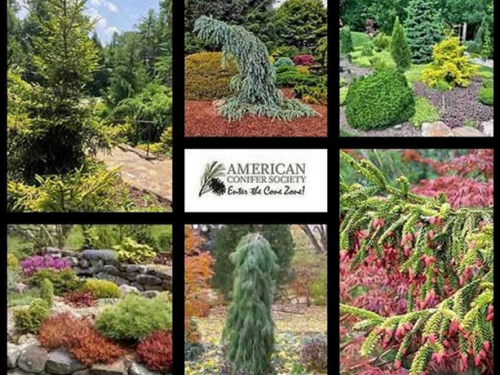 ACS Photo Contest and 2024 Calendar
Attention all you photo bugs out there! Get your best photos gathered for a great competition. We all take hundreds of photos of conifers each year and now is your chance to show them off. The winning photos will then be used for our 2024 ACS calendar!
All the photos will be shown at the ACS National Meeting in Cincinnati during the meeting. So, here is your chance to get your photos seen by your fellow members!
Here is the fine print:
Guidelines for American Conifer Society 2024 calendar entries:
Categories
o Conifer portraits - all or part of a conifer
o Garden shots
o Conifers in containers
o Conifers through the seasons
• Minor photo editing, such as cropping and minor color and light correction, is allowed. Please avoid over-manipulation and enhancement of images. No borders or text should be used.
• Submitting an entry grants the American Conifer Society (ACS) the right to reprint or republish submitted photograph(s) in any of the newsletters, journals or websites published by ACS or any of its Regions.
• First, second, and third place winners in each category will be published in the 2024 ACS Calendar.
RULES:
1. Must be a current ACS member. (Photos submitted by Reference Gardens must be taken by an ACS member, or an employee or volunteer of the Reference Garden.)
2. Photos must be at least 300 dpi. (Tip: Set your camera options to the highest resolution and picture size possible.) Photos should be submitted in .jpeg format.
3. Limit of 5 (five) submissions per member per category.
4. Digital photography ONLY.
5. Deadline is August 20, 2023.
6. Email submissions to [email protected]
7. The file name should include 3 pieces of information:
❖ The category
❖ Name of conifer and/or garden location
❖ The photographer's full name
8. Photos will be judged by a panel on originality, composition, technical excellence, overall impact, and artistic merit using the 4Cs — Creativity, Craft, Composition, Content.
9. All judging decisions are final.
Comments