2023 Southeast Region Rendezvous
2023 Southeast Region Rendezvous
Date: Saturday, September 16
Place: , Asheville, NC 28804
The Galloway's will host a rendezvous on September ­­­­16th at their Elk Mountain-top home just northeast of Asheville. The gardens have continuously evolved since the property was purchased in 2011, as is, with landscaping by Lowes. The 3½ acre parcel, with 10 acres adjoining, is on the top of a ridge with over two acres that are lightly forested, providing appropriate sun for the gardens. The elevation is almost 4000', and this cooler climate enables them to grow a variety of plants typical for Asheville, but also many specimens not normally successful there. The individual garden areas now number twenty, and the selections are labelled with their location and plant name. The property has numerous rock formations often previously hidden by the blackberry and brush. Once cleared, the rocks provided a great backdrop for the main focus of the garden, dwarf and miniature conifers and Japanese maples. Unbridled enthusiasm has pushed the collection pass the 1000 plant benchmark. The material has been sourced from five nurseries in Asheville and five in Oregon, Larry Stanley and Conifer Kingdom being main contributors. Interestingly, many of the plants from that northwest region do quite well in this climate and altitude.
Pinus and Picea varieties account equally for about half of the plants. Abies, with 22 selections, are about 19% of the collection and Chamaecyparis is about 6%. Also there is a wide range in Acer to provide interesting accents. The remaining 25% is an assortment of experiments. A new ACS member, Jeff Harris recently did some Japanese-influenced hardscapes. The collection is ever-growing and evolving through the on-going knowledge and encouragement Missy has gained from her many ACS friends.
The garden will be open from 10am to 4pm with lunch and beverages at 12:30. There will also be a small silent auction. Must be registered to attend. Registration is $20 per person and is open now till September 2nd on the website ( www.conifersociety.org ).
The location is easily accessed off the Blue Ridge Parkway at the Bull Gap exit. It is 30 minutes from downtown Asheville, and the closest hotels are near the intersection of Rt. 70 (Tunnel Road) and the Blue Ridge Parkway. Hotels are on your own. Asheville and surrounding area have a large number of hotels in all price ranges. Since this is a rendezvous, we do not expect enough people to be able to reserve a block of rooms. Other gardens and nurseries are on your own. We will help with a list for those that register.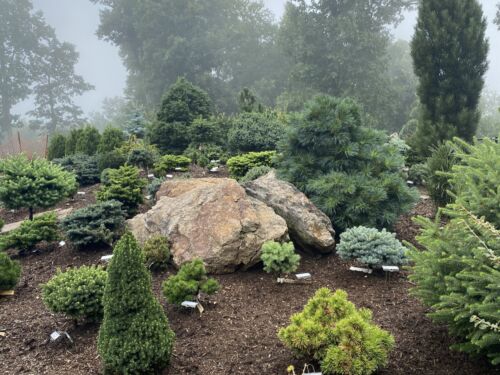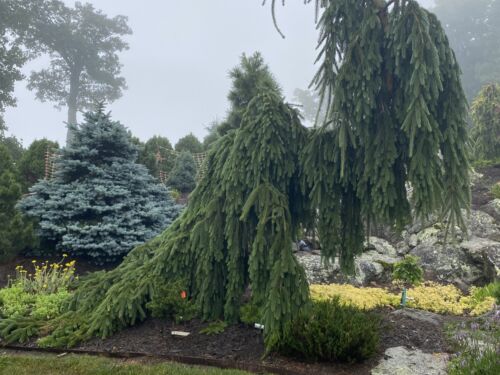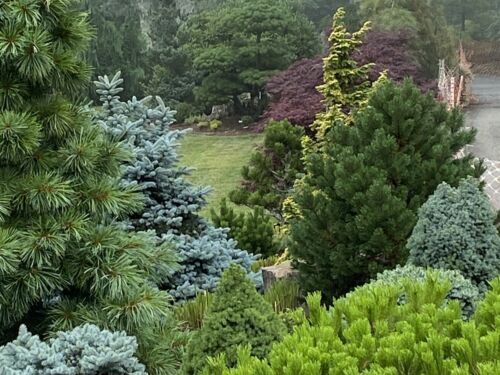 Comments