POSTPONED: 2020 National Meeting in Clinton, IA
POSTPONED: 2020 National Meeting in Clinton, IA
Date: Thursday, June 25 - Saturday, June 27, 2020
Place: Wild Rose Casino and Resort , 777 Wild Rose Dr, Clinton, IA 52732
Update: effective April 10th. Due to the shelter-in-place directives in effect in response to the Covid-19 pandemic, this event is postponed until June 2021. What this space for updates as they happen.
Clinton, Iowa

A century ago, Clinton, Iowa was "the lumber capital of the world," with sawmills processing the huge rafts of Eastern white pine logs floated down the Mississippi River from Minnesota and Wisconsin. For a few days in June of 2020, Clinton will become "the conifer capital", when the American Conifer Society meets here for its national convention, which will be headquartered at the Wild Rose Casino and Resort, and includes visits to superb private and public gardens. There will be no post-meeting tour; rather, the Central Region is hosting a 16-session conifer college before the meeting!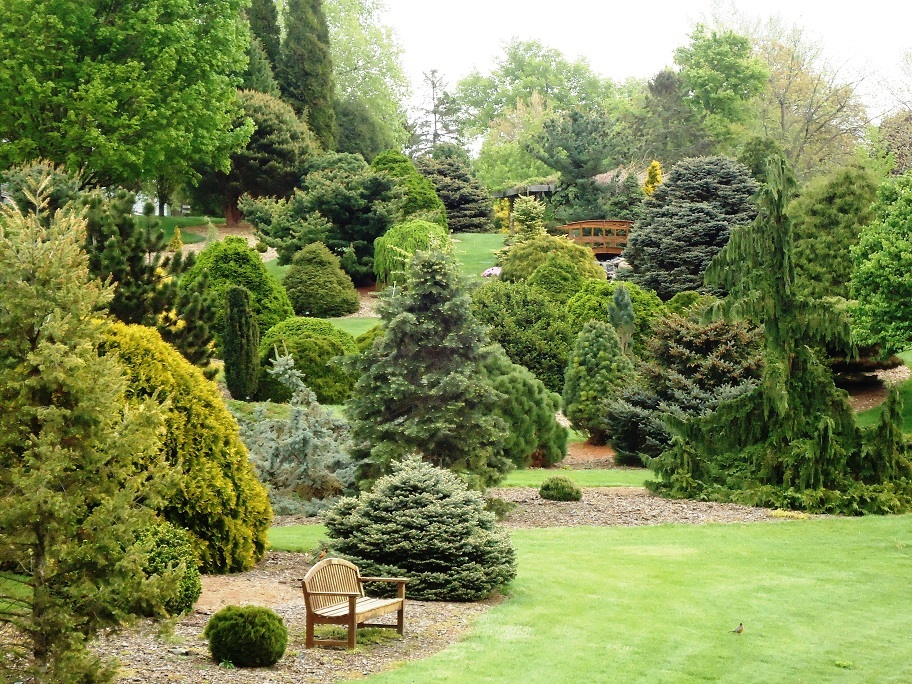 One of the highlights is a tour of the Bickelhaupt Arboretum, an ACS Reference Garden with more than 2,000 named trees and shrubs, of which more than 500 are conifers. If you haven't yet seen the 2020 national convention video, view it now; there are great drone photos of Bickelhaupt!
Registration will re-open in late 2020 / early 2021.

Register Online Now
Registration form to download and print
Private Conifer Collections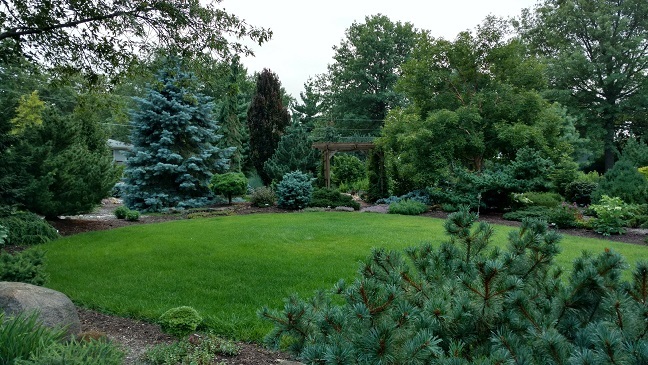 Jeff and Lora Rathje's garden has evolved considerably since it was on the 2008 tour. They now concentrate on dwarf and intermediate conifers, along with troughs and a rock garden of miniatures.
Randy and Karen Dykstra have suffered Addicted Conifer Syndrome since the 1970s — they worked with both Chub Harper and Jerry Morris, so you just know they have some special specimens.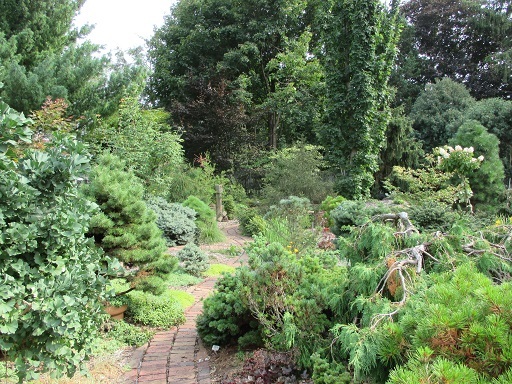 Jenni Grantz was bitten by the conifer bug when she was an intern at the Bicklehaupt in the early 2000's. Now she and Scott have a nice collection themselves.
The Quad City Botanical Garden in downtown Rock Island, Illinois, which features a rare conifer collection donated by Chub Harper.

Conehead extraordinaire Chub Harper. Photo by David Horst

Jepswood Gardens consists of about 150 conifers, plus hostas and more, including an osage orange hedge planted by the CCC in the 1930s. From the street, you wouldn't even know there's a two-acre secret garden in the backyard.
Lona and Ray Pribble invite us to their half-acre park-like backyard in Geneseo, Illinois, where we'll see hostas, cutting and fairy gardens, and of course, conifers.

Pribble garden. Photo by Lona Pribble
Lectures on conifers by experts
Panayoti Kelaidis,Denver Botanic Gardens Senior Curator and Director of Outreach, will tell us about the Stephen Long Expedition, the first to identify and name Rocky Mountain conifers, 200 years ago this year.
Dr. Jeffery Iles,Professor and Chair of the Department of Horticulture at Iowa State University and Dr. Laura Jesse Iles, Director of Iowa State University Plant & Insect Diagnostic Clinic, will speak on "The Doctors Are In… and There Will be a Second Opinion; Diagnosing Woody Plant Problems Ain't Easy." Yes, they're related. This could get interesting.
Bob Fincham, a founder of the ACS and our ACS president, will expand on his book: "Gone But Not Forgotten", a history lesson about the generation of conifer collectors who constantly appear attached to cultivars.
Martha Smith, University of Illinois Extension, will speak on "Colorful Conifer Craze: Beyond Green!", covering the color palate offered to the gardeners by conifers.
There's more to life than conifers, though!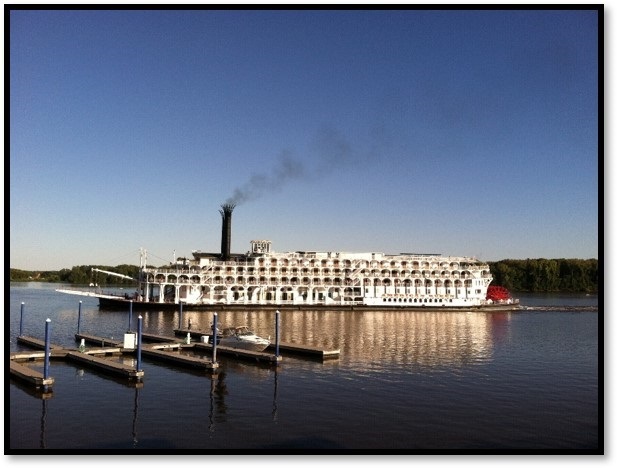 We will enjoy a Saturday buffet lunch cruise aboard the 750-passenger paddle-wheel riverboat, Celebration Belle II, and Friday lunch at Eagle Point Lodge, high atop a bluff with one of the most scenic views of the widest part of the Mississippi River.
The party will end Saturday evening with a plant auction that will include a fantastic selection of rare and unusual conifers (many classified as dwarf or miniature) and other plants often seen with conifers in gardens.
Pre/Post Garden Listing: Eastern Iowa is home to many special private/public gardens - too many to include on our convention tour. Each of these is a treasure. Before our conifer college and convention starts on Thursday and after they end on Sunday, many of these other gardens will be available for you to visit on your own. A listing of these pre/post gardens with descriptions and information will be available to all members registered for the convention.
A listing of area hotels offering a variety of accommodations is available on the registration form. The Quad City Airport is about an hour from the hotels. There is no shuttle service from the airport, so you will have to arrange a ride/taxi/rent a car.
The convention will begin at 5:00 PM on Thursday, June 25 (after the Conifer College) and wrap up Saturday evening with dinner and plant auction. All of this comes after the 16-session Conifer College on Thursday, June 25, which is a separate event.
The Convention Registration Form is also available in the 2020 Winter ConiferQuarterly.
Comments
I don't understand why this page has not been updated to reflect the new reality of no national meetings until 2022 and nothing scheduled for Clinton until 2025 at the earliest.