2019 National Meeting: Conefest at the Oregon Garden
2019 National Meeting: Conefest at the Oregon Garden
Date: Thursday, June 6 - Saturday, June 8, 2019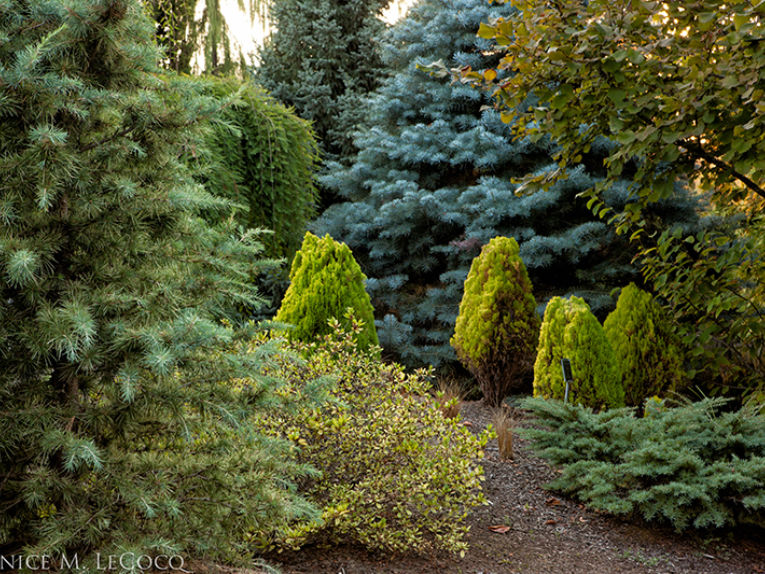 REGISTER ONLINE FOR POST-MEETING TOUR
Registration form to download and print

Registration information
The cost to attend the main event in Silverton is $275 from now through April 15th. After April 15th, the price goes up to $300 until final registration cutoff on May 15th.

The cost to attend the post-tour to Grant's Pass is $325 from now through April 15th. After April 15th, the price goes up to $350 until final registration cutoff on May 15th.

Lodging Information
Attendees are required to make their own reservations at the Oregon Garden Resort, or the Best Western Pacific Inn, as well as the Riverside Inn if attending the post-tour. Oregon Garden Resort will honor this rate if you want to spend another night after returning from the post-tour the night of June 11th.
Silverton—Oregon Garden Resort—$119 per night per room
895 West Main St, Silverton Oregon 97381
phone: 800-966-6490 group code: CONIFER
Block expires: April 19th, 2019
The resort will provide the rate for up to 3 days before and after the event for those who want to come early or stay late. Note: as of February 24, the resort has been completely reserved.
The Oregon Garden Resort Online Booking Instructions
Salem — Best Western Pacific Highway Inn — $125 per night per room
4646 Portland Rd NE, Salem Oregon 97305
phone: 503.390.3200 group code: American Conifer Society
Block expires May16th, 2019
American Conifer Society will provide daily transportation between the hotel and the Oregon Garden.
Grants Pass—The Riverside Inn—$142 per night per room
986 SW 6th St, Grants Pass Oregon 97526
phone: 541.476.6873 group code: American Conifer Society
Block expires: April 27th, 2019
We will be there for 2 nights, to arrive on Sunday, June 9th, departing on the 11th.
We love attending our national meetings and we know their format: establish a headquarters in a hotel conveniently located near worthy conifer viewing, be it private, public or park. Board buses, visit conifers, repair to the hotel for dinner, rinse and repeat. It's a great way to enjoy Coneheads and conifers. But what if our hotel was located in one of the most comprehensive and beautiful conifer gardens in the country? What if we could view choice specimens simply by walking out the doors of our rooms and into a conifer wonderland? That's what you'll be doing in June 2019 when the Western Region hosts the national meeting at The Oregon Garden Resort.
The Oregon Garden – Your Saturday Resort!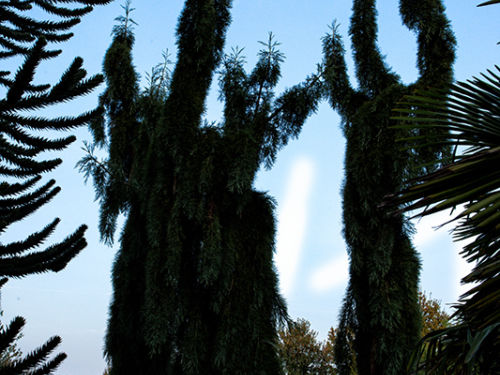 The Oregon Garden, an ACS Reference Garden, was established in the 1990s by the Oregon Association of Nurserymen to showcase the products of Oregon's #1 industry, horticulture. In partnership with the ACS, largely through the efforts of our own Doug Wilson, TOG's conifer collection has grown into one of the best places in the country for viewing choice cultivars, meticulously labeled, in beautiful combination with companion plants. Early June in Oregon is still very spring-like, with lingering blossoms, fresh new growth on conifers and the possibility of showers. The moist air, abundant rainfall and cool nights produce healthy, vigorous plants that often show themselves to be stellar specimens of their species.

Because TOG is so lovely (and because there is much, much more to see than the conifer collection), we are designing this meeting with ample time at the Resort. In fact, Saturday's agenda is entirely at the Resort! No buses, flexible scheduling and a wide variety of activities should make for a relaxing, informative and fun day. We will not only have space in the schedule for viewing the conifers, we will have aesthetic pruning demonstrations, workshops and lectures, and free time for strolling, loafing or spa treatments. We will also provide suggestions for nearby attractions, such as Conifer Kingdom/Rare Tree Nursery (3 miles from TOG), and Silver Falls State Park (11 miles from TOG). As there is no public transportation from the airport to the Garden, we expect that most of you will have rental cars. For those that don't, we will have a group of volunteers who will happily provide transport and we plan to use TOG's shuttle to get to and from Conifer Kingdom. We are still finalizing the schedule, but will release it with plenty of time for you to make any bookings you wish.

Our dinners, our breakfasts and one of our lunches will be onsite at the Resort or the Garden. Guests at the Resort can enter the Garden at any time, even when it is closed to the public. In June the days are long and the weather mild. You can stroll the conifers with coffee or cocktail in hand, and your room is close by if you need a wrap or an umbrella.
But what about Friday?
Iseli Nursery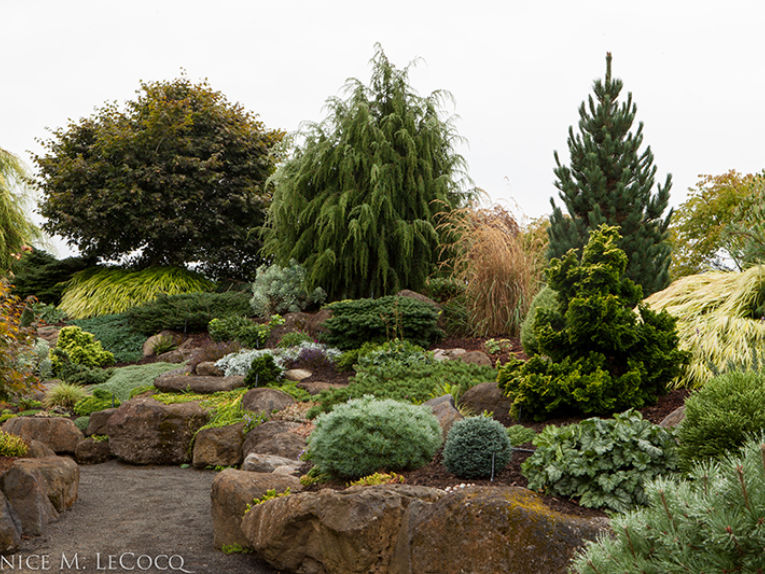 Nearby the Oregon Garden, in the village of Boring, Iseli Nursery sits as a conifer altar, inviting worship. With one of the most comprehensive and breathtaking display gardens of any nursery anywhere, Iseli, not open to the public, is rolling out the green carpet for the ACS. Their staff will be on hand to guide us and answer questions and point out the most unusual and noteworthy specimens. This garden has matured over the years and Iseli has augmented the plantings with ceramics and other hardscape, so even if you have visited before on other ACS trips, you will marvel at how the garden has grown and changed. We have an entire morning planned here, with espresso (practically a PNW requirement) and snacks to fortify us as we explore a true conifer paradise. Read more about Iseli.
We will then head to Sebright Gardens, a large, beautifully landscaped nursery in Salem. While they are primarily known for hostas and other shade plants, they have extensive conifer plantings as well. It is a gorgeous spot to roam and relax in, and we'll make relaxing even easier by serving lunch and tasting wine from some of the local wineries. Lunch will be provided by that Oregon specialty, food trucks! Portland foodies and ACS members Anton and Jill Klemens are already working on rounding up a delicious array of offerings. Local wineries will be stationed around the Gardens to provide yet another example of Oregon's commitment to horticulture! AND, there will be plants for sale, both by Sebright and Nathan Miller's Fresh Start Nursery. Sebright sits adjacent to Mid-America Garden, with its extensive iris fields, which will be in full bloom at the time of our visit.
More about the evenings: the Speaker and the Auction
On Friday night, we'll hear from our keynote speaker, Sean Hogan of Cistus Nursery in Portland. Sean is a consummate plantsman who seeks to spread what he calls 'the unlimited joys' of the plant word. He travels extensively in search of new species to introduce to the trade, and his talk will focus on design lessons from the wild. His bio states that he is 'fun at parties and is a very nice person' so we can all look forward to enjoying the evening with him!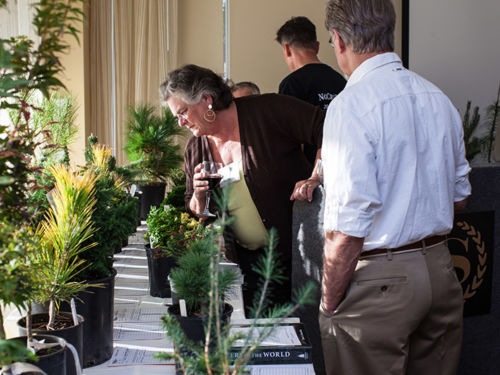 The plant auction is always a highlight of our meetings and this one will be no exception. Given the proximity of the biggest conifer growers in the country and the availability of unusual cultivars, we plan to focus on quality rather than quantity, and will try to provide something for every zone and region. Silent auction, can raffle, live auction—you'll have lots of ways to score that special plant.
Logistics
TOG is located in Silverton, Oregon, roughly an hour south of Portland International Airport (PDX). There is no public transportation from the airport to the Garden; your choices are to rent a car or to arrange a ride through the Resort, which you can do by calling the front desk. You can also team up with other attendees and share a rental. We will provide lists of attendees to anyone looking to share transport.
The meeting will run from Thursday late afternoon through Saturday night, so book your flights (or arrange your drive) accordingly. If you wish to come early, the Resort will honor our rate for Tuesday and Wednesday nights. We have booked the entire Resort for our meeting, which means that when the last room is reserved, we will cut off registration, which will be at roughly 200 attendees. It also means that we will truly have our own, private Conehead retreat!
NOTE: those attendees who have rented cars and are joining us on the post-meeting tour will be able to leave their vehicles at TOG.
The Post-Meeting Tour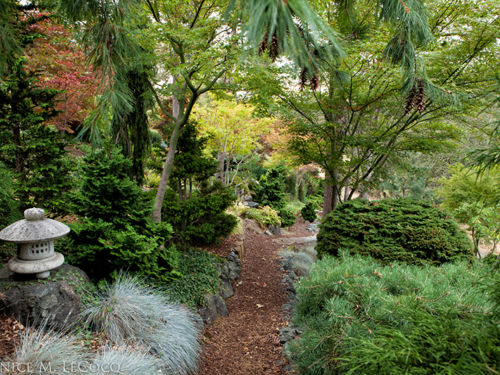 The Post-Meeting Tour begins on Sunday morning, when we depart TOG and head south to the charming and extensive garden of Ken and Elena Jordan, high on a bluff over the Umpqua River in Roseburg. Ken and Elena, longtime ACS members, have carved out a magnificent garden on a wooded slope, adding the results of their woodworking, sculpture and metalwork. We'll wander the garden and take in the magnificent views. From the Jordans' garden we'll head a mile down the road to Melrose Vineyards, where we'll have lunch, and then to our night's lodging, Riverside Inn Resort in Grants Pass.
Grants Pass is a delightful, old, timber town nestled at the foot of the Siskiyou mountain range and along the banks of the Rogue River. The unique, ultramafic (serpentine) minerals present in the soil have forced plants to evolve in interesting ways in response to the curious chemistry. Much of the local flora is found nowhere else on Earth!
On Monday we'll drive through the Siskiyous to visit Rough and Ready Creek State Park and Page Mountain Sno-park, stopping along the way to interpret trees and nature. Monday night's dinner is something special—we'll board a jet boat for a cruise upriver to our dinner spot. Fun and adventure will be had by all!
On Tuesday we'll have an extensive visit to Forestfarm Nursery, one of the oldest and largest mail-order nurseries in the country. We'll head back to Silverton, stopping for lunch along the way, arriving at approximately 5 pm. At that point you can pick up your rental car or your scheduled ride to the airport, or book yourself another night at TOG, where our conference rate will be honored. NOTE: Do not forget to reserve a room at TOG for Tuesday night, June 11, if you are not planning to depart Silverton until Wednesday.
Questions or comments:
David Olszyk, ACS President, [email protected], 360) 742-6259
Sara Malone, Western Region President, [email protected], 707-486-0444
Photographs by Janice LeCocq
Comments