Tsuga mertensiana / mountain hemlock
Tsuga mertensiana as described in 1867 by (Bongard) Élie-Abel Carrière (1818-1896), is a species native to the west coast of North America and is commonly referred to as mountain hemlock. The epithet honors the German botanist and naturalist Karl Heinrich Mertens (1796-1830), who discovered this species in Sitka, Alaska in 1827. Mertens was a member of the crew of the Russian sloop of war Senyavin, which was on a voyage of discovery along the coasts of Russian America and Asia.

Multiple subspecies and varieties exist within those species, though not all are recognized as distinct by some authorities. The generally accepted differences are as follows:
Tsuga mertensiana subsp. mertensiana var. mertensiana — northern mountain hemlock, the typical subspecies. Central Oregon northwards. Leaves are gray-green on both sides. Seed cones are smaller, 1.2 to 2.4 inches (30 - 60 mm) long, 0.47 to 1 inch (12 - 25 mm) broad when open, with 50 to 80 scales.

Tsuga mertensiana subsp. mertensiana var. jeffreyi — Jeffrey's mountain hemlock. Mixed with var. mertensiana, rare. Leaves greener, less glaucous above, paler below; seed cones indistinguishable from the type. It was once thought to be a hybrid with western hemlock, but there is no verified evidence for this.

Tsuga mertensiana subsp. grandicona — California mountain hemlock. central Oregon southwards. Leaves very strongly glaucous. Seed cones larger, 1.8 to 3.2 inches (45 - 80 mm) long, 0.8 to 1.4 inches (20 - 35 mm) wide when open, with 40 to 60 scales.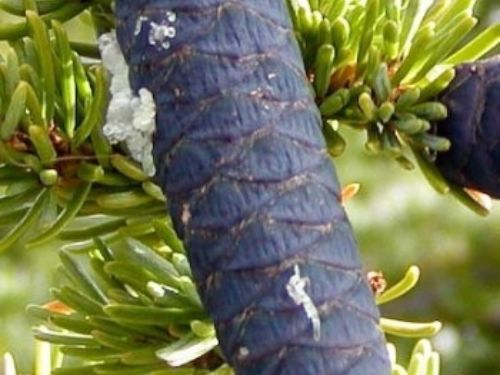 Description. Mountain hemlock is an evergreen coniferous species of tree which will grow to mature heights of 65 to 130 feet (20 to 40 m) tall, with exceptional specimens as tall as 194 feet (59 m), with a trunk diameter of up to 6.6 feet (2 m) wide at breast height.

The crown is narrowly conical, sometimes with a tilted or drooping lead shoot, with spreading, hanging branches. Bark is charcoal gray to reddish brown, deeply fissured, square-cracked, and scaly.

Twigs are yellow-orange-brown, and densely pubescent.

Foliar buds are oblong, measuring 0.12 to 0.16 inches (3 - 4 mm) long.

Needles are radially arranged, 0.4 to 1 inch (10 - 25 mm) long , curved toward twig apex, soft, blunt-tipped, thickened centrally along midline, somewhat rounded or 4-sided in cross section. Both surfaces are relatively glaucous, with two broad bands of bluish-white stomata below, separated by a narrow green midrib. They differ from all other species of Hemlock in also having stomata on the upper surface.

Pollen cones are pendulous measuring 0.4 inches (10 mm) long, purple maturing to yellow.

Seed cones are borne primarily near the top of the tree, are oblong to cylindrical in shape, pendulous, 1.2 to 3.2 inches (30 - 80 mm) long and 0.32 to 0.4 inches (8 - 10 mm) broad when closed, opening to 0.48 to 1.4 inches (12 - 35 mm) broad. To the untrained eye, they are superficially somewhat like a small spruce cone. Seed cones are purple to bluish-purple, ripening to mid to dark grayish brown, maturing 5 to 7 months after pollination.

Cone scales are pubescent, flexible, and broadly fan-shaped, measuring 0.3 to 0.7 inches (8 - 11 mm), with a rounded to pointed apex.

Seeds are red-brown, 0.08 to 0.1 inches (2 - 3 mm), with a pale, pink-brown wing.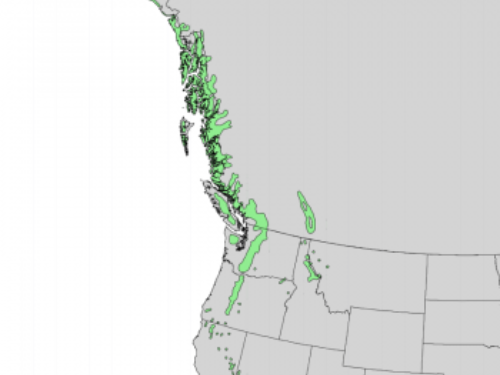 Distribution. This spece is is native to USA and Canada — Alaska, British Columbia, Washington, Oregon, Idaho, Montana, California, and Nevada, growing at elevations ranging generally from 0 to 10,000 feet (0 - 3,050 m) above sea level. The elevational range of the species is rather variable with latitude, ranging from 0 to 3,500 feet (0 - 1,070 m) in Alaska, to 5,200 to 7,500 feet (1,600 - 2,300 m) in Oregon (where subsp. mertensiana merges into subsp. grandicona), to 9,000 to 10,000 feet (2,750 - 3,050 m) in the southern Sierra Nevada. In subalpine settings, Tsuga mertensiana tree clumps often contain one or two specimens of exceptional size and age, along with several younger trees. The youngsters typically represent multiple age classes. Generally these clumps are located on topographic high points where winter snows melt away marginally earlier than on adjacent microsites. Over time, these tree clumps tend to grow radially, forming what may be called "timber atolls". The largest specimen within an established clump tends to cause snow to melt more quickly than it would in open meadow, thereby further benefiting the growth potential of existing trees and the establishment of new trees. T. mertensiana typically initiates clump formation within its range, but such clumps also frequently support Abies amabilis or Cupressus nootkatensis. With enough time or favorable climatic conditions, such clumps may merge to for continuous forests. Unfavorable weather or fires may reverse or destroy the process, in effect, wiping the slate clean.
The wood of Tsuga mertensiana is somewhat inferior to that of Tsuga heterophylla (whose range is a fairly close match) for purposes of timber or pulp, though that fact has not always prevented extensive logging of subalpine forests. It is adaptable to a wide range of climatic conditions and is tolerant of shade , severe weather, and other forms of competition. As a cultivated ornamental, it differs from many alpine species in its ability to grow in warm, damp settings, remaining healthy while growing slowly. Several cultivars have been selected, specifically for striking, glaucous foliage.
Attribution from: Chris Earle; The Gymnosperm Database; ©2013. and Wikipedia, the Free Encyclopedia; ©2014