Tsuga heterophylla / western hemlock
Tsuga heterophylla, as described in 1898 by (Rafinesque) Charles Sprague Sargent (1841–1927), in The Silva of North America, 12th edition, is commonly known as western hemlock. It is the state tree of Washington. The species name describes the species' needles of different lengths, a distinctive trait.
Ethnobotany. Tsuga heterophylla is the most economically important hemlock for timber. It is superior to other hemlocks for building purposes and provides excellent pulpwood for paper production. Large swathes of the Washington and Oregon Coast Ranges, as well as Washington's Olympic peninsula, are managed for Tsuga heterophylla production.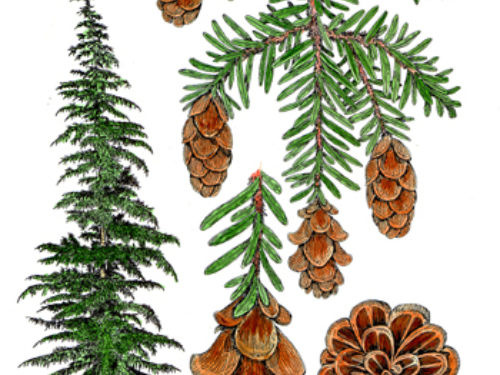 Description. Western hemlock is an evergreen coniferous species of tree that grows to mature heights of 190 to 240 feet (60 - 75 m) tall; with a trunk up to 9 ft (2.7 m) in diameter, measured at breast height; and a narrowly conical crown.
Bark is grayish-brown, scaly, and somewhat fissured.
Twigs are yellow-brown and finely pubescent.
Foliar buds are ovoid shape, grayish-brown in color, measuring 0.1 to 0.14 inch (2.5 - 3.5 mm) long.
Leaves (needles ) measure 0.4 to 0.8 inch (10 - 20 mm) long, mostly appearing two-ranked and flattened. Their upper surface is dark green in color, while the underside is glaucous, featuring two broad, conspicuous stomatal bands.
Seed cones are ovoid shaped, measuring 0.6 to 1.0 inch (1.5 - 2.5 cm) long and 0.6 to 1.0 inch (1.5 - 2.5 cm) broad.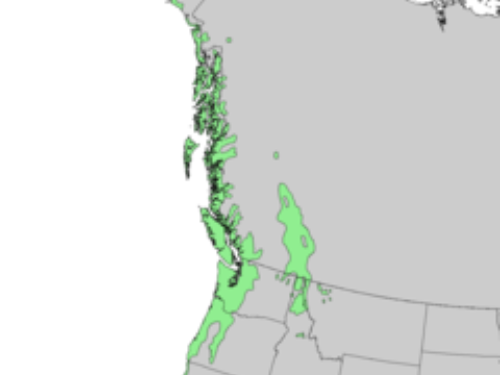 Distribution. This species is native to the United States of America, distributed through Alaska, Washington, Oregon, California, Montana, and Idaho. In Canada, it grows naturally in British Columbia and Alberta. Its preferred habitat is in coastal and mid-montane forests at elevations from sea level 6,000 feet (1,830 m). Over much of its range, it is a dominant, climax species.
Hardy to USDA Zone 6 — cold hardiness limit between -10° and 0°F (-23.2° and -17.8°C).
Attribution from: Wikipedia, The Free Encyclopedia